Women's March to protest Texas abortion law in mass mobilization events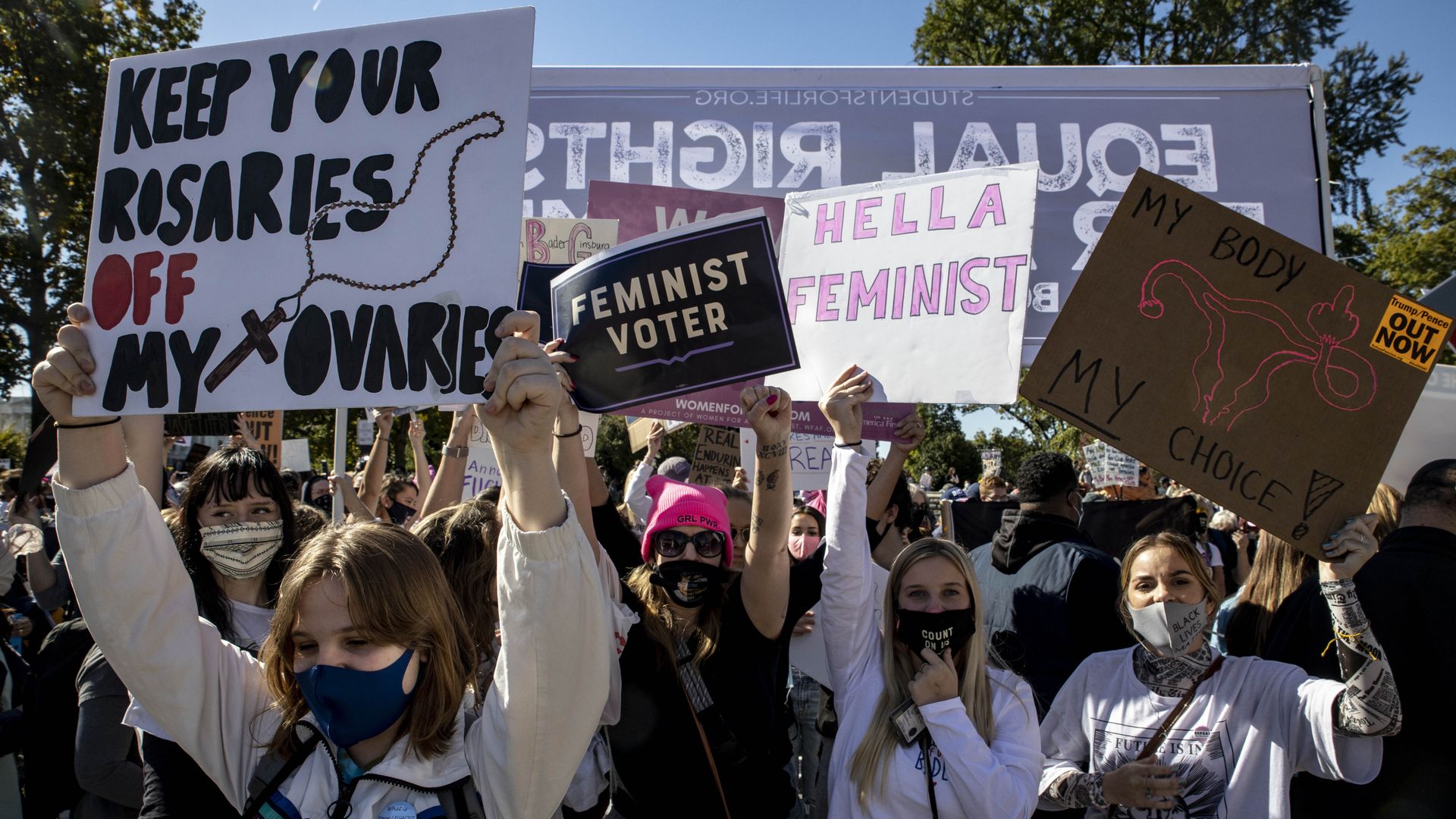 The Women's March will convene nationwide mass mobilization events next month to protest a controversial new abortion law in Texas, the group announced Friday.
Why it matters: The law bans abortions after six weeks and does not exempt cases of rape or incest. Considered one of the most restrictive abortion laws in the U.S. since the 1973 Roe v. Wade decision, the new law has incited widespread outrage among abortion-rights advocates.
Details: Women's March and over 90 other organizations are organizing a national call to mobilize on Oct. 2 and "defend our reproductive rights."
They will hold marches in "every single state" ahead of the Supreme Court reconvening on Oct. 4.
What they're saying: "The relentless attacks from Texas to Mississippi are ramping up quickly," the group, which first launched as a worldwide protest against former President Trump's inauguration, said in a statement.
"Anti-choice extremists have a deep desire to return to a time when there was more clear and effective domination and control over queer and trans folks, women, and people of color; they want to revive those old values and societal norms to the point of re-acceptance.
"The authoritarian agenda of reproductive control is fueled by misogyny and racism — and we must challenge it, together," the statement added.
Between the lines, via Axios' Oriana Gonzalez and Sara Wise: Over a dozen states have tried to enact laws similar to the near-total abortion ban in Texas, but they have mostly been blocked or struck down by federal or state judges. Now, with this current precedent, some of these states could try again.
The big picture: President Biden has condemned the Supreme Court's decision to allow the Texas law to remain in place as "an unprecedented assault on a woman's constitutional rights."
Florida Gov. Ron DeSantis indicated Thursday he could support a similar law banning abortion after the detection of a fetal heartbeat, saying he would "look more significantly at it."
Go deeper