Democrats' next moves after a stunning SCOTUS loss on abortion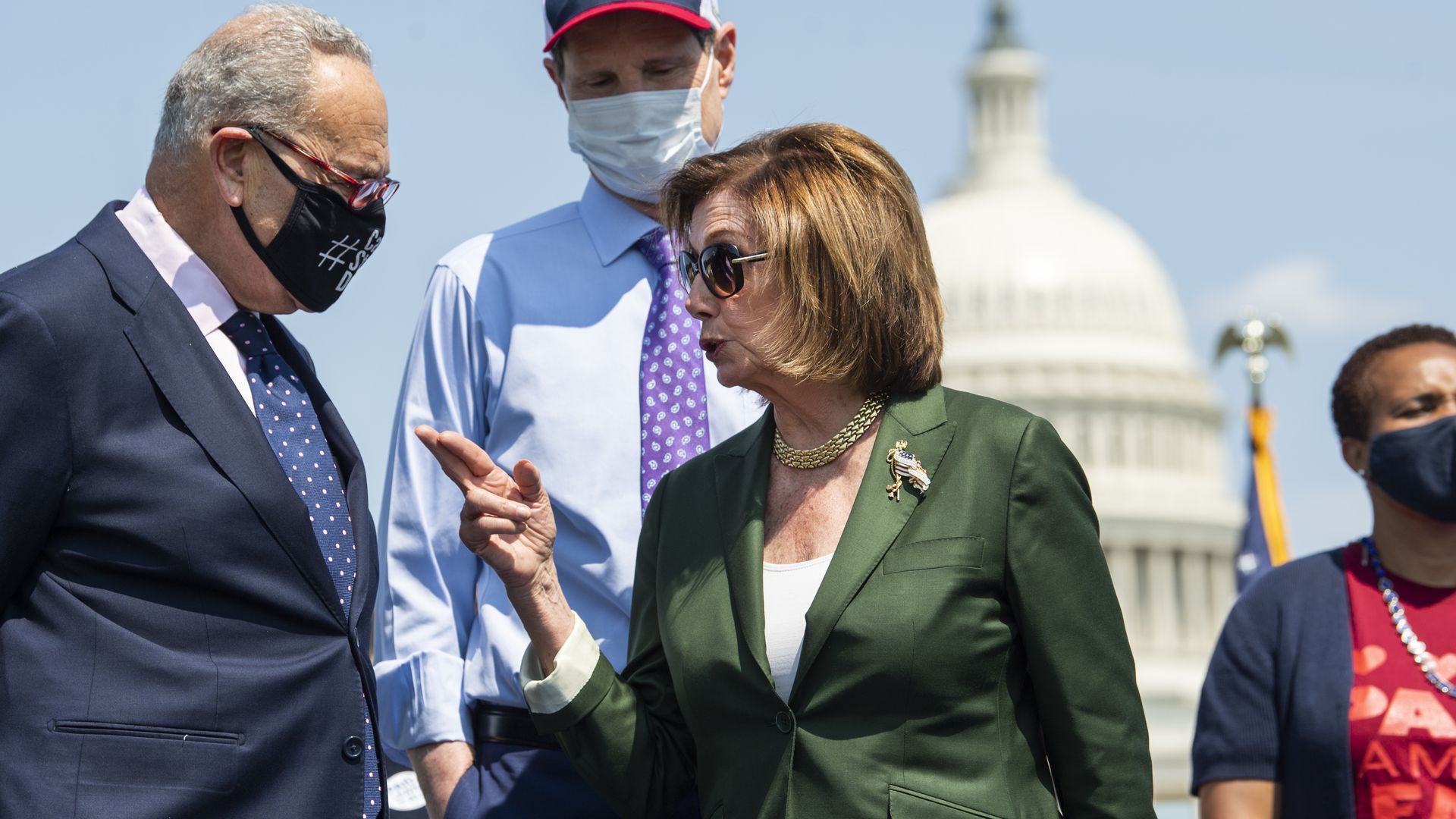 Democrats say they're itching for a political fight over abortion rights — and that it will help them in the 2022 midterms. But even if they're right, they're still losing the war.
The big picture: The Supreme Court appears to be barreling toward rulings giving red states significantly more power to restrict women's access to abortions, if not to ban the procedure outright.
Driving the news: Even many conservatives were taken aback when the nation's high court on Wednesday allowed a Texas law to take effect that bans almost all abortions in the state and allows private citizens to sue anyone who helped facilitate one.
What they're saying: Democrats say the sheer sweep of Texas' law and the highly unusual way it's written make it a juicy political target.
"I want to see the GOP defend the idea that your nosy neighbor can sue your aunt for driving you to the hospital," a senior White House aide told Axios.
Where it stands: The court did not rule on the law's merits, and legal experts say there's a good chance it ultimately won't survive that challenge. But, for now, a ban on abortions after about six weeks is on the books in America's second most populous state — and clinics are reportedly turning women away.
A more straightforward abortion case — one widely seen as a likely vehicle for the conservative court to chip away at Roe v. Wade — was already teed up for the justices' next term, which starts next month.
Between the lines: Top White House aides know that a high-profile fight over abortion rights will also energize Republicans and that the odds of passing any sort of remedy in Congress are slim.
But they want to force centrist Republican senators to defend a law that they believe will draw substantial backlash, not only from the left.
Texas' approach of allowing strangers to sue doctors, nurses, or even Uber drivers may also offend moderates — and swing voters — Democrats argue, including the suburban voters key to winning a House majority.
What's next: House Democrats will hold a vote on the Women's Health Protection Act, which would codify abortion rights into federal law, soon after they return from recess.
"I think this is a massive political gift to Democrats because this is exactly what we've been talking about for a very long time with respect to the court," a senior House Democratic aide said.
The other side: "I would be careful if I were them," said an influential conservative legal figure, referring to the White House's desire to elevate the Texas case.
The Supreme Court has already agreed to hear a case over Mississippi's ban on abortion after 15 weeks and will likely hand down a decision next summer.
Critics say a 15-week ban violates the standards the high court laid out in Roe v. Wade and Planned Parenthood v. Casey.
Mississippi, on the other hand, says the court should not only uphold a 15-week ban, but also overturn Roe.
"The Texas law makes the Mississippi law look very reasonable," the conservative legal figure said. "The more play the Texas law gets, the easier it is to uphold Mississippi. Because the Mississippi law is no longer the end of the world."
What we're hearing: Texas' new law allows anyone to sue anyone else who performs or facilitates an abortion. That vigilantism may ultimately doom the Texas law whenever the courts rule on its merits, legal experts say.
The Mississippi law is a much more straightforward restriction. It presents an obvious path for the court to chip away at abortion rights without overturning Roe outright — the kind of long-game ruling we've have come to expect from Chief Justice John Roberts — or to open the door much wider, if Roberts is again unable to persuade his fellow conservatives to go slow.
The bottom line: "The Supreme Court could overturn Roe and the Texas law could later get kicked out by a court on grounds that have nothing to do with Roe or Casey," the conservative legal figure said.
A strong performance by Democrats in the midterms wouldn't stop that from happening.
Go deeper