Supreme Court allows Texas abortion ban to remain in place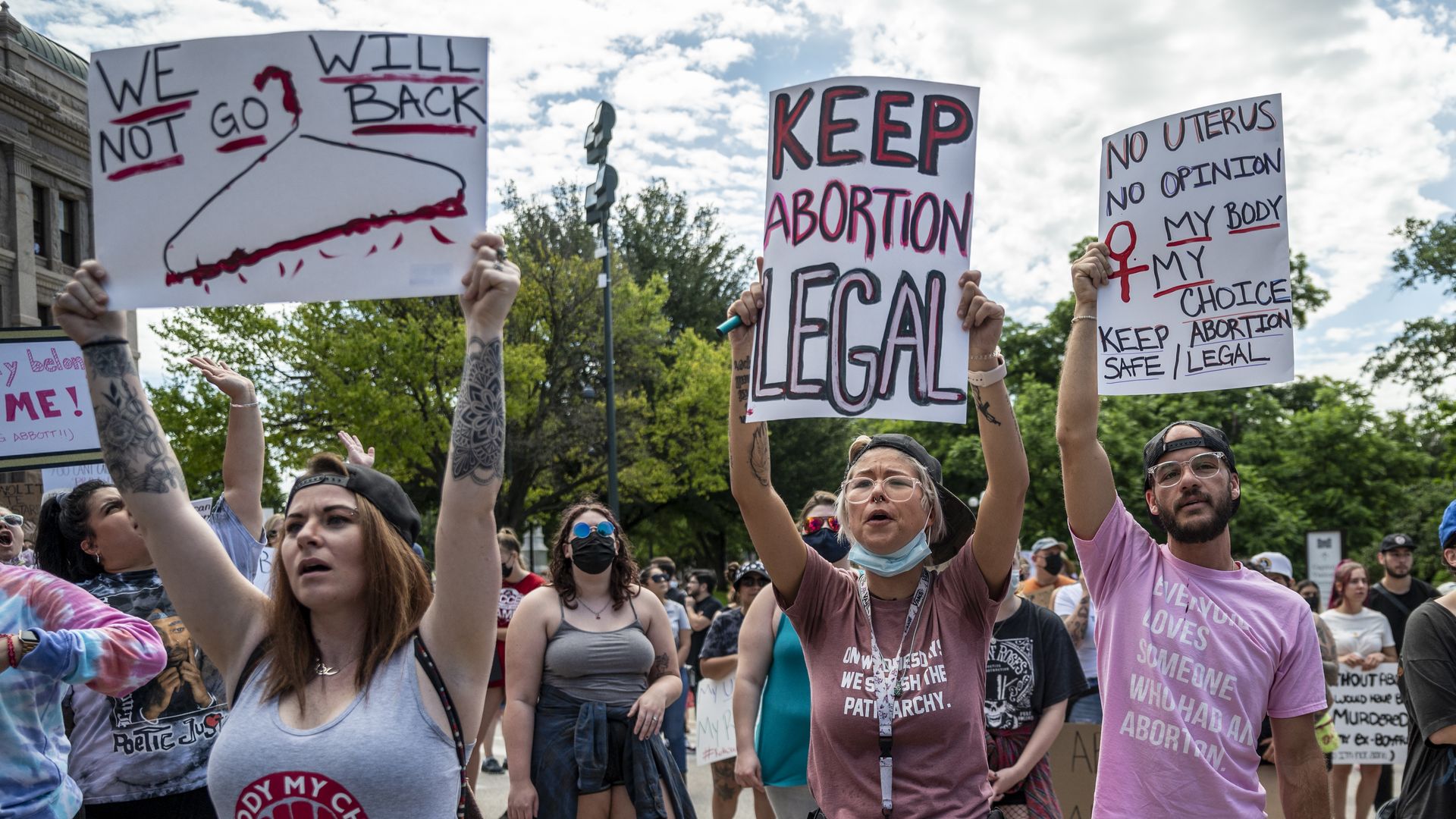 The Supreme Court allowed Texas' ban on most abortions in the state to remain in place in a 5-4 vote late Wednesday, rejecting an emergency application by reproductive rights groups to block the restrictive law.
Why it matters: The law, which took effect earlier Wednesday, is the most restrictive abortion ban allowed to be enforced since the Supreme Court's landmark 1973 Roe v. Wade ruling that legalized abortion nationwide. Reproductive rights groups fear the court's decision will prompt other states to pass similar laws.
The Texas law bans all abortions, including in cases of rape and incest, after the detection of a fetal heartbeat, which is usually around six weeks — before many people know they are pregnant.
It also allows individuals to sue anyone suspected of helping a woman obtain an abortion — and awards at least $10,000 to people who do so successfully.
The law is difficult to challenge partly because it's unclear who can be sued since it deputizes private citizens to enforce it.
Driving the news: The American Civil Liberties Union and other reproductive rights groups asked the Supreme Court to block the law, arguing it "would prohibit nearly all abortions in the state" since 85% to 90% of people who access abortion services in Texas are at least six weeks into pregnancy.
But the court said in its unsigned opinion that the groups had not addressed "complex and novel" procedural questions in the case.
"In reaching this conclusion, we stress that we do not purport to resolve definitively any jurisdictional or substantive claim in the applicants' lawsuit," the opinion stated.
"In particular, this order is not based on any conclusion about the constitutionality of Texas' law, and in no way limits other procedurally proper challenges to the Texas law, including in Texas state courts."
Of note: Chief Justice John Roberts joined the liberal justices in dissenting the ruling, describing the law as "not only unusual, but unprecedented."
Justice Sonia Sotomayor wrote in her dissent: "Presented with an application to enjoin a flagrantly unconstitutional law engineered to prohibit women from exercising their constitutional rights and evade judicial scrutiny, a majority of Justices have opted to bury their heads in the sand."
The big picture: The Texas abortion ban follows a series of restrictive abortion laws passed by conservative state legislatures nationwide in an effort to overturn Roe.
As of Aug. 15, at least 97 abortion restrictions — the most in any year since Roe — have been enacted in the country since January, though many have been blocked from taking effect while they make their way through the courts, according to the Guttmacher Institute, a reproductive rights research organization.
The Supreme Court is set to hear a challenge to a Mississippi law that bans nearly all abortions after the 15th week of pregnancy later this year.
Go deeper: Texas banned abortion after 6 weeks. Here's what happens next
Editor's note: This article has been updated with further details on the court's ruling, including an excerpt from the opinion and dissenting comment from Roberts and Sotomayor.
Go deeper