Manchin to Democrats: "Hit the pause" on $3.5T reconciliation talks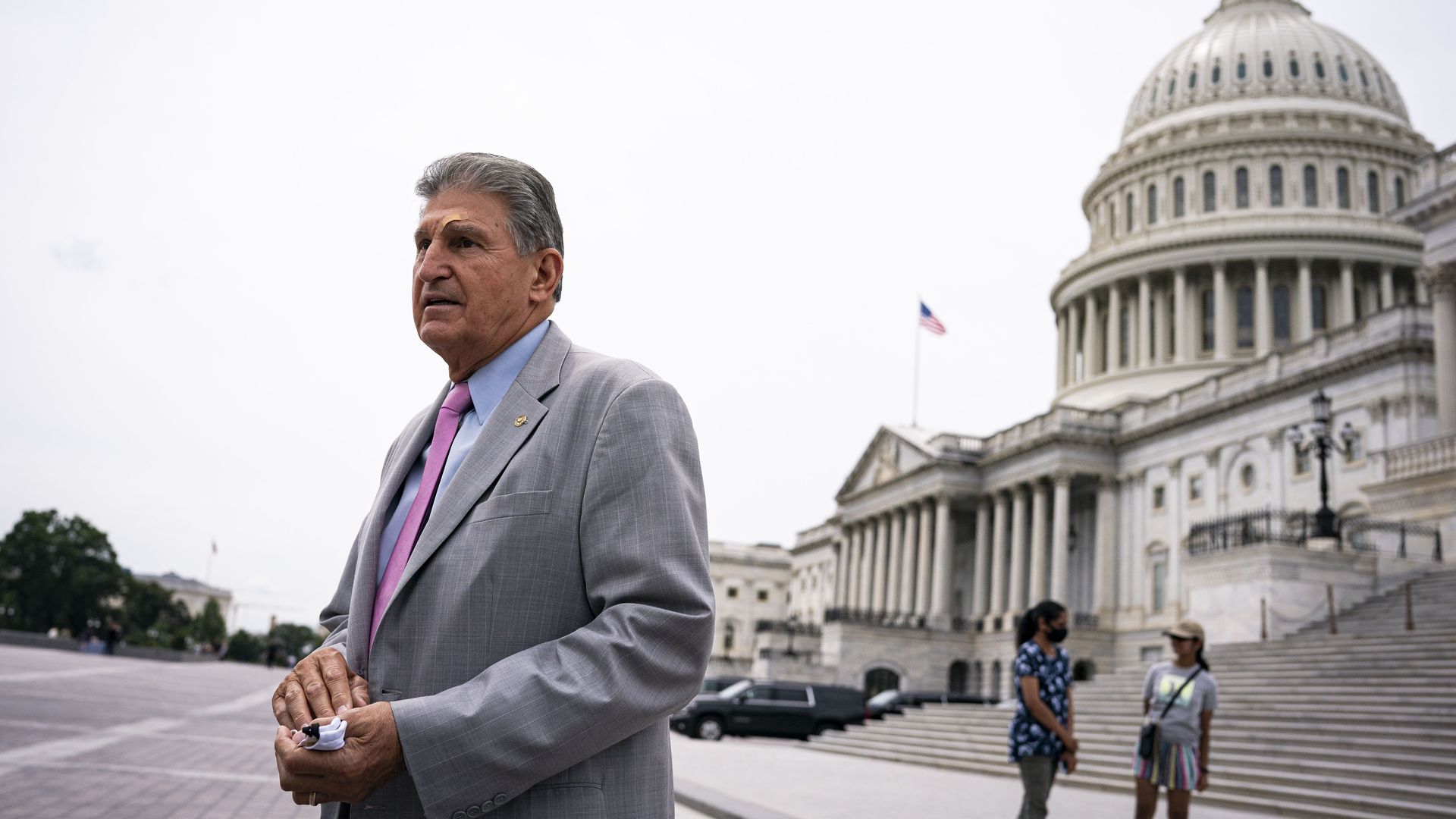 Centrist Sen. Joe Manchin (D-W.Va.) is urging his Democratic colleagues to "hit the pause button" on a $3.5 trillion spending bill, citing more urgent priorities like the U.S. withdrawal from Afghanistan and a spike in COVID-19 cases.
Why it matters: Democrats plan to pass that legislation via the budget reconciliation process, paving the way for a massive infrastructure infusion without Republican votes. In a 50-50 Senate, they'll need every single Democrat's support, including Manchin's.
Driving the news: Manchin made these comments Wednesday at the West Virginia Chamber of Commerce's annual business summit (His remarks start at 2:02:20).
But they drew little attention amid coverage of the flooding in the Northeast, the U.S. exit from Afghanistan and the Texas abortion ruling.
What he's saying: "[I]f the country is facing what we're facing now — the unknown of the COVID ... the unknown of the world order, if you will, coming out of Afghanistan," Manchin said, "I would ask my colleagues, and all of the Senate, to hit the pause button on the $3.5 [trillion]. Hit the pause button. Let's sit back, let's see what happens."
"I want to be able to take care of our military that can defend us anywhere in the world if it's called upon. I want to make sure our economy is still robust. I want to make sure we're bringing manufacturing back in opportunities."
"I don't want to have debt over our head to where we basically can't service the debt that we have ...the $3.5 [trillion], there's a lot of good stuff in here … but it's not anything that we need immediately. We've done over $6 trillion."
Manchin doubled down on those comments in a Thursday op-ed in the Wall Street Journal, writing: "I, for one, won't support a $3.5 trillion bill, or anywhere near that level of additional spending, without greater clarity about why Congress chooses to ignore the serious effects inflation and debt have on existing government programs."
The big picture: Democrats on the House and Senate committees are currently drafting and marking up sections of the spending bill, with a soft deadline of Sept. 15 to complete their draft.
The White House and congressional leadership have also privately been trying to assuage concerns about the size of the package through individual calls and member briefings.
This story has been updated to include a newly published op-ed from Manchin.
Go deeper