Frosty relationship between Turkey and UAE begins to thaw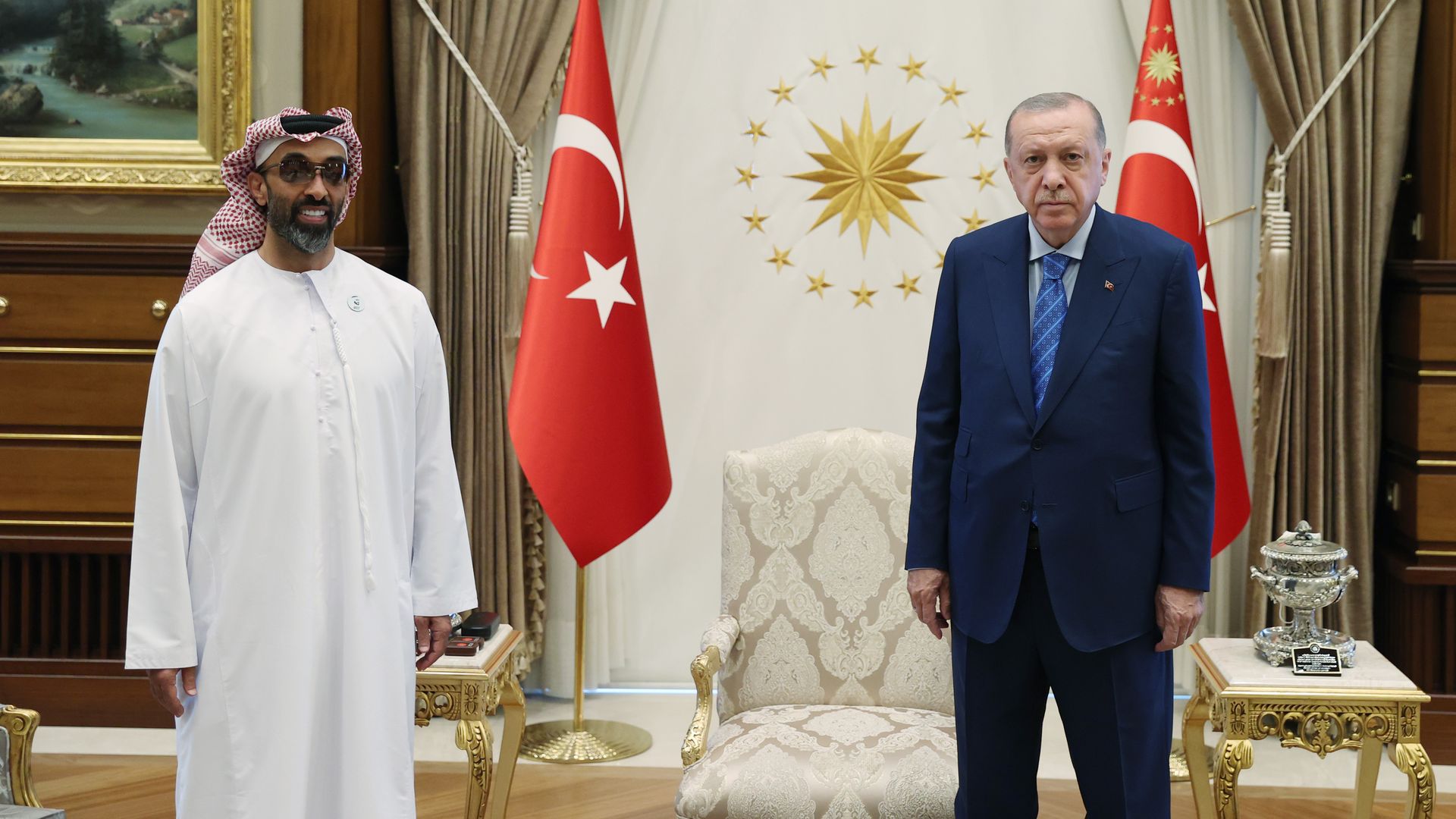 Ankara — Turkey and the United Arab Emirates, longtime regional rivals, have in recent weeks stepped up their efforts to mend ties.
Driving the news: Turkish President Recep Tayyip Erdoğan held a rare phone call on Monday with the UAE's de facto leader, Crown Prince Mohammed bin Zayed. That was followed by a call on Tuesday between their foreign ministers.
The big picture: The Turkish-Emirati rapprochement comes amid new de-escalation efforts across the region.
Gulf countries, including once-ostracized Qatar, have attempted to form a united bloc, amid shifting U.S. priorities under the new administration.
And after years of disputes, Turkey has taken steps to ease its tensions with Saudi Arabia, Egypt and now the UAE.
Senior officials from all four of those countries — as well as Iran, Qatar, Jordan, Kuwait and Iraq — took part in the Baghdad Cooperation and Partnership Conference on Saturday.
The backstory: Turkey and the UAE chose opposite sides in several regional conflicts in recent years, including Libya, Syria and Yemen. Erdoğan also accused the Emiratis of backing the 2016 coup attempt against him.
Turkey's continued support for the Muslim Brotherhood has angered the UAE, while Erdoğan threatened to suspend diplomatic ties with the UAE after Abu Dhabi's deal last year with Israel.
Turkey also lobbied Interpol unsuccessfully for the arrest of Mohammed Dahlan, a senior adviser in the UAE, blaming him for espionage activities inside Turkey.
Initial efforts to mend relations between Turkey and the Gulf states in recent months came mainly behind the scenes, through intelligence channels.
Two weeks ago, Erdoğan hosted Emirati national security adviser Tahnoun bin Zayed for a rare visit to Ankara.
Erdoğan said that visit focused on trade ties, saying "serious Emirati investments" can be expected — a potential boon to Turkey's struggling economy.
UAE diplomatic adviser Anwar Gargash described Monday's phone call between the Turkish and Emirati leaders as "very positive and friendly" and part of an effort to "build bridges, maximize commonalities and work together with friends and brothers to ensure future decades of regional stability and prosperity."
What's next: Exiled Turkish mafia leader Sedat Peker, who resides in the UAE, has been making bombshell allegations on YouTube about current and former Turkish politicians.
Emirati officials recently warned Peker to stop sharing videos for security reasons. It's unclear whether the UAE would bypass international law to extradite Peker to Turkey.
Go deeper