The GOP's Afghanistan message machine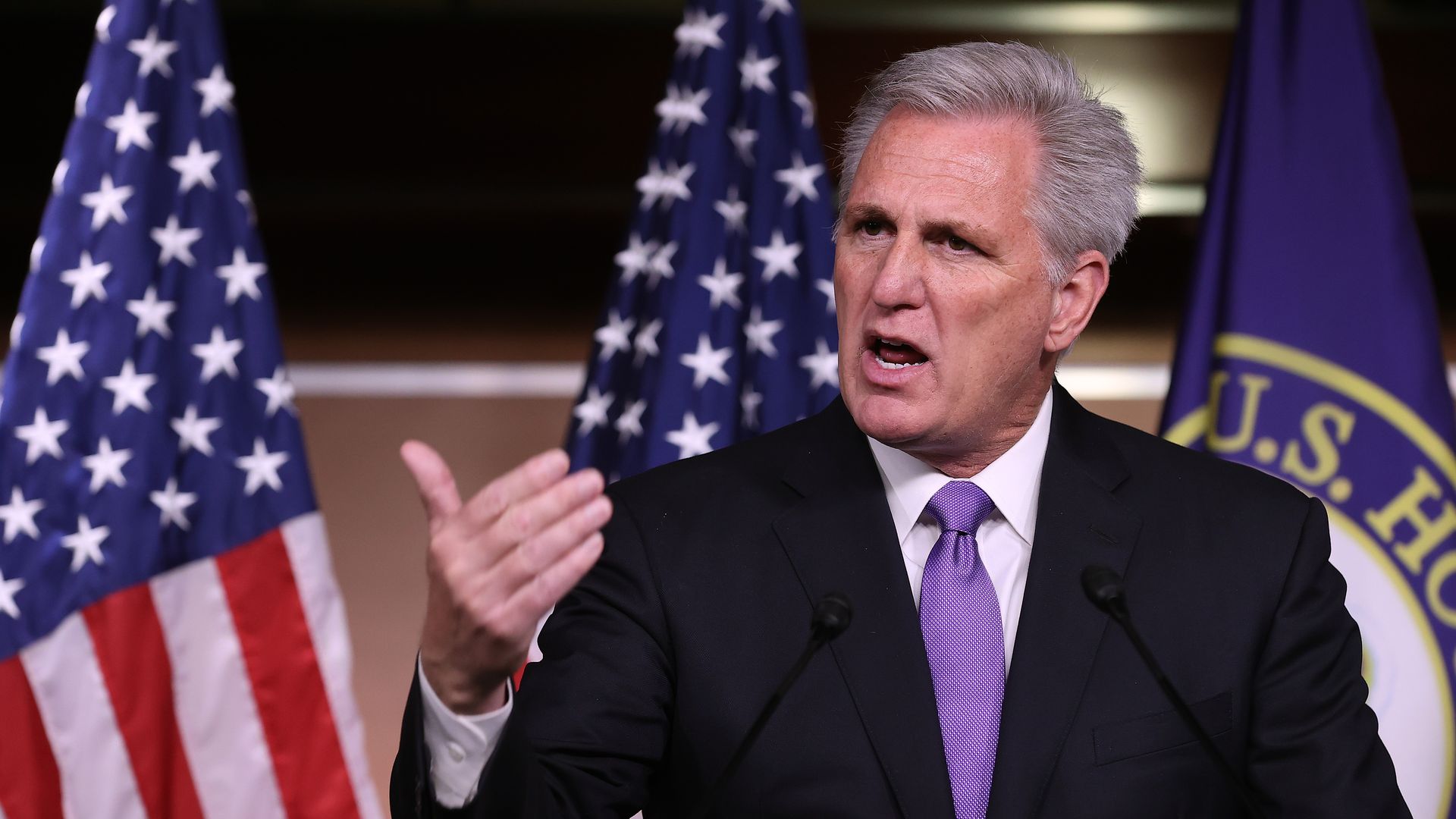 Republicans in Congress have begun coordinating their attacks on Afghanistan, with new plans to try to harness unease about the U.S. withdrawal in order to regain power in 2022.
Why it matters: President Biden's poll numbers have fallen as the Afghanistan exit was engulfed by chaos and tragedy. Now, Republicans are seizing the moment in hopes of making it a defining issue ahead of the midterms.
Driving the news: House Minority Leader Kevin McCarthy (R-Calif.) will outline the party's key foreign policy priorities at the Nixon Presidential Library on Wednesday morning, which his aides say will be his most substantive foreign policy address to date ahead of 2022.
The address is the first in a series of expected policy events McCarthy plans to hold across the country in the next several months, they tell Axios.
He'll speak alongside former Trump national security adviser Robert O'Brien, whom McCarthy has tapped to help House Republicans in their efforts to regain the majority next year.
Axios scooped Tuesday night that O'Brien spoke for over an hour with House Republicans on Tuesday, helping them develop their latest policy offensive on Afghanistan.
During the call, O'Brien walked members through a series of policy proposals focused on "rebuilding American credibility," and warned that countries like China and Russia will seek to exploit the region following the U.S. withdrawal from Afghanistan.
O'Brien also recently joined McCarthy for his annual retreat in Jackson Hole, Wyoming.
Republicans are also digging in on a legislative level. The Republican Study Committee, the largest block of House Republicans, will try to use Wednesday's markup of the National Defense Authorization Act (NDAA) to message against any recognition of the Taliban's legitimacy.
The effort is seen as a small part of a broader GOP messaging strategy aimed at painting Democrats as feckless Taliban allies, Republican members and aides tell Axios.
Asked about recognizing the Taliban government Tuesday night, White House Chief of Staff Ron Klain told MNSBC: "I don't think any time soon. I don't know if we will ever recognize their government."
Between the lines: While House Republicans hope to hammer Democrats over the exit, the Biden administration is quick to point out the war was started by a Republican — George W. Bush — and the withdrawal set into motion by another, Donald Trump.
Trump's Secretary of State Mike Pompeo negotiated a deal with the Taliban that precluded attacks on American forces in the country in exchange for a withdrawal by May 1 — and the release of 5,000 Taliban prisoners.
Those included some of the Taliban's top war commanders, including those who just took control of Afghanistan.
The deal was cinched while O'Brien was national security adviser.
Go deeper