Scoop: House Republicans target Dems on Taliban recognition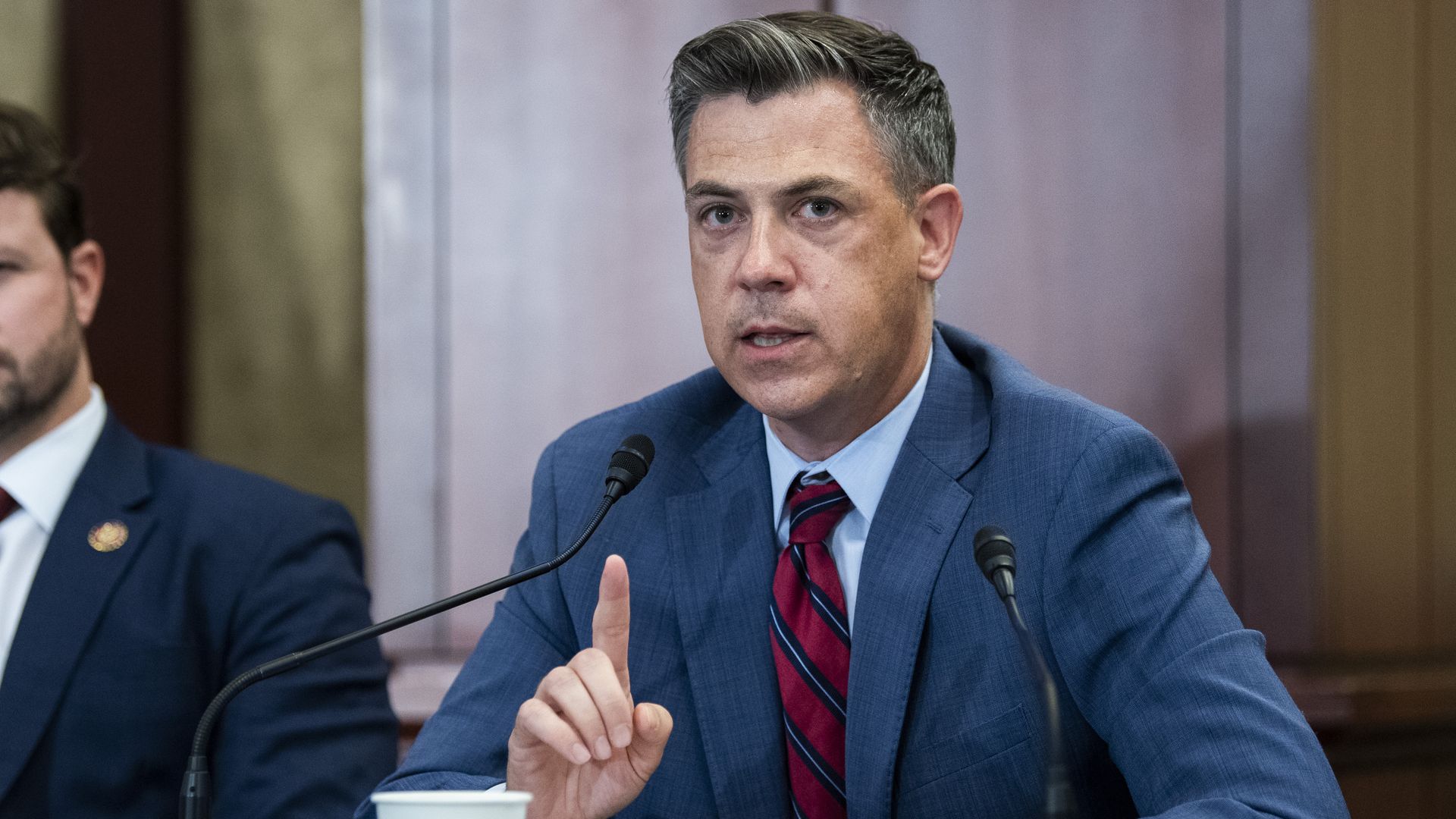 The largest block of House Republicans will try to use the annual markup of the federal defense spending bill starting Wednesday to message against any recognition of the Taliban's legitimacy, Axios has learned.
Why it matters: All of their proposed amendments to the National Defense Authorization Act are expected to fail, but it's part of a broader GOP messaging offensive to attack the Biden administration and Democrats over the withdrawal from Afghanistan, Republican members and aides tell Axios.
Driving the news: Members of the Republican Study Committee, led by Rep. Jim Banks (R-Ind.), will introduce a series of amendments during the markup in the House Armed Services Committee.
Among other things, the amendments seek enhanced sanctions on the Taliban.
Collectively, they're designed to "increase the pressure on the Taliban, isolate their regime and tighten the screws economically," said an RSC aide familiar with the plans.
The amendments, from an array of sponsors, include:
Banks: Labeling the Taliban as a Foreign Terrorist Organization, and a report into the weapons, mineral wealth and other funds the Taliban has obtained in relation to the U.S. withdrawal.
Rep. Joe Wilson (R-S.C.): A funding limitation prohibiting the Defense Security Cooperation Agency from recognizing the Taliban-led government in Afghanistan, and barring Defense Department funds from recognizing the Taliban as the legitimate government of Afghanistan.
Rep. Mike Johnson (R-La.): Call on the State Department to examine whether the Taliban is a state sponsor of terrorism. (This amendment has already been blocked.)
Rep. Don Bacon (R-Neb.): New arms embargo sanctions prohibiting arms sales from Russia and China to the Taliban.
Rep. Mike Waltz (R-Fla.): Non-recognition of the new Taliban government in Afghanistan modeled after the Crimea Non-Recognition Act.
What they're saying: "HASC members have been working with the RSC on several amendments to the NDAA for tomorrow's hearing to hold the Biden administration accountable for the disastrous withdrawal from Afghanistan and to prevent more American lives from being lost," Banks told Axios.
"Republicans stand ready to hold the regime accountable by designating it as an obvious state sponsor of terrorism like Iran and North Korea," Johnson said, adding there's a Democratic "fantasy" that the Taliban is legitimate.
Wilson, chairman of the RSC's National Security and Foreign Affairs Task Force, told Axios all avenues of Taliban funding must be blocked "to keep American families safe and block its access to resources to fund terrorist attacks."
But, but, but: Secretary of State Antony Blinken made clear during a speech Monday that the Biden administration worked with the Taliban over the past few weeks solely to enable its evacuation from Kabul.
"Going forward, any engagement with a Taliban-led government in Kabul will be driven by one thing only: our vital national interests," Blinken said. "The Taliban seeks international legitimacy and support. Our message is: any legitimacy and any support will have to be earned."
Go deeper