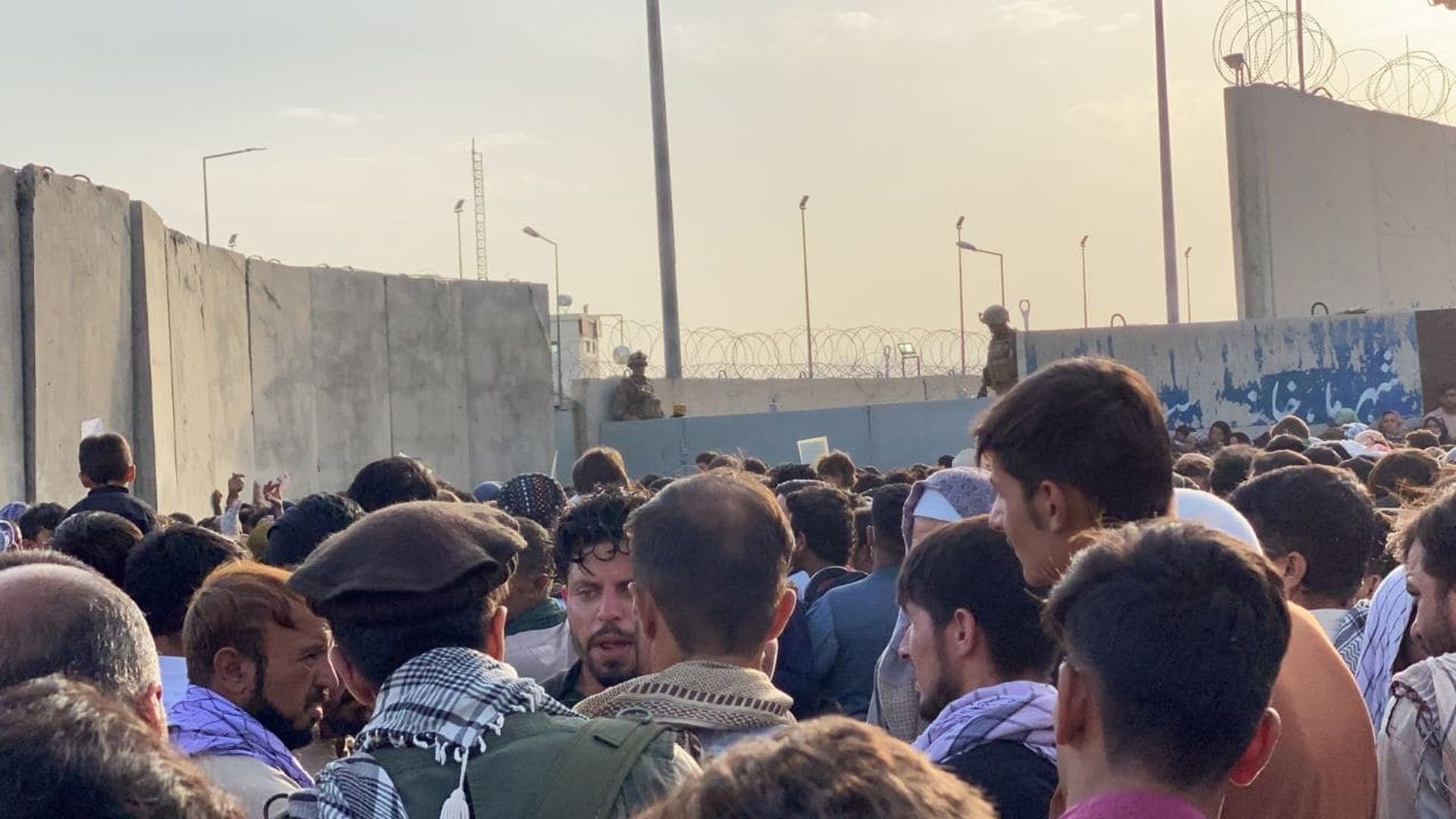 Afghans fleeing Kabul aren't supposed to reach America's shores until they've passed a multi-step vetting process — 14 steps, in the case of some interpreters and others who helped the U.S military.
Where it stands: The U.S. has helped evacuate more than 70,000 Afghans since Aug. 14. Only a fraction are believed to have entered the U.S. — though exactly how many isn't clear.
The number was estimated last week at roughly 2,000, with 800 coming soon. Neither the White House nor the Department of Homeland Security could share updated numbers Tuesday evening.
Details: There are four basic categories of people leaving Afghanistan for the U.S.:
American citizens and green card holders.
Special Immigrant Visa (SIV) applicants, including interpreters and others who aided the U.S.
Afghans who helped the U.S. or worked for U.S.-based NGOs or news organizations who qualify for a new refugee category.
Other vulnerable Afghans who manage to flee the country and receive refugee resettlement in the U.S. down the road.
How it works: After navigating Taliban checkpoints, mobs at the airport and eligibility requirements to board evacuation planes, fleeing Afghans are being taken to military bases in Europe and the Middle East.
Al Udeid Air Base in Qatar has been a top initial destination. Overcrowding there has created "a living hell," according to internal government communications reported by Axios.
The administration announced last week that Bahrain, Denmark, Germany, Italy, Kazakhstan, Kuwait, Tajikistan, Turkey, the United Arab Emirates, the United Kingdom and Uzbekistan are accepting or will soon accept Americans and some others fleeing Afghanistan.
In these countries, people planning to relocate to the U.S. are first vetted, including SIV applicants and their families.
"That process involves biometric and biographic security screenings," a senior administration officials told reporters during a call on Tuesday.
Those screenings are "conducted by our intelligence, law enforcement and counterterrorism professionals, who are working quite literally around the clock to vet all of these Afghans before they're allowed to enter the United States."
Afghans who are not U.S. citizens or green card holders are then sent to military bases within the country, such as Fort Lee, Va., for a full health screening.
After receiving assistance applying for work authorization, arriving families are then connected with refugee organizations who will help them resettle.
What to watch: Homeland Security Secretary Alejandro Mayorkas is using humanitarian parole to allow certain people leaving Afghanistan to come to the U.S. who would otherwise have no legal status.
This could include people who've not yet completed the SIV process, the official said.
The official did not provide specific, updated numbers on how many people have arrived, or non-SIV examples of people who have been brought into the U.S. using humanitarian parole.
The mechanism could allow the U.S. to bring vulnerable people to American soil faster.
COVID-19 protocols: The State Department has waived requirements for a negative coronavirus tests for people fleeing Afghanistan, but the official said that everyone is required to get tested once they arrive at a U.S. airport.
The administration is working to provide vaccines, as well but the process is still being established.
Go deeper