7 Afghan civilians killed in crush of people vying to enter Kabul airport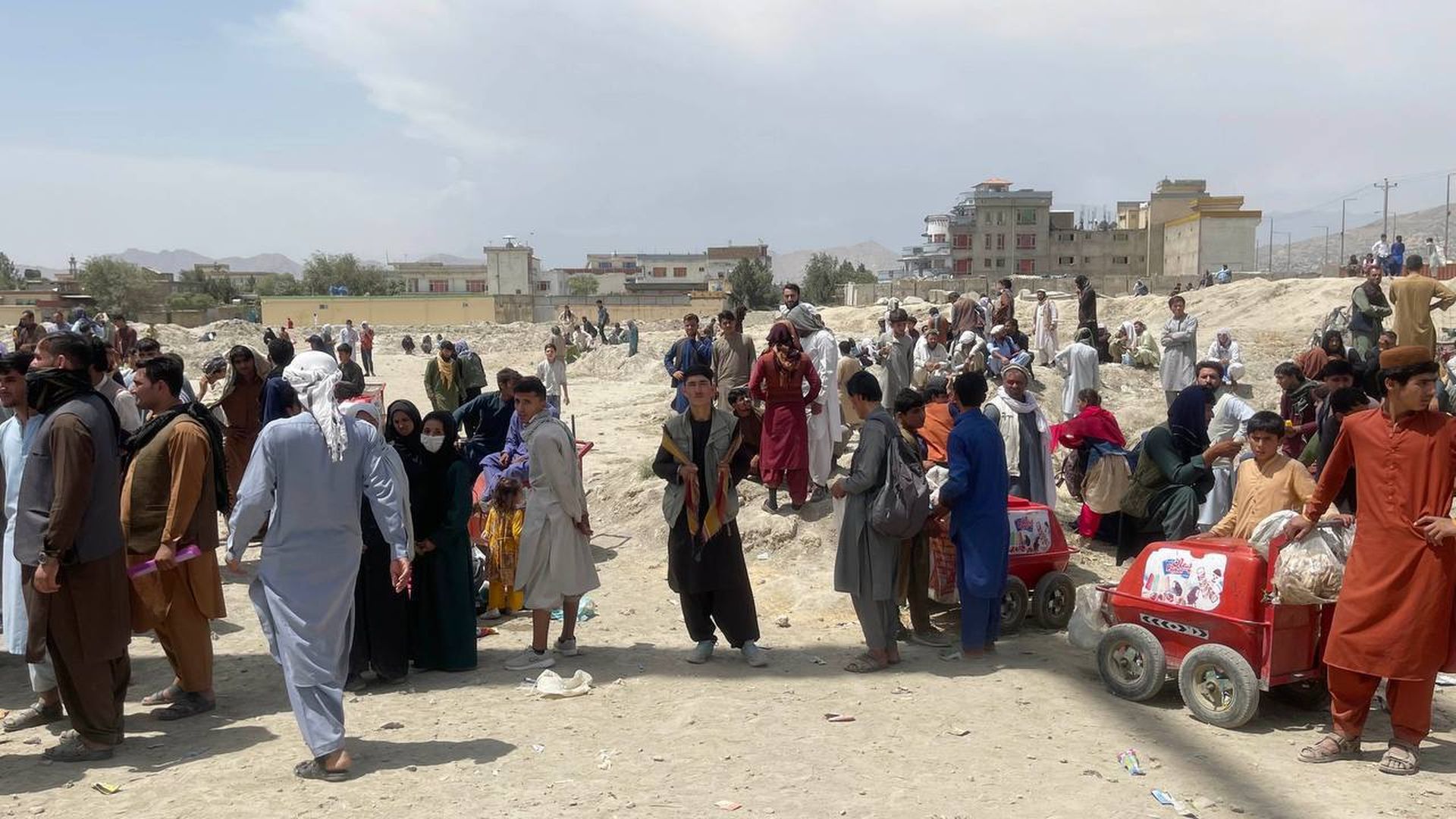 Seven Afghan civilians died on Saturday as part of a crush of those desperate to enter the Kabul airport, Britain's Ministry of Defense said on Sunday.
The big picture: News of the deaths comes as the U.S. Embassy warned Americans on Saturday not to venture to the airport "because of potential security threats."
The U.S. Embassy guidance came a day after President Biden reiterated his commitment to considering "every opportunity and every means" to get Americans and Afghan allies through Taliban checkpoints and into the airport.
The stampedes, like the one that resulted in the death of the seven civilians on Saturday, have been caused by Taliban fighters firing into the air to drive away those desperate to get out of the country, AP reports.
At least 20 people in and around the Kabul airport have been killed since the Taliban seized Kabul last weekend, a NATO official said on Sunday.
Of note: British Prime Minister Boris Johnson said on Sunday that he has called a G7 leaders' meeting on Tuesday to discuss Afghanistan.
Biden will attend the meeting virtually, according to White House press secretary Jen Psaki, who added that "the leaders will discuss continuing our close coordination on Afghanistan policy and evacuating our citizens, the brave Afghans who stood with us over the last two decades, and other vulnerable Afghans."
"They will also discuss plans to provide humanitarian assistance and support for Afghan refugees," she added.
In other news: U.S. Air Mobility Command posted a Twitter thread on Saturday about an Afghan woman who went into labor while en route to Ramstein Air Base in Germany.
Upon landing, medical personnel boarded the plane and helped to deliver the baby in the aircraft's cargo hold.
"The baby girl and mother were transported to a nearby medical facility and are in good condition," according to the thread.
Editor's note: This story has been updated with relevant news throughout.
Go deeper