Updated Aug 21, 2021 -

World
Biden and national security team discuss counterterror ops in Afghanistan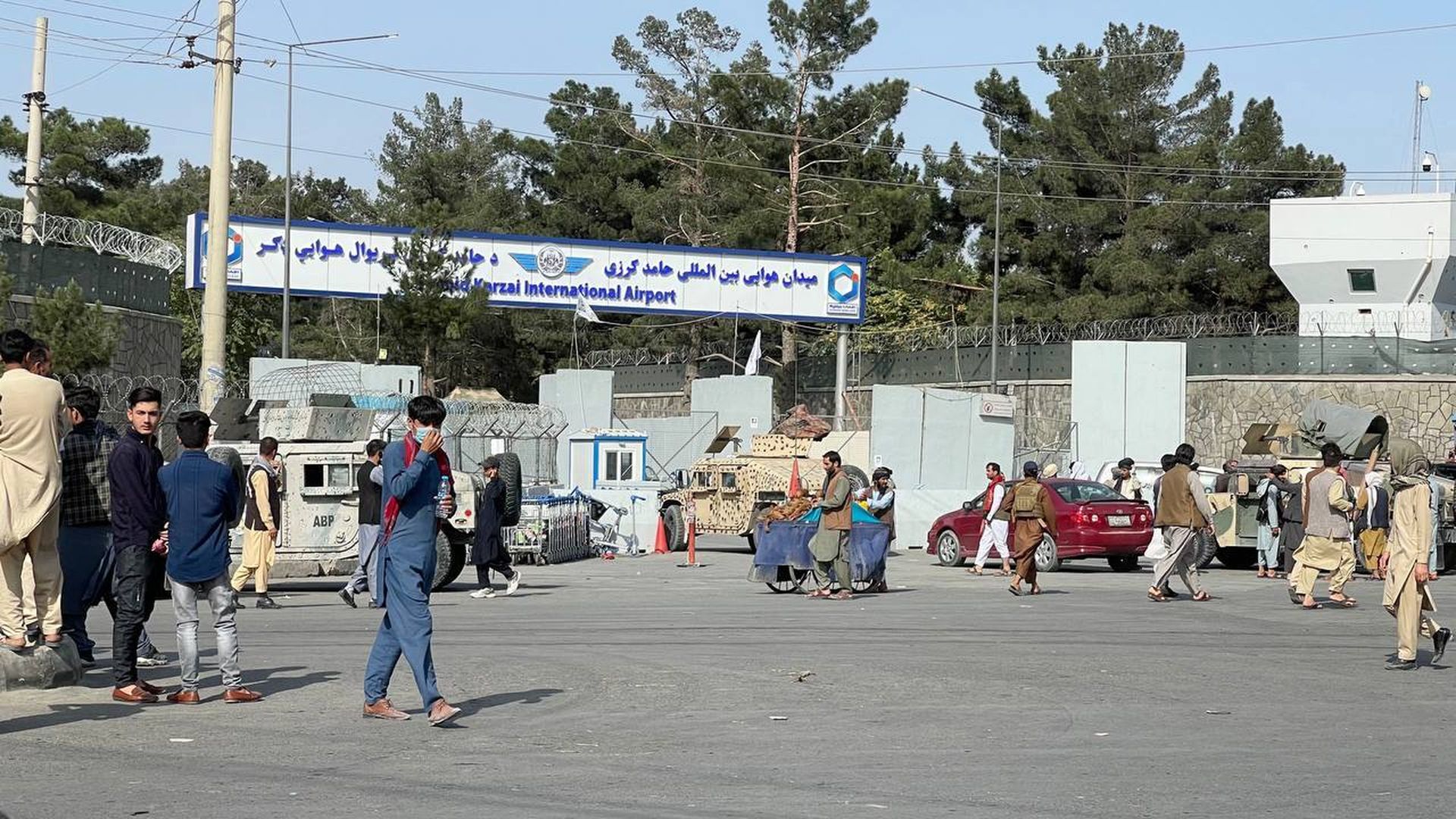 President Biden discussed counterterrorism operations in Afghanistan with his national security team on Saturday as the U.S. Embassy warned Americans not to go to the Kabul airport "because of potential security threats."
The big picture: The president and his national security advisers "discussed the security situation in Afghanistan and counter-terrorism operations, including ISIS-K," a White House official said.
In addition to evacuation efforts, the national security team also "discussed the aggressive efforts to finalize agreements with additional third-party country transit hubs," according to the official.
The Biden administration on Friday announced that its evacuation flights from Kabul can now land throughout the Middle East and Europe as Qatar has reached capacity, resulting in temporarily halted flights.
Biden and Vice President Kamala Harris — who joined by secure video teleconference en route to Singapore — met with Secretary of State Antony Blinken, Secretary of Defense Lloyd Austin, Chairman of the Joint Chiefs Mark Milley and other senior officials.
Driving the news: The U.S. Embassy guidance comes a day after Biden reiterated his commitment to considering "every opportunity and every means" to get Americans and Afghan allies through Taliban checkpoints and into the airport.
"Because of potential security threats outside the gates at the Kabul airport, we are advising U.S. citizens to avoid traveling to the airport and to avoid airport gates at this time unless you receive individual instructions from a U.S. government representative to do so, " according to the embassy guidance.
On Friday, Biden said his administration has been in "constant contact" with the Taliban to "ensure that civilians have safe passage to the airport."
"We've made it clear to the Taliban that any attack, any attack on our forces or disruption of our operations at the airport will be met with swift and forceful response."
The White House said earlier Saturday that "in the last 24 hours, 6 U.S. Military C-17s and 32 charters departed Kabul. The total passenger count for those 38 flights is approximately 3,800."
Roughly 17,000 people have been evacuated since Aug. 14.
Why it matters: Biden on Friday vowed that "this evacuation mission is dangerous," adding: "It involves risks to our armed forces, and it's being conducted under difficult circumstances."
But critics and some journalists viewed the commander-in-chief's comments as painting an inaccurate picture of continued chaos on the ground.
What else is happening: The Taliban's political leader, Mullah Abdul Ghani Baradar, arrived in Kabul on Saturday to meet with senior leaders of the militant group about forming their new government.
It's still unclear who will lead what the militants call the Islamic Emirate of Afghanistan as president, but Baradar is widely viewed as the public face of the movement.
Go deeper...
The future of U.S. counterterrorism in Afghanistan
The cases for and against Biden's key decisions on Afghanistan
Go deeper