Exclusive: Amanda Gorman calls on Biden to support Afghan women and girls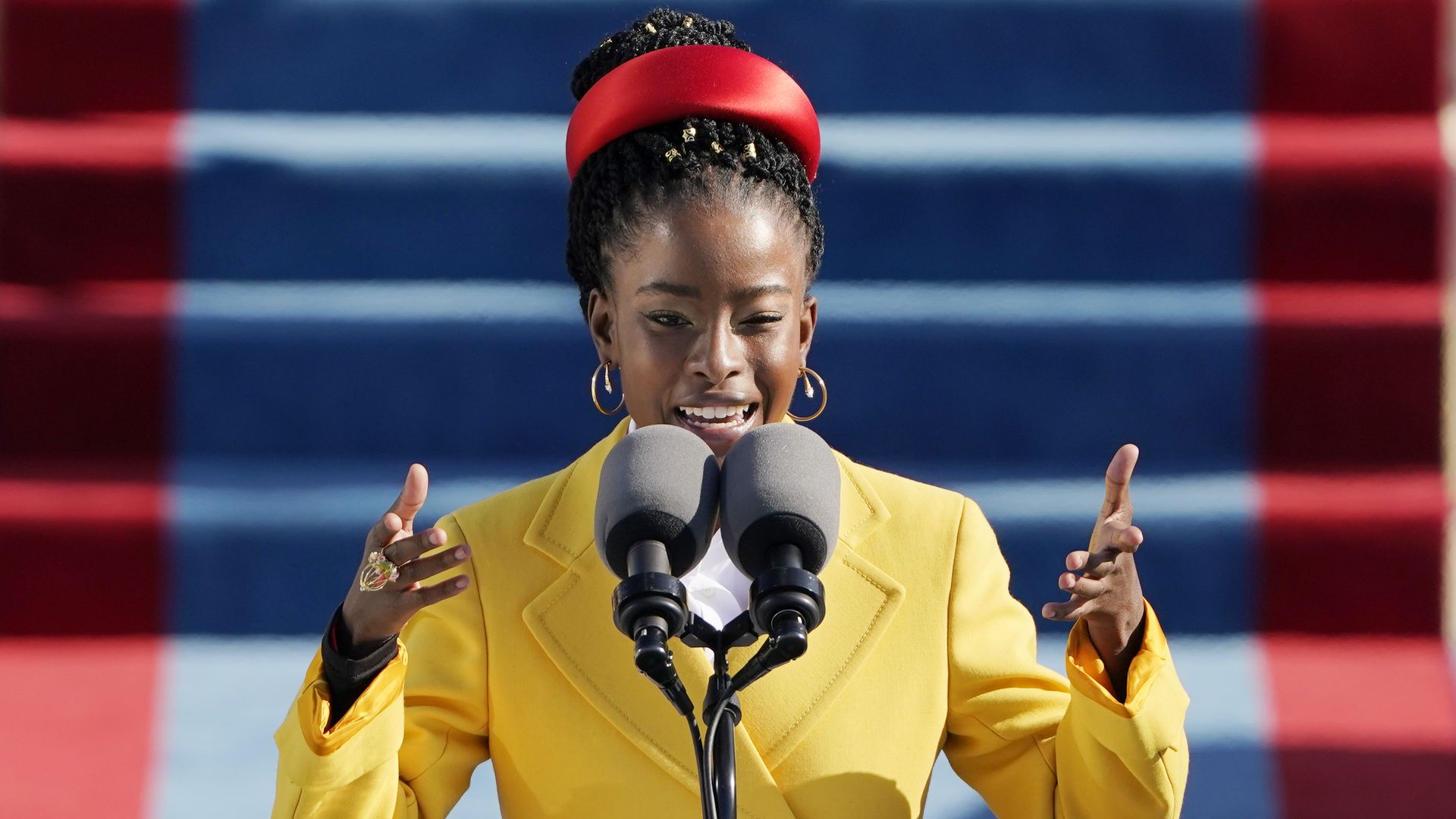 Prominent women's rights advocates, including poet laureate Amanda Gorman, are calling on the Biden administration to protect and support Afghan women and girls and "honor its commitment to gender equity."
Why it matters: The activists — including the actors Connie Britton and Charlize Theron, fashion designer Diane von Furstenberg, and Facebook's Sheryl Sandberg — are the latest advocates to try to increase pressure on President Biden to do more for Afghans who could face persecution from the Taliban.
"We join a growing chorus of global leaders and advocates in raising up the voices of Afghan women's rights activists who are under imminent threat," the activists write in an open letter to the White House.
"Immediate action must be taken to safeguard Afghan women most at risk: women's rights activists, journalists, educators, civil society leaders, human rights defenders and direct service providers."
The big picture: While the U.S. is ramping up the airlift in Kabul, it is still only using a fraction of its total capacity to evacuate Americans and Afghans.
The U.S. has enough aircraft available to meet its goal of getting 5,000–9,000 people out of the country each day, Gen. Hank Taylor told reporters on Thursday, but it has only evacuated 7,000 people in total since Saturday — 2,000 of them in the previous 24 hours.
"No flight out of Kabul should have empty seats," more than 300 former national security officials, organized by members of the Truman National Security Project, wrote to Biden and Congress in a separate letter.
Driving the news: The women's letter was organized by Vital Voices and Women for Women International, a group of celebrities, policy experts, NGO leaders and activists.
They are demanding that Biden take four concrete steps: provide direct evacuation flights for women; include a category for at-risk women for Special Immigrant Visas and raise the refugee cap; provide more resources for assistance and resettlement; and protect and invest in women who remain in Afghanistan.
Go deeper: Exclusive: Inside the White House scramble to protect Afghan allies
Go deeper