How Facebook aims to move work meetings to VR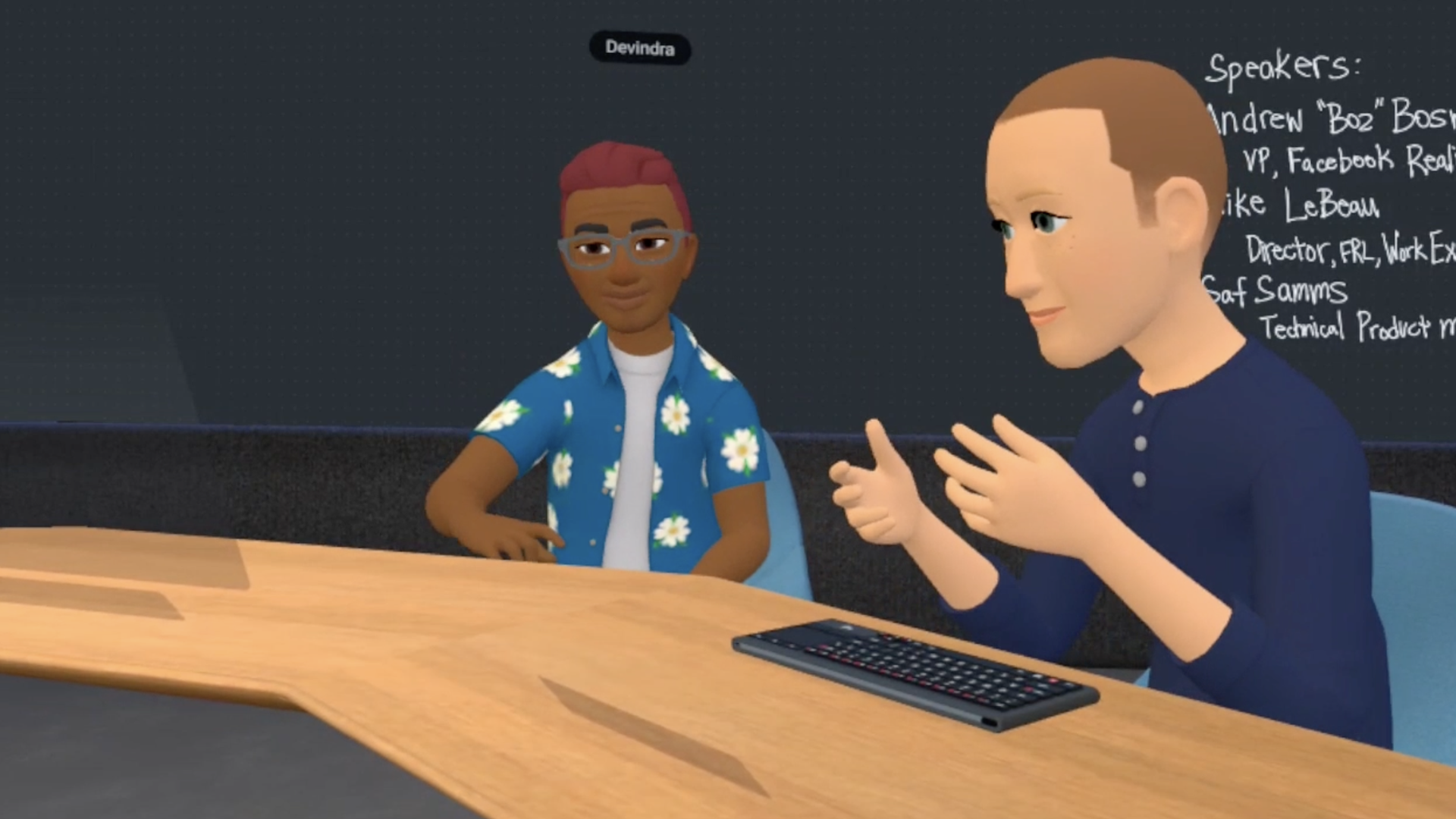 Facebook is pitching a new option for distant coworkers who want to gather and regain some of the spontaneous creative space lost in a world of Zoom meetings: Strap on a VR headset.
Why it matters: Facebook is debuting Horizon Workrooms, a free app that is part of the company's effort to create a broad "metaverse" in which physical distance is removed as a barrier for those who want to interact with one another.
How it works:
The app, being released in beta form today, allows people with an Oculus Quest 2 headset to gather in a conference room-like space using the headset's internal cameras to replicate hand motions and other visual cues.
It also uses spatial audio to link each person to their physical spot in the virtual room, another way to make it feel more like a real gathering.
Participants can collaborate on a shared whiteboard as well as bring in photos and other documents.
People can also bring their PC or Mac screen into the experience and take notes on the keyboard, using the device's pass-through camera to see their fingers typing.

Doing so allows people to take notes as well as do the other things they would at an in-person meeting — like surreptitiously surf the web when the boss starts yammering on. (Others can't see what you are doing on your virtual computer.)

Participants without headsets can also join in Workroom gatherings, appearing as a video chat on a large display within the virtual conference room.
In a briefing with reporters this week, Facebook CEO Mark Zuckerberg dropped in, first via video chat and then in VR using his avatar. "We shouldn't really have to physically be together to feel present or collaborate or brainstorm," Zuckerberg said. "We think it is going to be a big use case for VR."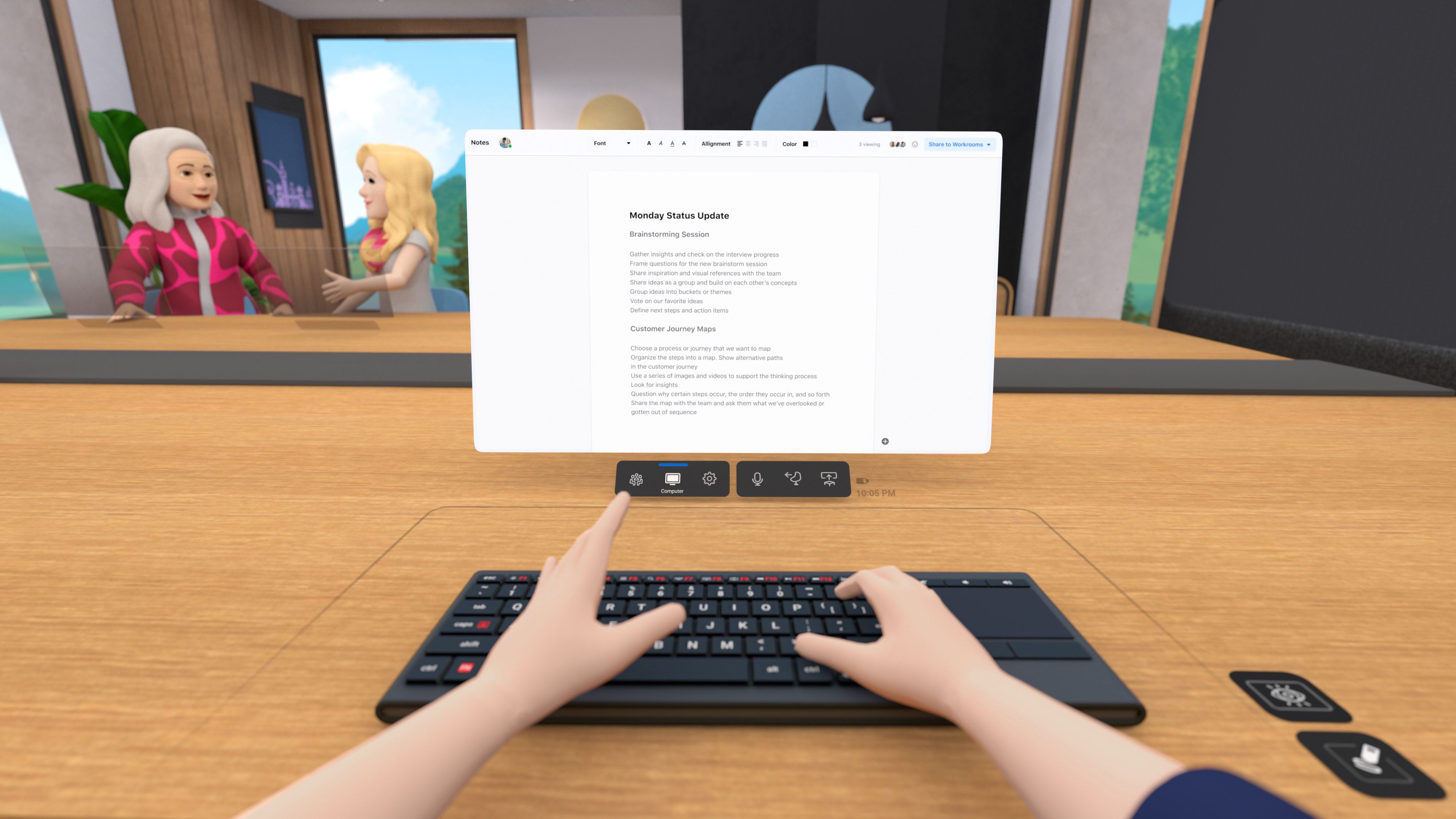 Between the lines: The technology is clearly in beta for a reason. When Zuckerberg initially entered the VR meeting, his mouth wasn't moving, which another Facebook executive said was creepy. He encouraged his boss to exit and re-enter — which he did, solving the problem.
Battery life remains a significant issue for VR headsets, with my demo unit down to a quarter of its charge by the end of the hourlong meeting.
On the other hand, it does serve as an effective way to prevent long meetings.
The big picture: Facebook sees office meetings as just one type of social interaction that will move to the world of mixed reality, with entertainment and other personal activities being as much or more of the company's focus when it comes to the "metaverse."
Zuckerberg said he now thinks of Facebook as more of a metaverse company than as a social media business.
Nor is Facebook alone in seeing the potential of VR to improve remote meetings. We've written a bunch about Spatial, a startup taking a similar approach to meetings. Its platform supports Oculus Quest, Microsoft Hololens and other headsets, as well as those joining from a phone or PC. (Here's a video of me trying out their technology.)
Go deeper: Here is a video of Zuckerberg showing off the technology and touting its promise.
Go deeper