Israeli PM Bennett to visit Biden in midst of Afghanistan crisis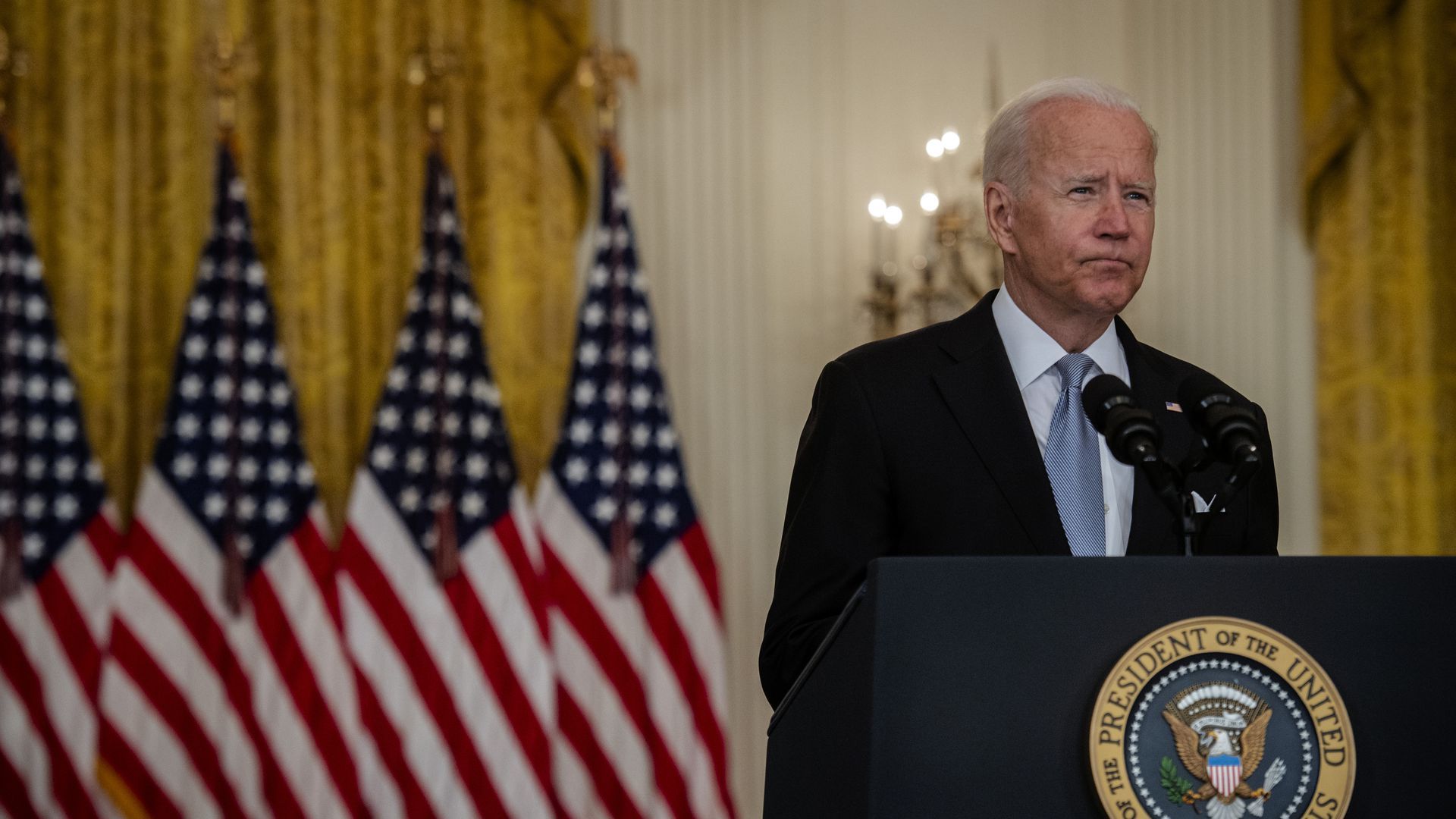 Israeli Prime Minister Naftali Bennett's first visit to the White House will come with President Biden attempting to manage the worst foreign policy crisis of his presidency.
Why it matters: Bennett will visit next Thursday, the White House confirmed, which will likely make him the first world leader to meet Biden during his "Saigon moment."
Israeli and U.S. officials initially tried to schedule the visit for July, but it was shifted to August due to Biden's schedule, Bennett's domestic political difficulties and rising COVID-19 cases.
Behind the scenes: Israeli officials are very concerned by the message the Afghanistan crisis sends about U.S. engagement in the broader region.
While the Israeli government has been careful not to criticize the Biden administration in public, privately, several senior Israeli officials have told me they were stunned by what they saw as a major U.S. intelligence failure.
What they're saying: Israeli officials hope the Afghanistan crisis will make the Biden administration rethink potentially pulling U.S. forces out of Iraq and Syria.
Two Israeli officials who requested anonymity because of the diplomatic sensitivities expressed the same sentiment: "The U.S. wants to disengage from the Middle East but finds out the Middle East is running after it."
Israeli Defense Minister Benny Gantz raised concerns about further U.S. withdrawal from the Middle East during an Aug. 6 phone call with U.S. Secretary of Defense Lloyd Austin, in which the Afghanistan pullout was briefly discussed, an Israeli official says.
Opposition leader Benjamin Netanyahu has openly criticized Biden's Afghanistan policy, writing on Facebook that in 2013, then-Secretary of State John Kerry invited him for a secret trip to Afghanistan to see how the U.S. has built the Afghan army to fight terrorism.
"The message was clear — the U.S. wanted to implement the Afghanistan model in the Palestinian file too," Netanyahu said, claiming he knew then that Afghanistan would collapse if the U.S. pulled out.
What's next: Israeli officials hope the Afghanistan crisis won't totally overshadow the Bennett-Biden meeting, which they see as very important to establish a fresh state in U.S.-Israel relations after 12 years under Netanyahu.
The Israeli government thinks the Biden administration realizes it will need to rebuild its credibility in the region. Israeli officials hope to discuss potential steps to do so with the Biden administration.
Bennett said at a press conference on Wednesday that Iran will be the focus of his meeting with Biden. "We finished a policy review on Iran and we are coming with an approach of a partnership that is aimed at countering Iran's regional activity and preventing it from breaking out to a nuclear weapon," he said.
White House Press Secretary Jen Psaki said the leaders would discuss Iran, regional security and efforts to "advance peace, security, and prosperity for Israelis and Palestinians."
Go deeper