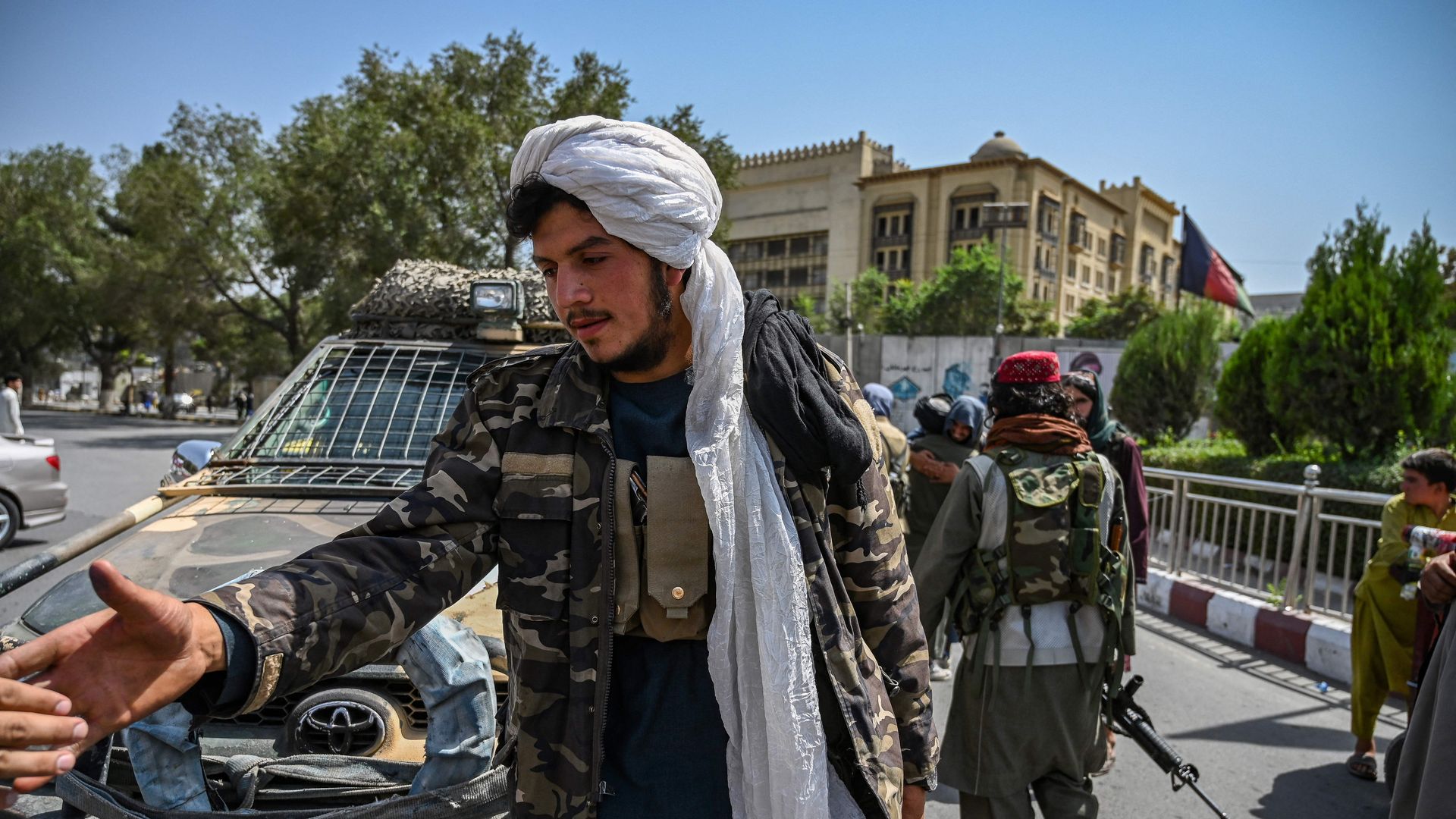 In his first press conference from Kabul, a Taliban spokesperson said Tuesday the group would honor women's rights and an independent media, but within the "frameworks" of Islamic law.
The big picture: The Taliban's swift takeover has renewed fears that the group will return to the brutal grip it ruled with in the 1990s, when women's freedoms were severely restricted, other human rights were limited and executions were carried out in public.
The Taliban now insist they have changed, but will still rule Afghanistan within the norms of Islamic law.
What they're saying: "Women are going to be very active within our society, within our framework," Taliban spokesperson Zabihullah Mujahid said on Tuesday, adding that women will be allowed to work and study "within our frameworks."
Repeatedly questioned on what that would mean in practical terms, Mujahid continued to give vague answers. "We are guaranteeing all their rights within the limits of Islam," he said.
Mujahid also said the private media will "remain independent" and impartiality is important, but stressed journalists should not work against "national values and national unity."
The Taliban's press conference on Tuesday came just hours after the group declared an "amnesty" and called on women to join their new government.
Mujahid repeated the amnesty declaration, saying, "We have pardoned all those who have fought against us. Animosities have come to an end."
"After 20 years of struggle, we have emancipated [the country] and expelled foreigners," he added. "This is a proud moment for the whole nation."
Mujahid also said he could assure the international community that "Afghanistan soil is not going to be used against anybody."
Despite the promises, many Afghans, especially women and those who worked with foreign organizations, rights groups and the international community, remain skeptical — pointing to grave human rights abuses committed by the Taliban in the past and in other areas of the country controlled by the militant group.
Thousands of Afghans stormed the runway at Kabul's international airport on Monday, hoping to flee the Taliban. The chaos forced the U.S. military to temporarily suspend evacuation efforts.
The U.S. resumed operations at the airport on Tuesday, with the hope of having at least one flight per hour take off from Hamid Karzai International Airport when operations are fully running. The Pentagon said it expects 5,000–9,000 people can be evacuated per day.
Go deeper: Afghan women and girls fear for their futures after Taliban victory
Go deeper