Updated Aug 16, 2021 -

World
7 dead amid chaos at Kabul airport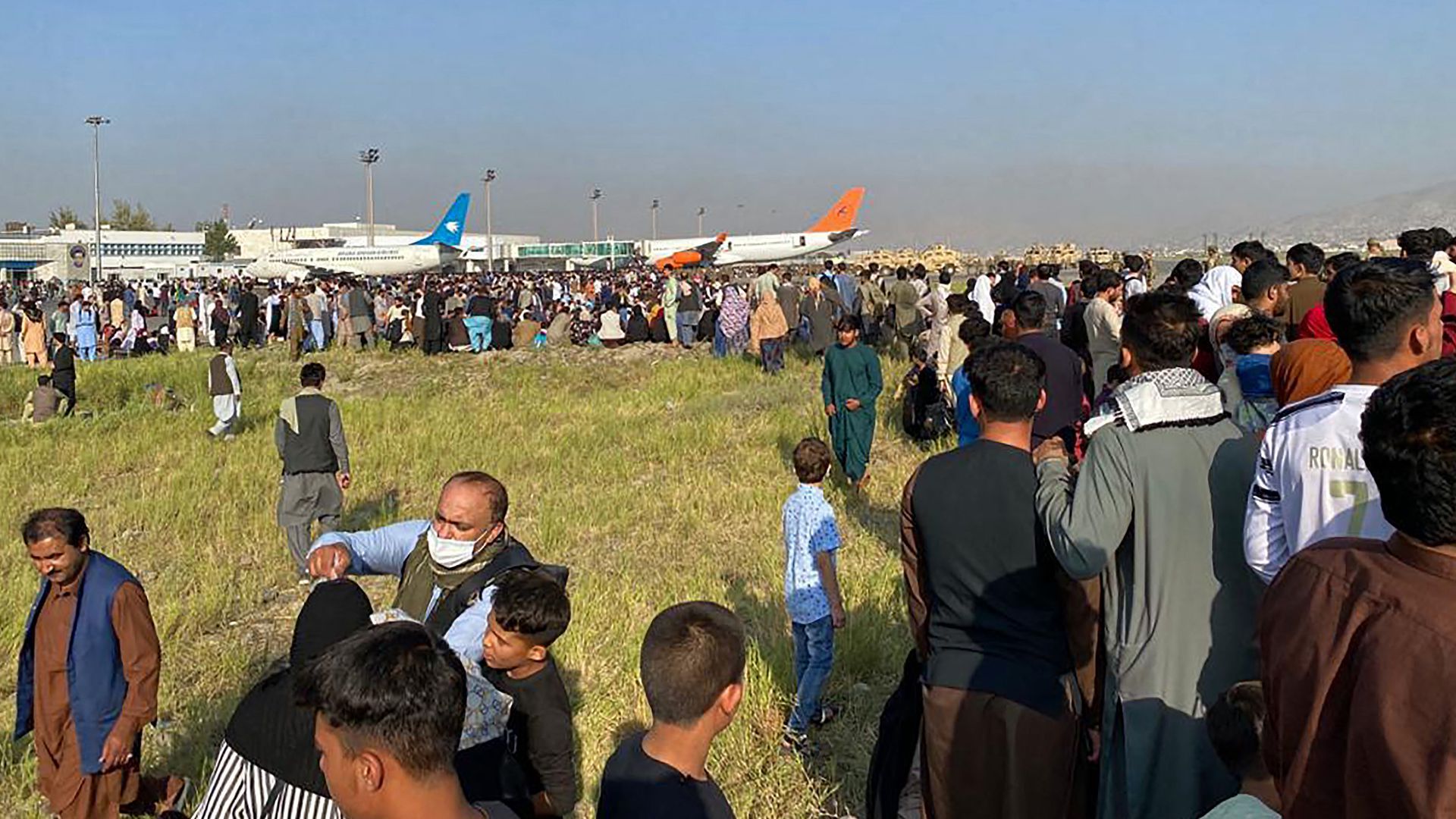 There were chaotic scenes at Kabul's airport and on roads out of Afghanistan's capital, as thousands of Afghans attempted to flee Monday following the country's fall to the Taliban.
The latest: At least seven people were killed during the chaos, including several Afghans who plunged to their deaths after clinging on to a U.S. military jet that took off from the runway, according to AP. The U.S. temporarily suspended evacuations to secure the airfield.
The U.S. Embassy in Kabul issued a "shelter in place" advisory, urging citizens to avoid the airport.
U.S. military officials said Kabul's airport had closed to commercial flights while the military-led evacuations continued, per AP.
American officials announced earlier that U.S. forces were taking over Kabul airport's air traffic control to fly personnel out of Afghanistan.
What else is happening: U.S. State Department Spokesperson Ned Price confirmed in a statement earlier the "safe evacuation of all" American Embassy personnel was complete.
"All Embassy personnel are located on the premises of Hamid Karzai International Airport, whose perimeter is secured by the U.S. Military," he added.
Per a joint statement from the Defense and State departments, the U.S. was "transferring out of the country thousands of American citizens who have been resident in Afghanistan," along with locally employed staff of the U.S. mission in Kabul and their families" on Monday and over the coming days.
For the record: President Biden on Saturday ordered an additional 1,000 troops to secure the airlift of U.S. Embassy personnel and Afghan allies. Marines were assisting with airlift efforts.
"Over the next 48 hours, we will have expanded our security presence to nearly 6,000 troops, with a mission focused solely on facilitating these efforts and will be taking over air traffic control," according to Sunday's statement from the Defense and State departments.
"And we will accelerate the evacuation of thousands of Afghans eligible for U.S. Special Immigrant Visas, nearly 2,000 of whom have already arrived in the United States over the past two weeks. For all categories, Afghans who have cleared security screening will continue to be transferred directly to the United States."
The big picture: The American flag was removed at the U.S. Embassy in Kabul on Sunday. Some staff remained to process visas.
Several other countries have been evacuating their diplomatic employees, moving staff to Kabul's airport and/or reducing staff numbers to a small group of diplomats.
These include the United Kingdom, France, the Netherlands, the Czech Republic, Sweden, Spain and Canada — which has suspended its diplomatic operations in Afghanistan.
Germany and Norway have closed their Kabul embassies altogether, while Denmark temporarily shut its diplomatic quarters in the Afghan capital. Australia's Kabul embassy has been closed since May.
What they're saying: "We assured all embassies, diplomatic centers, institutions and places and foreign nationals in Kabul that they will not face any danger," Taliban spokesperson Zabihullah Mujahid said Sunday on Twitter.
The U.S. and over 60 countries issued a joint statement Sunday that saying Afghans and international citizens who wish to leave the country should be allowed to do so, with airports and border crossings remaining open.
The Pentagon and State Department did not immediately respond to Axios' request for comment on the airport gunfire.
Editor's note: This article has been updated with new details throughout.
Go deeper