Vaccine mandates exacerbate class divide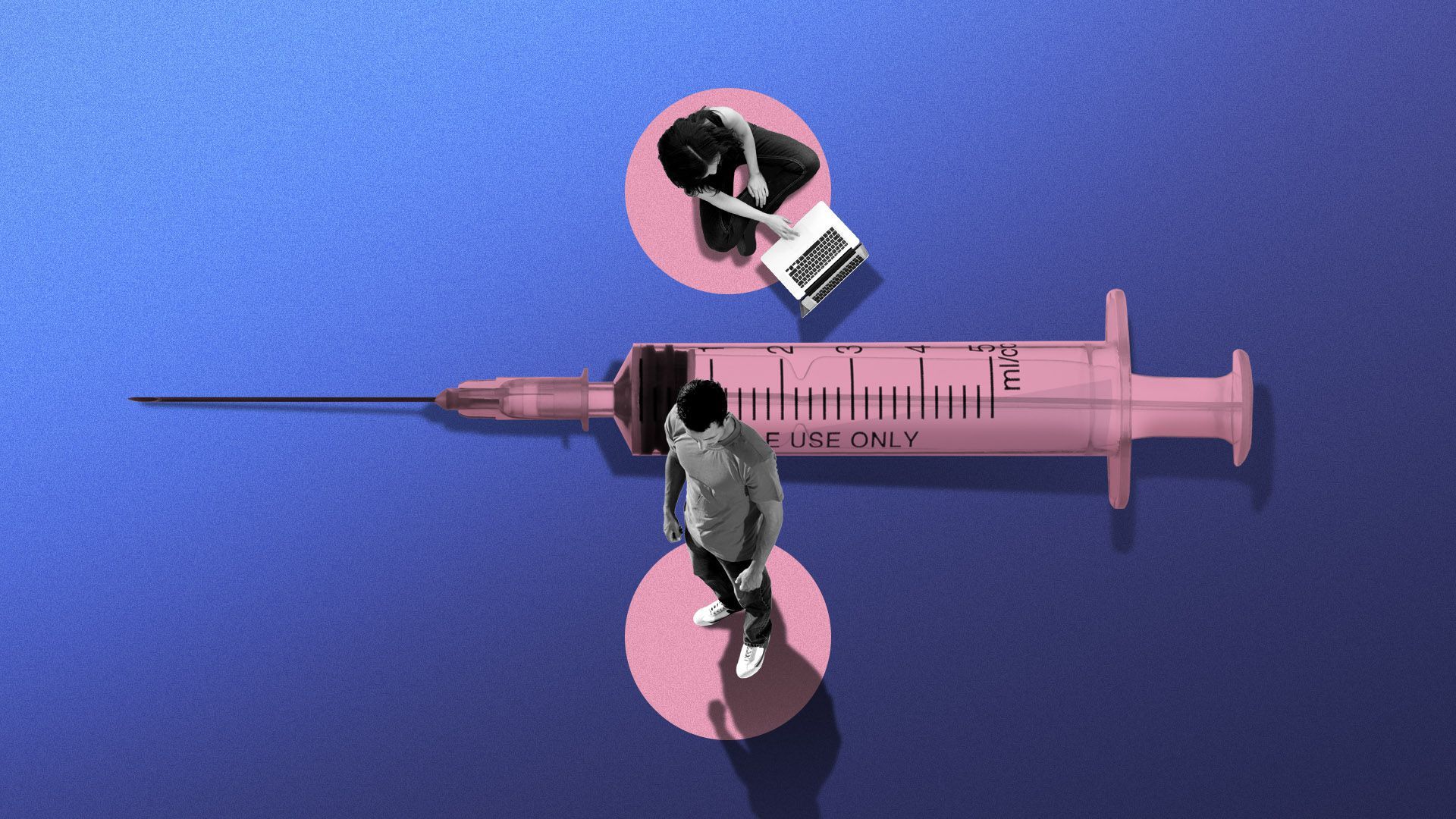 Corporate America's patchwork approach to vaccine requirements is deepening the pandemic's class divides.
Why it matters: New cases of coronavirus, driven by the Delta variant, are up 86% in the U.S. over the past two weeks. The rise in new infections has upended return to work plans for certain sectors of the economy, while others can't afford to change course.
State of play: Businesses that can and have operated remotely, like those in tech and financial services, are requiring vaccines for returning workers, while service and retail economy companies have stopped short of full workforce mandates.
The result: Workers are continuing to experience the pandemic unevenly. The people who can most afford to take time off if they get sick, or choose to work from home, are the ones required to get the vaccine, while service-sector workers in food and retail who do not have the same privileges, may be put more at risk.
What they're saying: "I think the feeling is that with office workers they can get away with it, whereas for some of these populations where you're already at or near [a labor] shortage point, they feel like they don't have enough power in the equation to demand it
," Melissa Swift, U.S. Transformation Leader with consulting firm Mercer, tells Axios.
By the numbers: Demand for "knowledge workers" has increased 14% over the past year while demand for "blue collar" workers has increased by 24% with a 50% rise in demand for operations and logistics workers alone, says Becky Frankiewicz, president at ManpowerGroup North America.
"The shift towards vaccination mandates in [corporate headquarters] may be seen as a pilot for broader policies," Frankiewicz added.
Between the lines: A little less than 40% of U.S. adults are still not fully vaccinated.
Yes, but: Companies are feeling pressure from all sides, including employees who are already vaccinated and public officials like President Biden, who has been urging business leaders to set the tone.
Divided unions are also part of the problem: State prison guards in Pennsylvania are planning legal action against Gov. Tom Wolf's vaccine mandate and Chicago-based Teamsters and New York-based health care workers have protested, for example, arguing that mandate deadlines are unfairly tight and cut into pay.
Meanwhile, the AFL-CIO and the country's largest teachers unions have backed requirements, and Disney is in talks with unions representing cast members about mandates.
Amazon (like Disney and Walmart) has a split mandate approach. "A lot of the associates do not want to be forced to get something," one Amazon warehouse manager told Bloomberg. "They'd lose a lot of employees" if a mandate was rolled out.
What to watch: Experts predict more mandates — both public and private — will begin after the vaccines receive full FDA approval, which is expected before the end of September.
Consumer packaged goods manufacturers like PepsiCo and Clorox are largely pursuing "a carrot rather than a stick approach," Geoff Freeman, CEO of the Consumer Brands Association trade group, tells Axios.
"Across the industry, substantial incentives are in place to encourage employees to get vaccinated. In the weeks and months ahead, we expect a stick approach and potential employer mandates to become more common."
Go deeper