NYT doubles down on subscription newsletters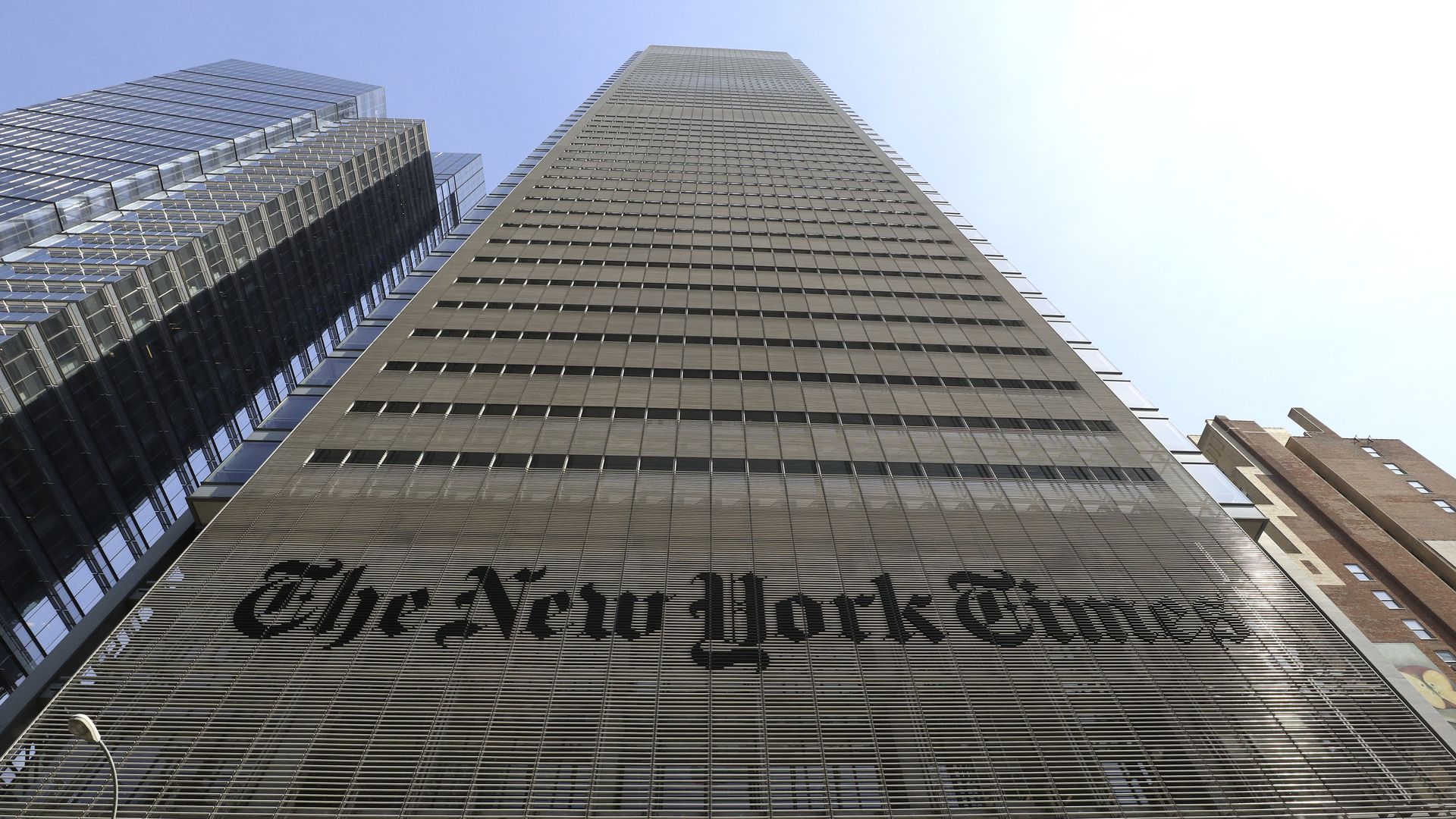 The New York Times is rolling out a slew of new, subscriber-only newsletters from news and opinion writers.
Why it matters: "It's very much in line with our long-term strategy of creating journalism worth paying for," said Alex Hardiman, head of product at the Times.
"It's also part of a greater investment the types of benefits it can offer to paid subscribers," Hardiman added, noting other subscriber-only benefits, like access to special events, and allowing subscribers to "gift" articles to friends.
At least 18 new and existing newsletters will only be available to subscribers, beginning Aug. 16.
Seven opinion newsletters will be introduced, said Kathleen Kingsbury, the Times' Opinion editor. Writers include Times tech opinion columnist Kara Swisher; writer and sociologist Tressie McMillan Cottom; and Jay Caspian Kang, previously a writer-at-large at the New York Times Magazine.
Existing newsletters from Opinion columnists Jamelle Bouie, Paul Krugman and Frank Bruni will also only be made available to subscribers.
Eight existing news emails will also be made only available to subscribers, including those about politics, tech, sports and wellness.
The big picture: The Times has been in the newsletter business for 20 years, and currently publishes over 50 newsletters across an array of topics, reaching nearly 15 million people every week.
Several newsletters, including some of the Times' most popular daily tip-sheets, like its Morning Newsletter by David Leonhardt and its DealBook business newsletter by Andrew Ross Sorkin, will remain free.
But the company is putting more newsletters behind its paywall "to fill a different need," Hardiman said.
"We really see that subscribers over-index with the idea of feeling a deep connection to expertise and journalists. The more we can do to help people develop that rapport, the more they are likely are to pay and stay."
Hardiman noted that almost half of all Times subscribers open at least one newsletter on a given week.
Be smart: The rise of independent publishing platforms like Substack has forced several newsrooms to experiment with more personality-driven content, mostly via newsletters and podcasts, as a way to drive subscribers.
Asked if this effort was created to compete with Substack and similar platforms, Hardiman said it's "a natural step for us that's fully in line with long term strategy. "
Hardiman added that she's confident in the Times' position because of the authority of its journalism, the scale of its distribution and the value of The Times' subscription bundle.
Yes, but: Even if there's value for the readers, the booming newsletter market has meant that there isn't always the same level of value for writers. A few Times reporters have left the company to launch their own independent newsletters in recent months.
In response to a question about how The Times will be able to lure newsletter talent in such a competitive environment, Kingsbury said, "The New York Times has always been able to attract that level of talent, so it's not a new thing that rivals have tried to lure away our talent."
She also pointed to resources at The Times that make its platform compelling, including "an unrivaled audience, stability, and infrastructure," which includes "top-tier editing, our incredible legal team, fact-checkers, promotion vehicles, [and] marketing."
What's next: "This is only the start," Opinion editor Kingsbury said. "We are still talking to writers across a bunch of different topics."
Go deeper