WeWork book: The $10 trillion mirage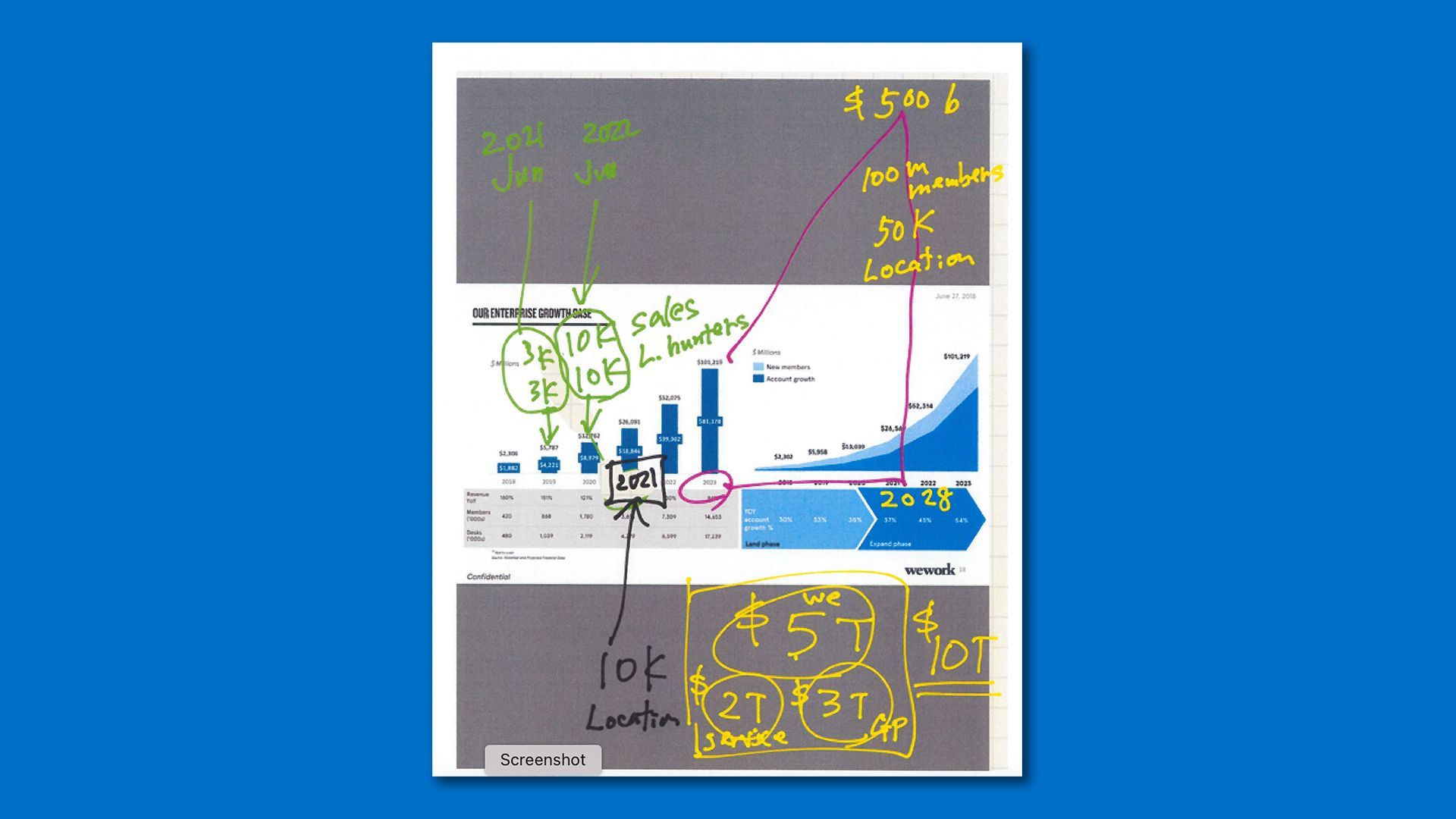 This single slide — marked up in the yellow scrawl of SoftBank CEO Masayoshi Son — captures this era's euphoria over the hyper-scaling of tech startups, combusting with extremely low interest rates:
The big picture: Cash gushers chase indefensible valuations on delusional growth prospects and paths to profitability, with little regard for the reality of the underlying business and market structure.
The slide was uncovered by Wall Street Journal reporters Eliot Brown and Maureen Farrell as they wrote the delicious new book "The Cult of We," chronicling the wiles and humiliation of Adam Neumann, WeWork's day-drinking co-founder, former CEO, and chief snake-oil salesman.
"As he pondered a bigger investment in WeWork," the authors write, "Son pushed WeWork's already ambitious financial projections into territory unprecedented in business history. During a meeting with Neumann, he scribbled out a vision for a company worth $10 trillion."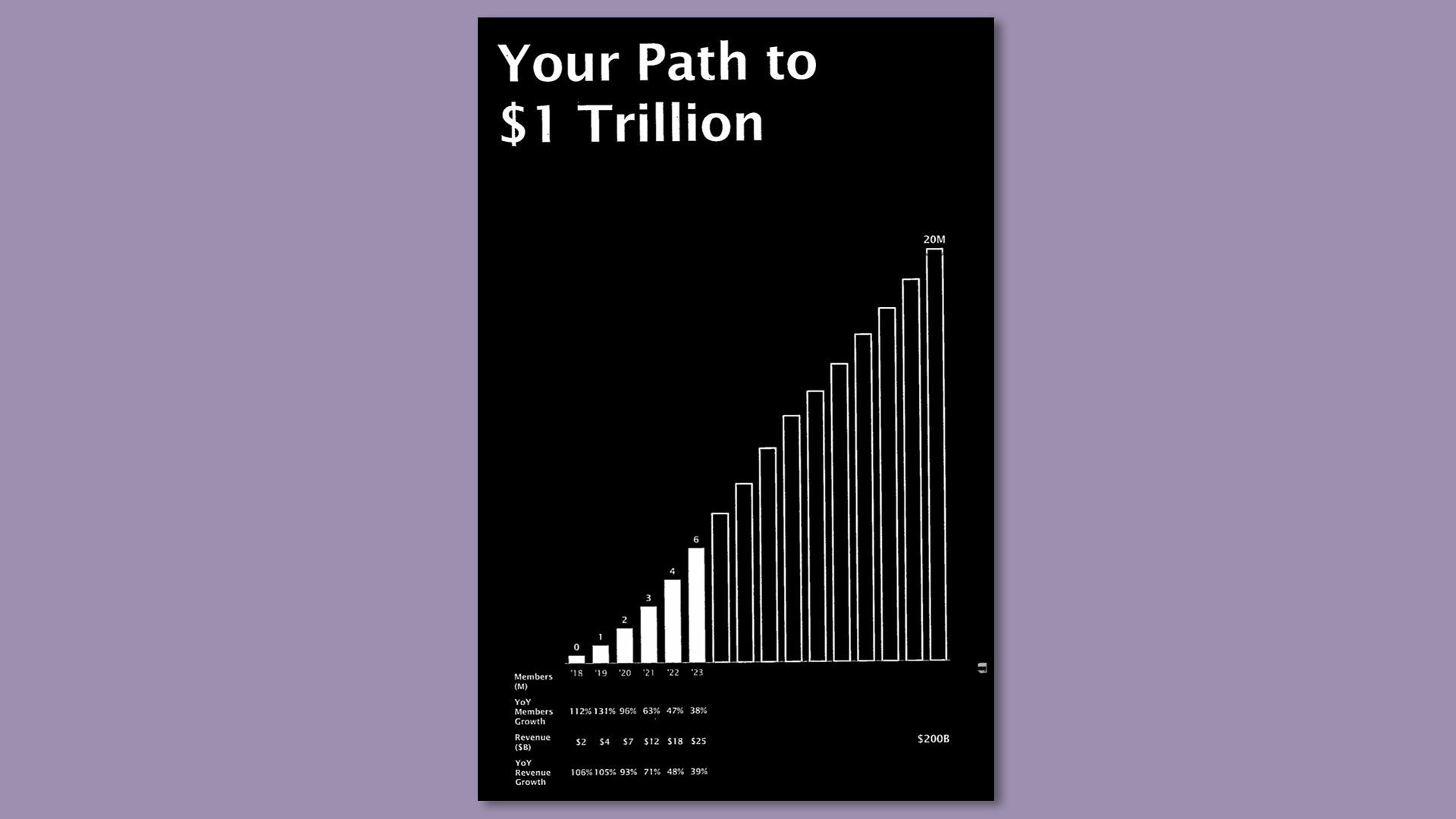 SoftBank made Goldman Sachs look downright restrained in a pitch deck, also obtained by the authors, to take WeWork public.
Goldman bankers included the bar chart shown above ("Your Path to $1 Trillion"), which "played to both Neumann's hunger for a giant valuation and his affinity for simple visuals."
On the book's cover, business journalist Charles Duhigg calls it a portrait "of how grifters came to be called visionaries."
The wild-haired Neumann — a yeller who combined a televangelist's frenzy with tequila and weed, plus quirks that included strolling Manhattan barefoot — eventually drove his baby off a financial cliff:
The rise and fall of WeWork was enabled by a collision of forces: a man characterized by charisma, unbridled optimism, and astute salesmanship met an entire financial system primed to fall under his spell.
"Had a frothy venture capital sector not been so obsessed with the search for eccentric and visionary founders," the authors continue, "WeWork might still occupy only a smattering of buildings in Brooklyn and lower Manhattan."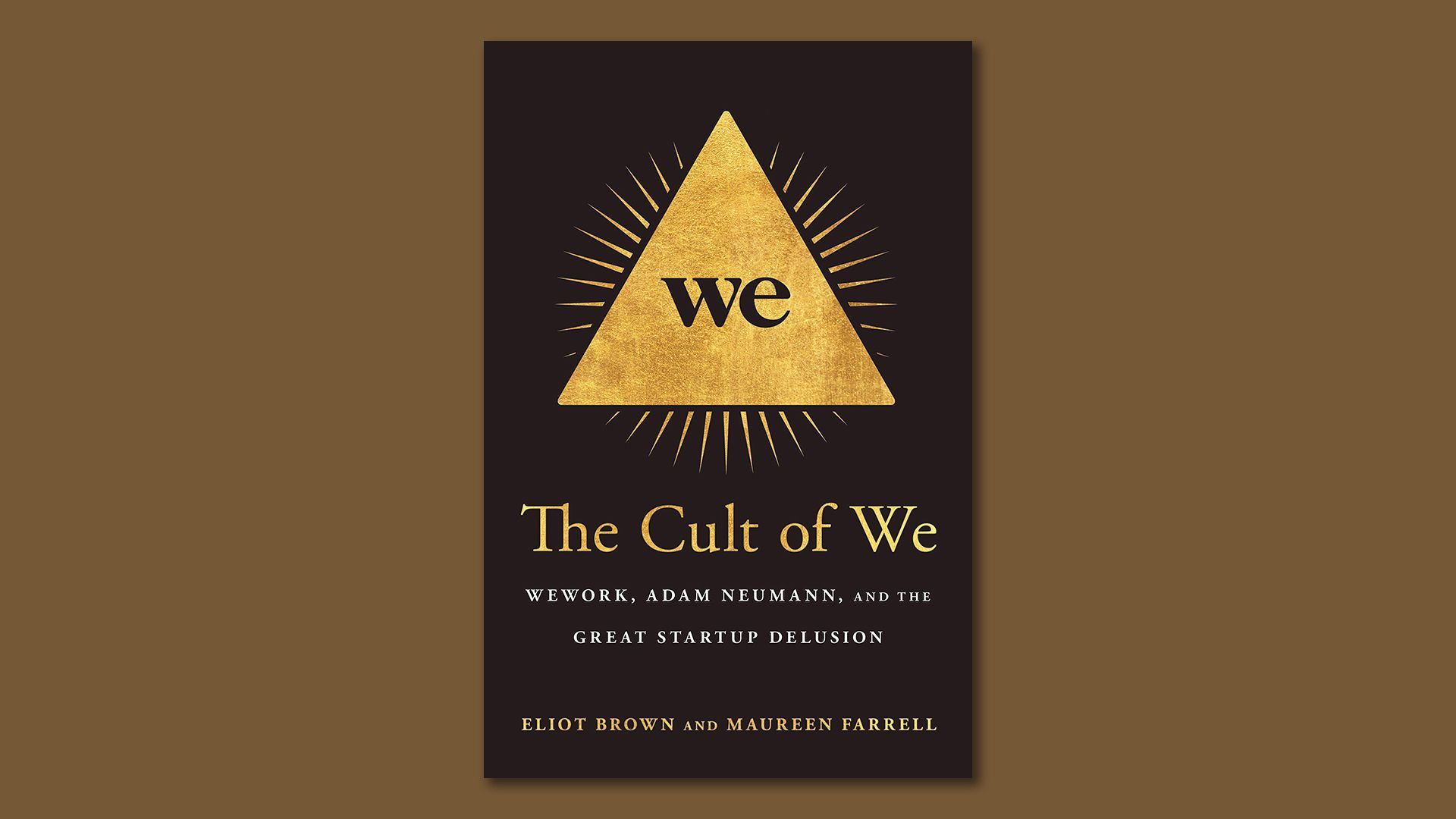 The authors told me that COVID shutdown had sunk their reporting travel plans. But it turned out to be easier to talk to key players in the drama when they were stuck at home, rather than trying to meet them and gain their trust in a coffee shop. Maureen Farrell, who's on The Journal's Deals team, told me it's scary how much capital was destroyed during the We Work saga:
"In this era of so much money chasing the next great idea, it makes people willing to not have the checks and balances."
Eliot Brown, who covered venture capital and now writes about the SPAC frenzy, said Neumann got "smart people to do dumb things":
"Theranos was a charismatic entrepreneur making up numbers to trick investors. This was a charismatic entrepreneur using real numbers — but getting them to delude themselves."
Read a free excerpt, "Chapter 1: The Hustler."
Go deeper