Ohio special election win cements Jim Clyburn's kingmaker status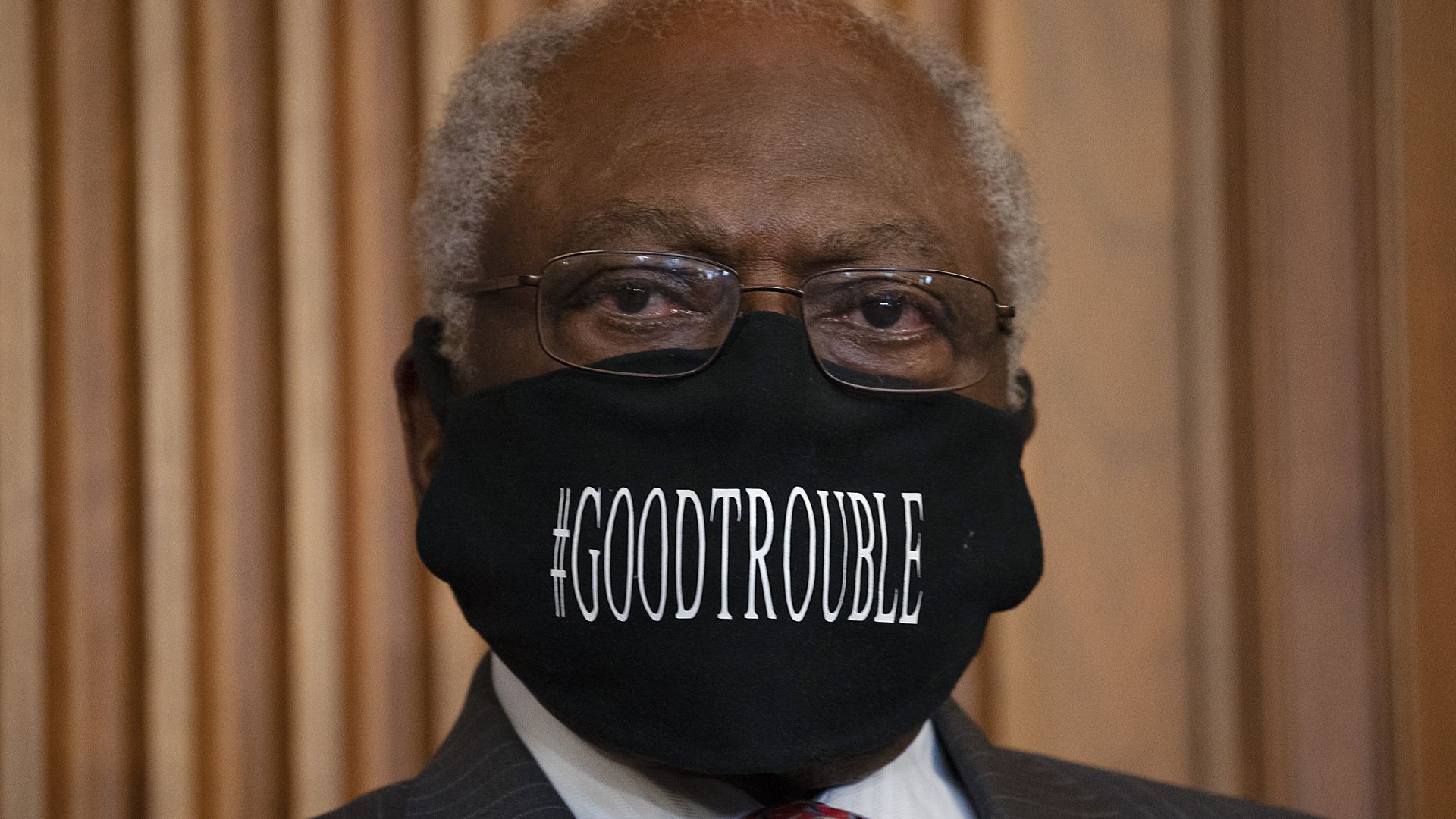 Rep. Jim Clyburn is cementing his Biden-era kingmaker status with Shontel Brown's win in Ohio,  showing progressives he has a finger on the pulse of Democratic Party politics in a way they must acknowledge.
Driving the news: "I was going to stay right here in South Carolina minding my business until I got called stupid," Clyburn told Axios in an interview Wednesday.
Why it matters: The latest in a string of primary wins by centrists over progressives is bolstering the playbook that Clyburn, 81, a Black South Carolina Democrat and the House majority whip, has championed since his endorsement helped Biden clinch the nomination.
Clyburn, along with many in congressional leadership and those on Biden's team see this as the best path for Democrats to try to hang on to control in next year's uphill midterm elections.
Progressive favorite Nina Turner lost Tuesday night to Cuyahoga County Councilwoman Brown in the primary for the special election to fill the seat vacated by Marcia Fudge— whom Clyburn had personally encouraged Biden to tap as the head of Housing and Urban Development.
The Aug. 3 contest follows progressive losses in the 2020 presidential election, the New York mayoral primary, the Virginia gubernatorial primary and the New Mexico special election for Deb Haaland's House seat.
Progressives also are backing challengers in upcoming, high-stakes primaries in Nashville, New York, and Chicago — all attempting to unseat Democratic incumbents.
Progressives are active online, get outsized media attention, and fundraise with the help of big name celebrities. But Clyburn has worked behind the scenes to shape the future of his party.
What they're saying: "Jim Clyburn is really good at politics and he really understands, especially, where African-American and older African-American voters are," said Matt Bennett, co-founder of Third Way, a moderate Democratic group that spent roughly $500,000 on digital attack ads against Turner.
"Voters of that district really liked Joe Biden," he said of OH-11, "and they want someone who's going to be pragmatic and make progress."
Clyburn told Axios: "I had no plans to go to Cleveland or to get physically involved in the campaign until the Turner campaign invited me in."
Turner in June appeared onstage with Killer Mike at an economic justice town hall hosted by liberal group The Young Turks and agreed when he called Clyburn "incredibly stupid" for backing Biden. "That's the kind of BS that sent me to Cleveland," Clyburn said.
He said he saw Turner as too divisive for Congress.
He campaigned for Brown in Cleveland the week before the election. Clyburn also took issue with Killer Mike and Turner saying all the Democrat has gotten from President Biden is Juneteenth being a federal holiday. 
By the numbers: Clyburn said Juneteenth isn't the point. He highlighted $65 billion for rural broadband to be included in the infrastructure package, the adoption of his "10-20-30" anti-poverty formula, and advancements for community health centers:
"Those are Jim Clyburn's creations," he said. He also mentions $40 million secured for community projects in his South Carolina district.
"I got all this and I can keep going on," he said. "$5 billion to Black farmers in the Rescue Act. Lifting half of children who lived in poverty out of poverty — that's in the Rescue Act.
"These are creations, and to say all we got out of endorsing Joe Biden was a federal holiday? That's the kind of BS that sent me to Cleveland, I was going to stay right here in South Carolina minding my business until I got called stupid."
What we're watching: Clyburn predicted Rep. Carolyn Maloney will face an even tougher election this time around than she did last cycle against a progressive challenger, but said he plans to support her along with Reps. Danny Davis and Jim Cooper in their re-election efforts. All are being targeted by Justice Dems.
Go deeper