Business travel might be going out of style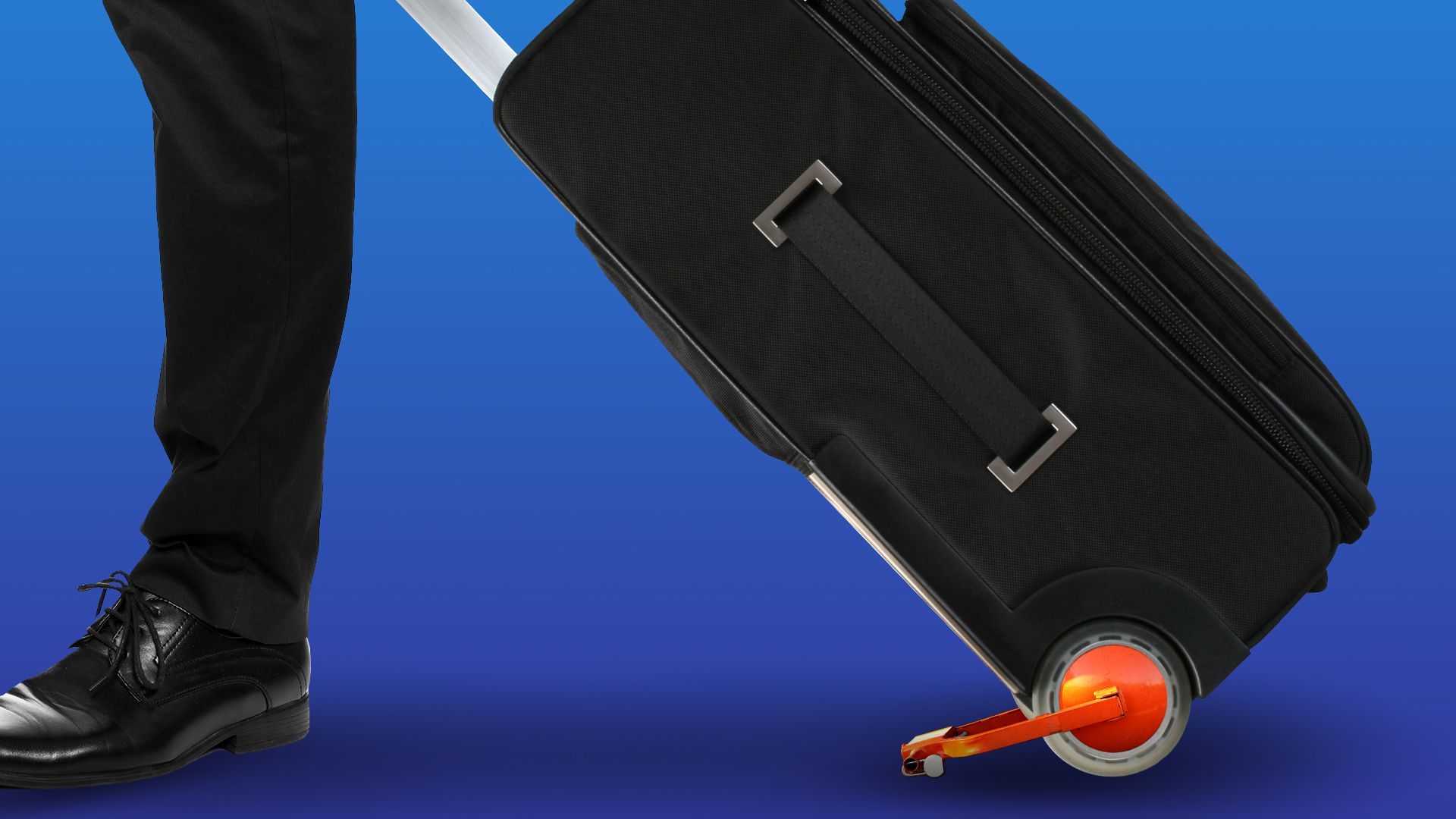 Companies have made it a year and a half mostly without traveling for work — and now more and more of them are considering dramatically reducing business travel to slash costs and cut carbon emissions.
Why it matters: Business travel is a massive part of the global economy — with trillions of dollars and millions of jobs at airlines, hotels and travel agencies hinging on its return.
By the numbers: Corporate travel is coming back but is projected to remain at just 30% of 2019 levels by the end of 2021, according to a new Deloitte survey of travel managers at firms across industries.
Half of the surveyed companies say they're adjusting their travel strategies to be more sustainable. 76% say they're turning more internal meetings that would require flying into online ones, 58% say they'll do fewer business trips overall and 55% say they'll specifically look at cutting back on international corporate travel.
Two-thirds of respondents say they'll reduce the frequency of business trips to save money.
What they're saying: "Companies used to send maybe eight people to close a deal. Now they'll send two people, and the rest will be on Zoom," says Charlie Leocha, president of Travelers United, a passenger-advocacy organization, and one of the architects of a recent Wall Street Journal analysis that projected the pandemic would permanently reduce business travel by 20-40%.
The stakes: Business travelers only make up around 10% of airline passengers across the major global carriers, but they account for 55%–75% of revenue because they're typically the ones who spend big on last-minute tickets or book premium seats, the New York Times' Jane Levere reports.
A permanent setback in corporate travel could push airlines to bump up prices or reduce routes, Leocha says — both of which would hit leisure travelers.
But, but, but: Some parts of business travel will bounce back, experts say.
There are all sorts of business trips, from corporate retreats to sales pitches to trade shows. "And what you see is a fair amount of variation in terms of what will come back and at what pace," says Vik Krishnan, leader of McKinsey's travel practice in North America.
Conferences and trade shows will come back because "you can't network on Zoom," says Leocha. And when it comes to pitching to clients, "there's a 'fear of missing out,'" Krishnan says. "Most companies will probably end up doing what their competitors do."
On top of that, some of the pre-pandemic business trips that disappear will be replaced by new types of trips spurred by our new way of working. Company-wide retreats are becoming more frequent and more elaborate as companies embrace remote and hybrid work, Axios' Bryan Walsh notes.
What to watch: Business travel is getting hit by international travel restrictions as well as uncertainty around the Delta variant of the coronavirus, says Krishnan. Recovery will speed up once restrictions loosen and the pandemic is more fully under control, he says.
Go deeper