300 ICE agents, ankle bracelets being used to stem border surge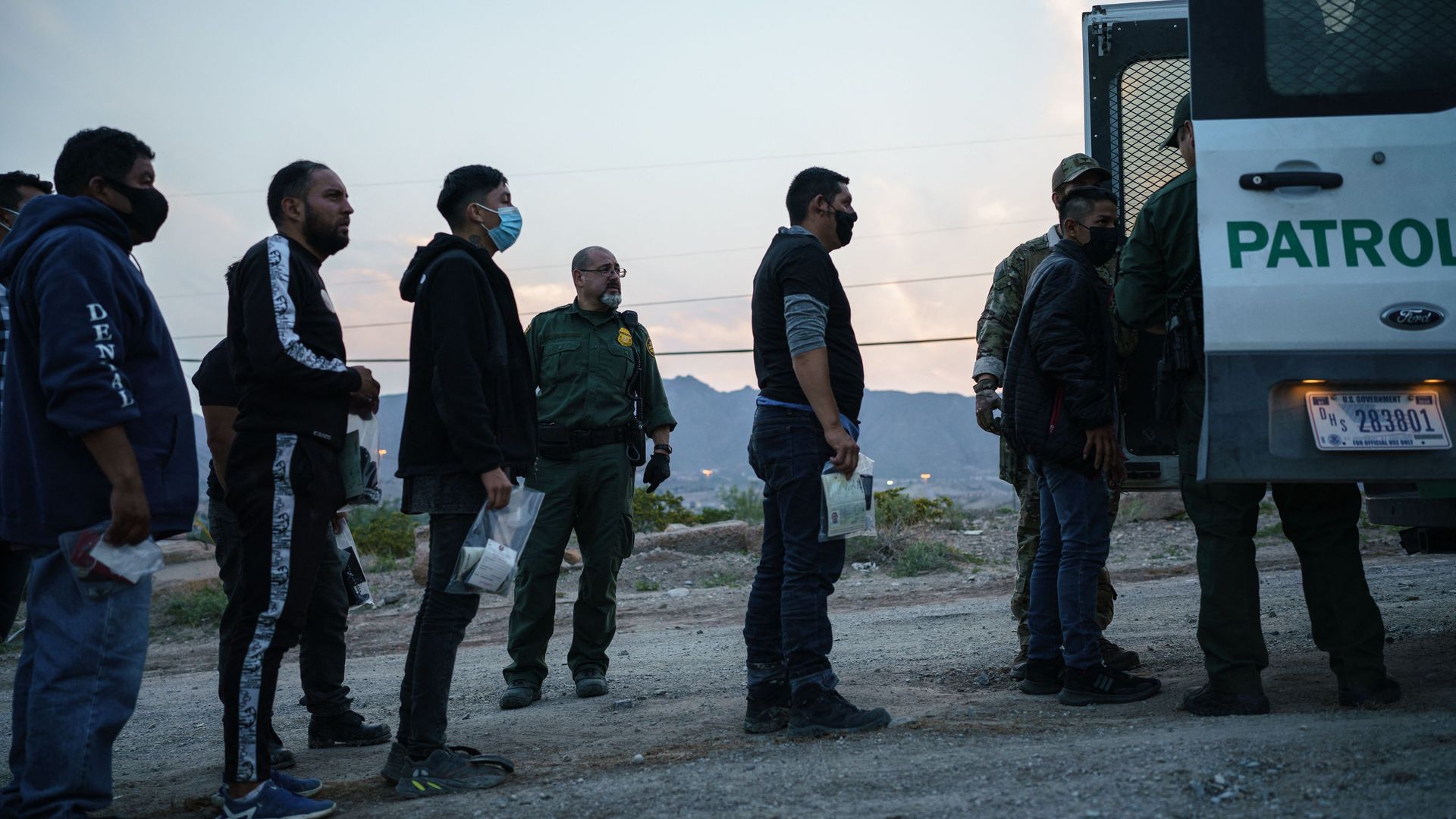 Three hundred Immigration and Customs Enforcement (ICE) officials are being sent to two of the busiest sections of the U.S.-Mexico border to help overwhelmed counterparts, three government sources familiar with the move tell Axios.
Why it matters: The southern border falls far outside of ICE's regular mission. The deployment comes as early reports suggest a record month for border crossings in July. The agents are expected to start using ankle bracelets to track migrants released without a court date.
The Border Patrol has been so overrun in places like South Texas that tens of thousands of migrants have been released without an immigration court date, instead told to report to an ICE office at their final destination.
Between the lines: The 300 reinforcements will be sent to the Rio Grande Valley and Del Rio sectors. The exact timing of their arrival is still unclear, but the sources said it's imminent.
Among other things, ICE will help process migrants after they are taken into U.S. custody — a task of collecting basic information that at times has pulled half of the Rio Grande Valley's regular agents off of patrolling the border, officials have told Axios.
The ICE agents will begin placing ankle bracelets on some of these migrants who are released without official notice to appear in court, a Department of Homeland Security official confirmed to Axios.
That's seen as an extra incentive for them to show up at an ICE office once they reach their final destination.
NBC News first reported ICE would help process migrant families.
What to watch: It's unusual for ICE to get involved at the border. The agency does oversee a network of detention centers for migrant families and adults once they are out of Customs and Border Protection custody.
ICE also is looking into expanding its South Texas Family Residential Center in Dilley, Texas, to be able to hold more migrant families, the DHS official confirmed.
The facility is run by the for-profit prison company CoreCivic. Biden has promised to end for-profit detention centers.
Space to hold families will be critical for carrying out fast-track deportations, which the administration recently resumed.
Be smart: The number of encounters with migrant families illegally crossing the border is expected to spike during July and fewer are expected to be kicked back to Mexico under a Trump-era public health order.
Go deeper