Why hybrid work is the enemy of change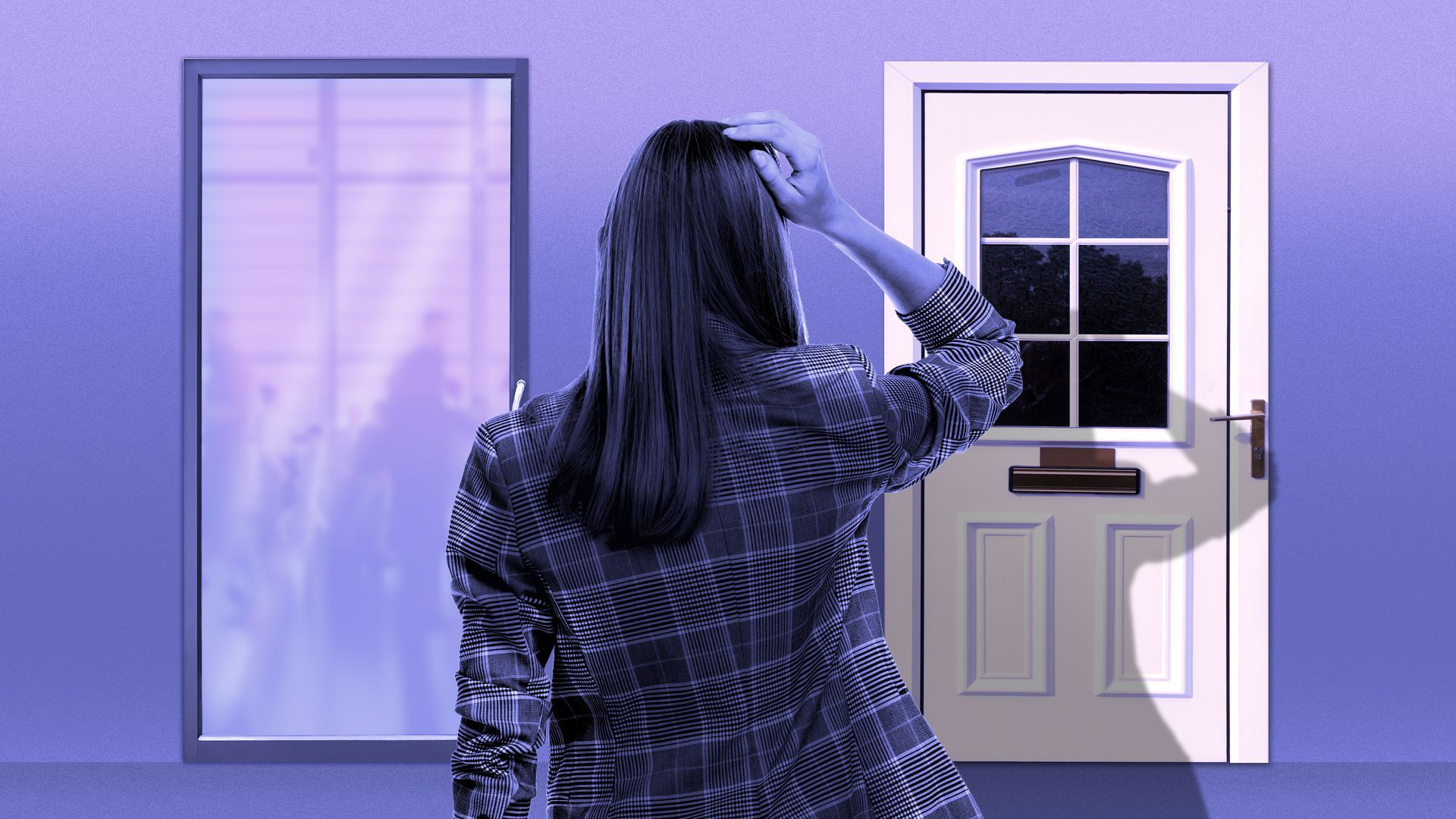 Companies around the world are responding to the pandemic-induced rise of telework by transitioning to a hybrid of in-person and remote work. But that model is inherently flawed, experts say.
The big picture: Employers haven't been clear with their definitions of hybrid work — whether it means the workforce is hybrid or the workweek is hybrid — and that hasn't allowed workers to make the big changes to their lifestyles that flexible work should allow.
"People have been working remotely, and in many cases, it's great, but they have all this anxiety because they don't know what the plan is going to be," says Greg Galant, CEO of the public relations platform Muck Rack — which started a public pledge for firms to commit to remote work for the employees who want it.
By the numbers: 52% of U.S. workers say they want hybrid work, per McKinsey. And 45% of U.S. firms say they want to pursue such a model, according to a CNBC survey.
That apparent concordance is superficial, however.
Different models of hybrid work include asking employees to come into the office for part of the week or letting some employees be fully remote while others are working in person. But companies' haven't yet figured out what hybrid work will actually look like for their workforces.
Some 68% of firms don't have a clear hybrid plan in place yet, according to a McKinsey survey of executives across industries.
As a result, many companies are handling hybrid work inconsistently, Galant says. "They'll say, 'Remote work [is] great, but your manager needs to approve it,' and then people don't know what their managers will say or what will happen if their manager changes."
Why it matters: Without clear marching orders from their employers, workers can't make long-term plans.
A hybrid model that calls for a few days in the office won't let workers move too far away from the office because they'll have to live within commuting distance.

And working parents who want to telecommute to care for children will have to find child care for the days they have to go into the office.
But a model that has some people in the office full-time while others fully remote could fray company culture. The remote employees may feel excluded and even get overlooked when assignments or promotions are handed out.
But, but, but: Hybrid work is better than nothing, so it's worth figuring out how to make it work, notes Stanford economist Nicholas Bloom.
In terms of flexibility, fully remote work is best, followed by hybrid and then fully in-person, but most companies won't be all remote after the pandemic. "Given that fully-remote is going to end soon, that really only leaves the hybrid versus fully-in-person, and for that, it seems clear that hybrid is better," he says.
The bottom line: Companies have accepted that hybrid work is here to stay. Now they need to figure out how it actually works — or risk losing talent.
Go deeper