Infrastructure cap will force fuzzy math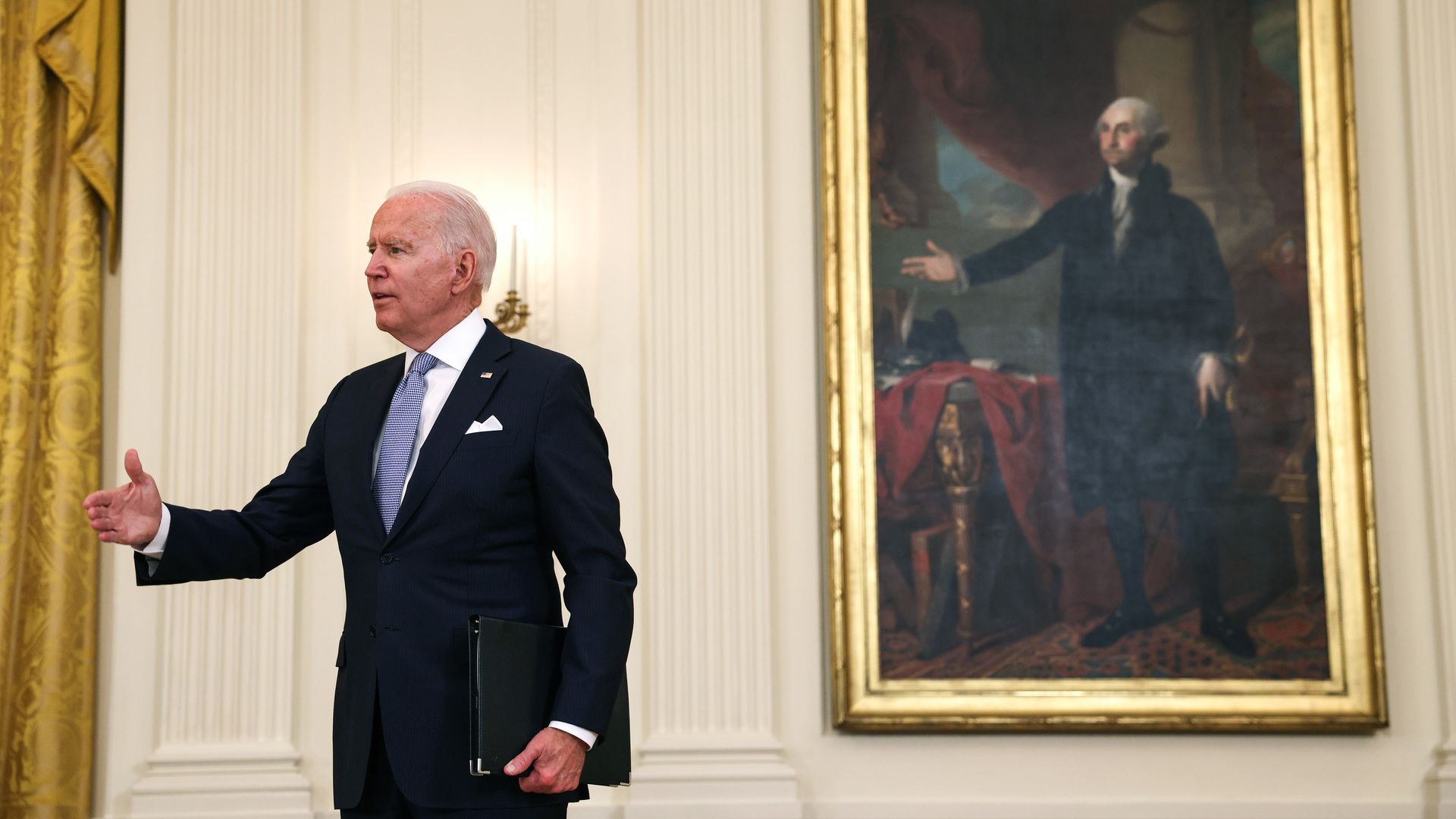 Sen. Kyrsten Sinema's (D-Ariz.) warning that she's opposed to a budget reconciliation bill costing $3.5 trillion will force Senate Democrats and the White House to either trim the proposals in it or tinker with how many years they'll run.
Why it matters: Such gamesmanship will be necessary if lawmakers and the Biden administration want to keep the support of progressives and centrists. But it will lead to a bill with costs and durations as uneven as the Manhattan skyline.
"The length of programs will be set by the reconciliation bill," one White House official told Axios. "The future of temporary programs will be up to a future Congress."
The big picture: For example, progressives are eager to make the Child Tax Credit — which was expanded in the $1.9 trillion American Recovery Act enacted in March — a permanent tool to reduce childhood poverty.
While the White House shares that long-term goal, President Biden only proposed extending the CTC through 2025 in the American Families Plan, his version of the "soft" infrastructure bill that would be passed through reconciliation.
That extension of the CTC would cost an estimated $100 billion a year.
Gene Sperling, one of Biden's top economic advisers, is quietly trying to convince progressives the White House is committed to making the CTC permanent, people familiar with the matter tell Axios.
Such assurances are vital to maintaining support during what promises to be brutal negotiations this fall as Democrats debate how broadly to expand the social safety net.
Sperling is currently working to convince allied groups the administration needs time to show the public how effective the CTC can be in fighting poverty and helping families, but is committed to making it permanent down the line.
A White House official stressed that Sperling is saying in private what the administration has said in public about making the CTC permanent.
The recovery act, which passed on a party-line vote, increased the amount families receive from the CTC from $2,000 per year to as much as $3,600 per child, per year.
The intrigue: If Democrats decide to pay for as many progressive priorities as possible via reconciliation, they risk funding them for only short windows, given the spending ceiling set by Sinema and other moderates.
Using shorter funding timeframes to reach a lower price tag would leave such programs vulnerable to cuts by a future Republican-controlled Congress.
The other way to lower the price tag is to include fewer programs over a longer duration, giving those programs more time to become popular and ingrained with the American public.
That makes them more difficult for future Congresses — or presidents — to cut or eliminate.
Flashback: Republicans passed the controversial Bush tax cuts via reconciliation in 2001 and 2003, knowing they would sunset in 10 years.
With the economy limping out of the Great Recession in 2012, President Obama was forced to make them permanent for families making less than $450,000.
Republicans pocketed the victory, which Sperling watched as one of Obama's negotiators.
Between the lines: The lack of clarity about how long each program will last— or when they will start — has frustrated outside budget groups trying to assess how much everything will cost.
Some have priced a reconciliation package as high as $5.5 trillion.
"It's a lurchy and jarring way to do public policy with things abruptly starting and stopping for no sensible reason," said Maya MacGuineas, president of the bipartisan Committee for a Responsible Federal Budget.
"It leads to the kinds of crisis-type deadlines we need to move past."
Go deeper