Pfizer raises estimate of COVID-19 vaccine sales by 29%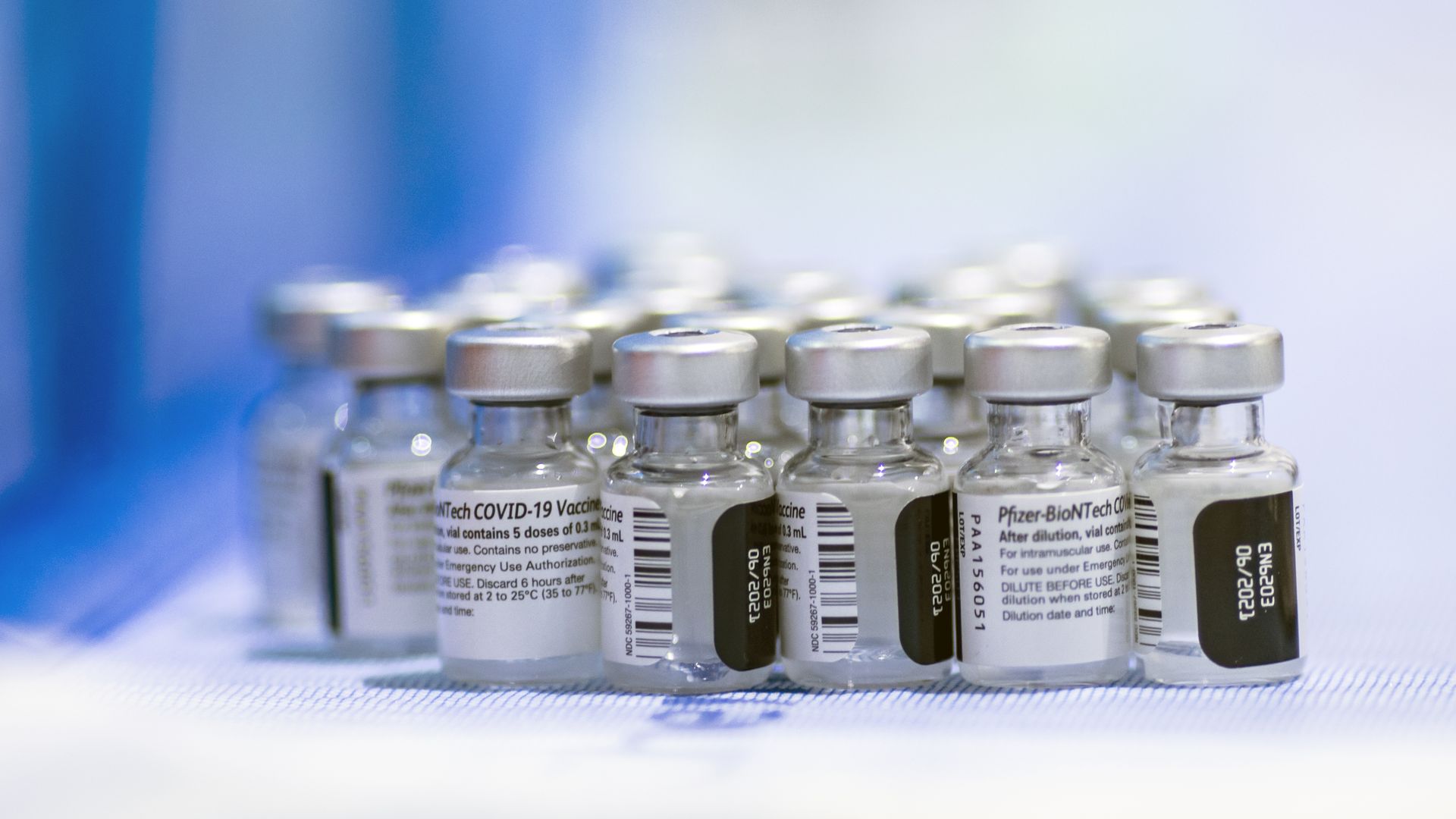 Pfizer expects revenue from the COVID-19 vaccine, co-developed by BioNTech, will reach $33.5 billion this year — a 29% jump from the previously estimated $26 billion.
Why it matters: This vaccine, which has dramatically slowed the coronavirus pandemic, is on pace to be the world's top-selling drug of all time, by far. And now Pfizer is pushing for people to get a third "booster" shot of its vaccine to combat the growing Delta variant.
By the numbers: Pfizer registered $7.8 billion of COVID-19 vaccine sales in the second quarter, bringing total worldwide sales so far this year to $11.3 billion.
Pfizer expects to deliver 2.1 billion doses this year and has the capacity to manufacture 4 billion doses next year, CEO Albert Bourla said on a conference call.
The U.S. previously paid $19.50 per dose for the Pfizer-BioNTech vaccine, but Pfizer recently raised the price to the government to $24 per dose.
Flashback: Last year, Bourla said the company would not put a "huge price" on the vaccine, "because that's really taking advantage of a situation, and people will not forget if you do that."
Driving the news: Pfizer said it has new data showing a third dose of its vaccine increases antibody levels significantly against the Delta variant.
Pfizer has a financial interest in people, especially Americans, getting a third dose, as it would grow revenues even more.
However, epidemiologists have pointed out that higher antibody levels do not mean higher protection, and Pfizer's two-dose schedule is already effective against the coronavirus, including the Delta variant.
The big picture: A majority of the Pfizer-BioNTech vaccine has gone to wealthy countries, whose governments pay higher prices for drugs than lower-income countries.
Many lower-income countries have started demanding more doses as their coronavirus cases, hospitalizations and deaths rise.
"Africa was largely spared by the pandemic in 2020, but not this year. We lack vaccines, and we are gasping for air," Mosoka Fallah, former director-general of the National Public Health Institute of Liberia, said this week.
What to watch: Moderna reports vaccine sales and earnings Aug. 5.
Johnson & Johnson said it expects its COVID-19 vaccine will generate $2.5 billion of sales this year.
Go deeper