Snopes raises over $1.7 million to fight lawsuits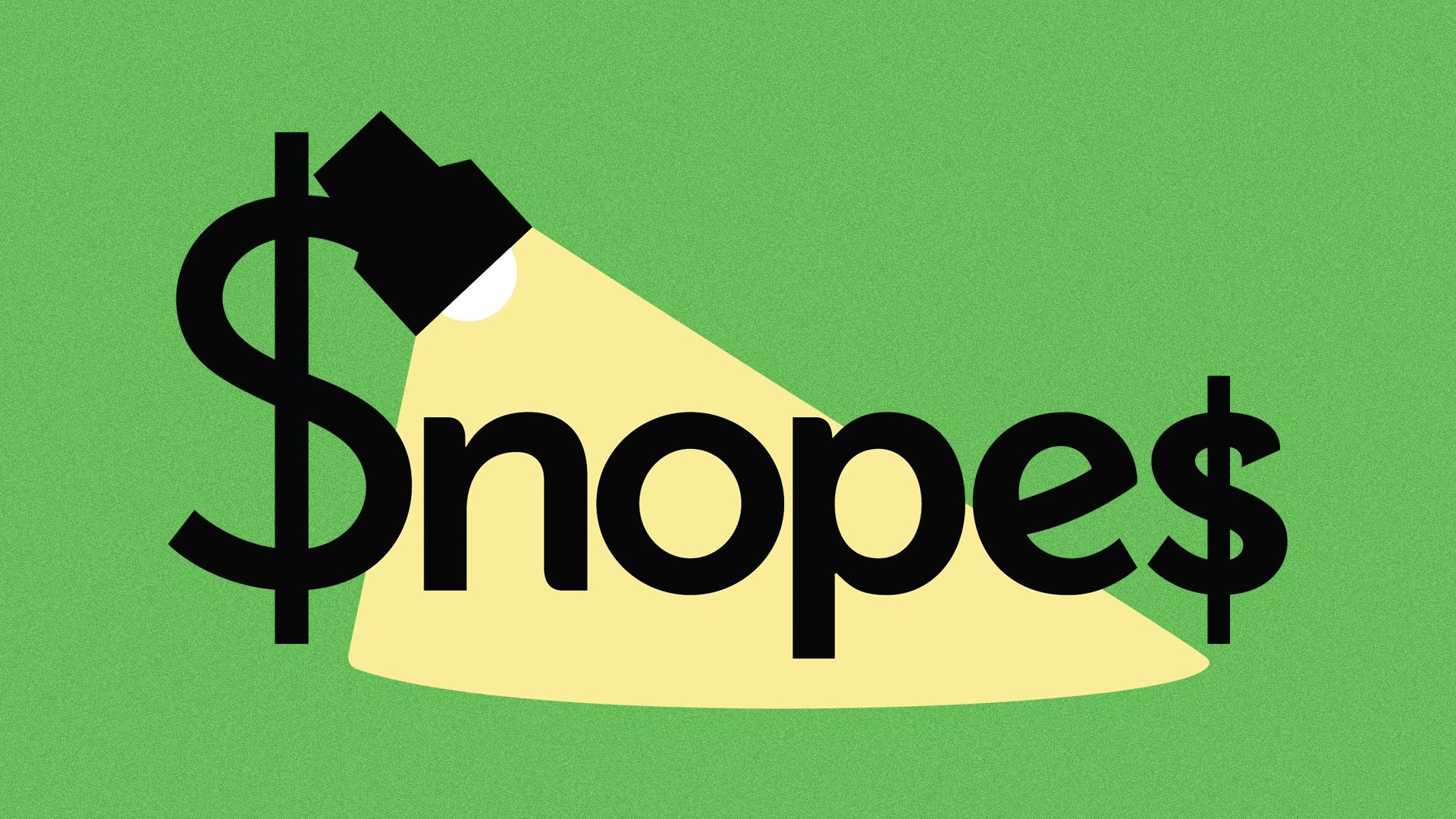 Snopes, one of the oldest fact-checking websites in the country, has raised over $1.7 million from over 44,400 supporters to help the company fight a series of lawsuits from a former tech vendor.
Why it matters: It's a massive legal battle for a site that employs 20 people. Snopes founder and CEO David Mikkelson says the legal fees account for roughly 20-30% of Snopes' revenues each year.
"Its been a tremendous strain on everyone," Mikkelson says. "Encumbering a small organization to have to fork over $1 million a year for something that does not help us not at all — it means we are continually short-staffed and short of resources."
By the numbers: Mikkelson says that the site has been hit with over $4 million in lawsuits in four years, all from one former tech vendor.
"Even though we've won virtually every major issue the court has ruled on in the last four years, they keep refiling the same claims, appealing every judgement against them," he notes.
Details: Proper Media have been filing civil lawsuits against Snopes since 2017. The main lawsuit is being pursued in Superior Court of California. It is owned by Sovrn Holdings, Inc
Sovrn sells publishing technology, including advertising, data and affiliate marketing services. It lists companies like ESPN, Bustle and Minneapolis Star Tribune on its website as clients.
The legal fight — a complex dispute over ownership of Snopes' parent company, rooted in a fight for control of shares formerly owned by Mikkelson's ex-wife — came to a head in mid-2017, when Snopes says Proper Media blocked its access to its own website and email accounts. A court order gave Snopes access to its site and emails.
Mikkelson says the lawsuit is a form of corporate bullying, and that no legal outcome will give Proper Media what they want.
Sovrn Holdings, Inc did not provide comment.
Driving the news: Snopes is now launching its latest fundraising campaign, Save Our Snopes, to raise funds for its next major trial that will begin later this year.
In the first three days of the campaign, the company has raised over $250,000. Snopes has done most of its fundraising campaigns through the online platform GoFundMe.
Mikkelson says most of the campaign is being run through Snopes owned and operated channels, urging people to donate when they sign up for memberships, visit the website, etc.
Catch up quick: Snopes is an independent publication launched in 1994 to help fact-check claims made on the web, making money mostly from advertising and memberships.
Like many news sites, Snopes saw massive traffic bumps during the election and COVID as users turned to fact-checking sites to debunk misinformation.
What to watch: Mikkelson says that while Snopes is getting sympathetic support from its peers, it hasn't gotten much material support from industry.
"I don't know if I've talked to anyone who's been through something similar," he says. "Usually news organizations are sued for defamation or something related to their function."
Editor's note: This post has been updated to reflect that Proper Media filed these lawsuits, not its parent Sovrn.
Go deeper