Exclusive: NBC News adding 200+ jobs as part of major streaming push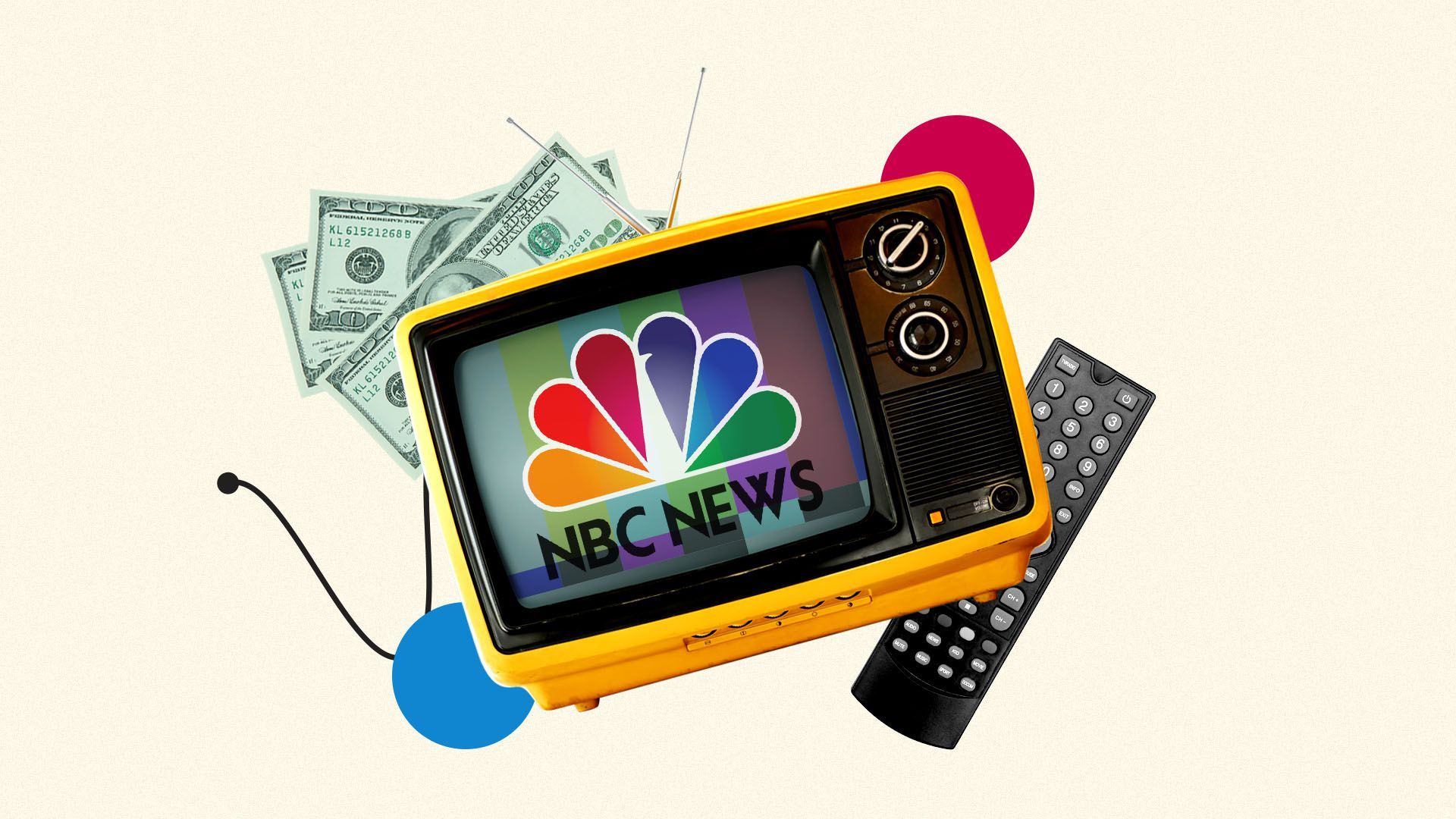 NBCU News Group is adding hundreds of jobs to its digital organization, led by a major investment in streaming as well as in its "TODAY" show brand, executives tell Axios.
Why it matters: The move is the network's biggest investment in its streaming and digital products since it said it would hire about 70 people in October 2019.
"As more consumption shifts to streaming, it's only natural that we shift more of our attention and resources to serving that audience," says Noah Oppenheim, president of NBC News.
"This substantial investment in streaming and digital allows us to meet the needs of news consumers in a rapidly-changing digital media industry," says Cesar Conde, Chairman of NBCU News Group.
The big picture: Legacy TV news companies are racing to build streaming platforms that will serve the next generation of news consumers.
Details: Beginning this summer, the company will be adding several new hours of original programming to the NBC News NOW streaming service. It also plans to bring more of its star anchors and reporters on board as it expands its streaming programming globally.
The new roles will also span across NBCNews.com, MSNBC.com, TODAY.com, and NBC News' video teams.
The network plans to double the digital staff for its "TODAY" franchise, following its expansion into streaming last year. "Today All Day" last month announced it would be rolling out original programming for its streaming service, starring familiar names like Hoda Kotb and Jenna Bush Hager.
The new staffing investments will fall under the teams of Catherine Kim, SVP of global digital news for NBC News and MSNBC; Libby Leist, SVP NBC News and "TODAY;" Janelle Rodriguez, SVP of Nightly News, NBC News NOW & Breaking News Specials and Ashley Parrish, SVP Commerce for NBCU News Group.
Timing: Most of the new programming will begin debuting this fall.
NBC News NOW plans to expand its weekday live programming throughout the fall and add to its weekend live programming and originals beginning in the first quarter of 2022.
International distribution will come later this year.
Some of the new programming coming to NBC News Now:
Tom Llamas, NBC's senior national correspondent, will host a new, daily primetime news program.
Hallie Jackson, the network's senior Washington correspondent and anchor, will host a daily evening show and a weekly special newsmagazine series.
Joshua Johnson, anchor of MSNBC's "The Week," will host a daily evening news analysis and explainer program.
Llamas and Jackson will host these new streaming programs in addition to their linear TV shows.
From a business perspective, the company does not plan to put either NBC News Now or TODAY All Day behind a paywall at this time.
"The north star for us is in time spent," says Chris Berend, EVP of Digital for NBCU News Group. The company says that NBC News NOW averages more than 44 million views and 14 million hours watched per month. Berend notes that any revenue, whether it be advertising, commerce, partnerships or otherwise, flows from how well the network meets consumers' expectations.
The network has recently begun to experiment with live shopping on TODAY All Day. "It's been really successful with our audience," Berend says. "We are also imagining the possibilities with audio or special events. The more value we create for the consumer, the more options become available to us."
Oppenheim says the network's goal is to be the #1 destination for streaming news audiences. "It's less about a number of shows and more about continuing to expand our programming so that whenever someone is looking for news on streaming, 24/7, they can open News NOW and find it."
By the numbers: With the new additions, there will be nearly 300 people at NBCU News Group working on streaming across editorial, engineering, product, talent, and production.
Dozens of roles have already been posted, including new roles for different types of digital reporters and producers across topics areas like health, parenting and politics.
Be smart: Executives didn't elaborate on whether there would be new streaming services planned for some of its other news properties, like MSNBC, CNBC or Telemundo, but noted that for now, NBC plans to keep its existing news streaming services distinct.
"Every day, we're seeing more interplay between these streaming services and our traditional digital platforms," Oppenheim says. "We're also seeing more interaction between streaming and our mobile platforms, with shopping being a great example."
NBC has launched other digital products for its news brands, including "The Choice," an extension of MSNBC's progressive programming on Peacock.
Bottom line: "As streaming platforms mature, consumers have come to expect a premium experience," says Berend. "Live news is no exception."
Editor's note: NBC is an investor in Axios. MSNBC & Axios engage in a weekday sponsored television appearance at 5:55am ET.
Go deeper