Olympic gymnastics, explained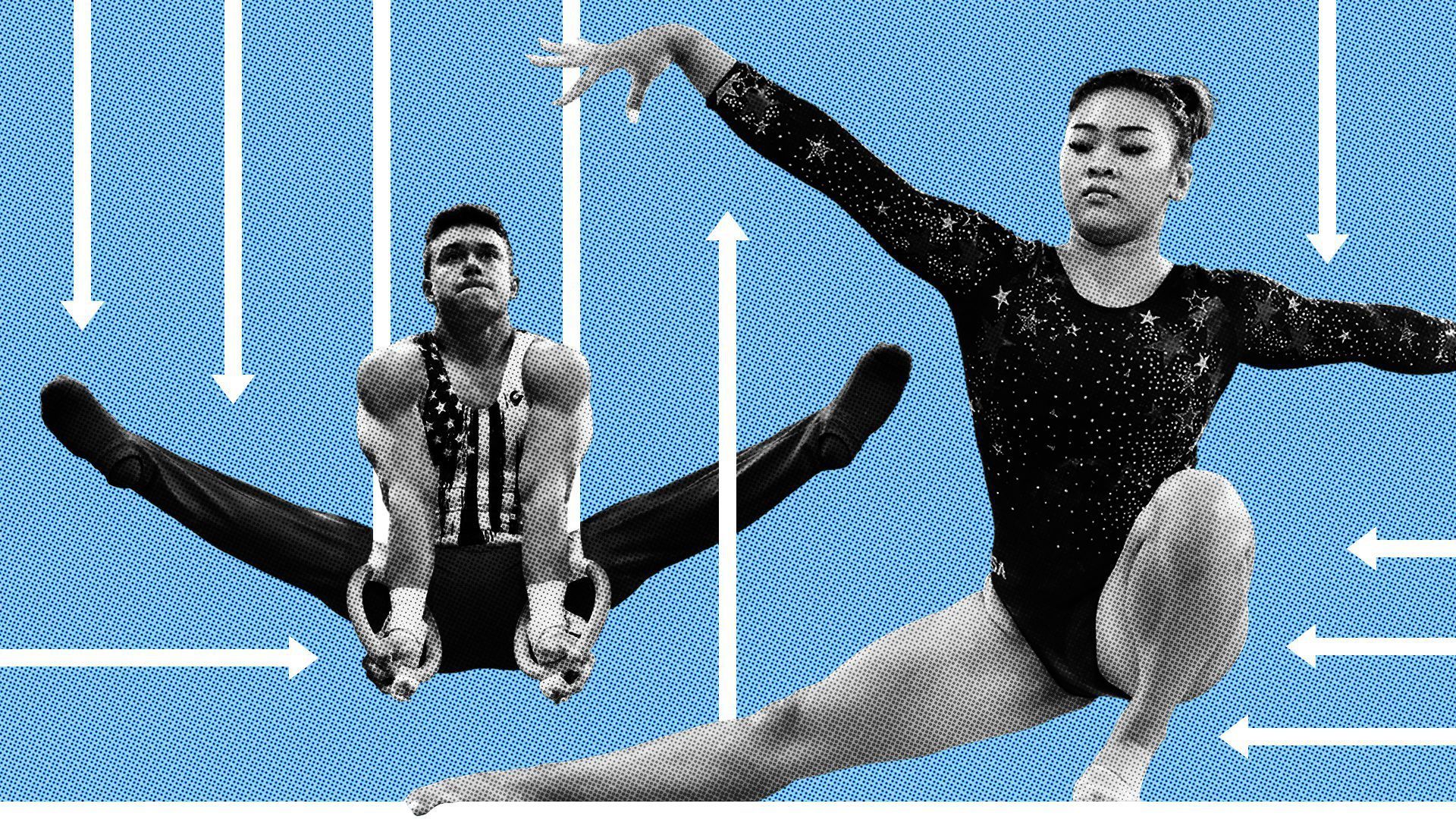 Gymnastics is one of the most popular Olympic sports. But unlike swimming (finish first!) or basketball (score more points!), it can be complex and difficult to follow.
How it works: There are seven individual events for men and five for women.
Men: Floor exercise, pommel horse, still rings, vault, parallel bars, horizontal bar, individual all-around.
Women: Floor exercise, vault, uneven bars, balance beam, individual all-around.
Scoring: The "Perfect 10" is a relic of the past. Since 2006, gymnasts earn scores made up of two components — difficulty ("D") and execution ("E").
Difficulty score: Routines are comprised of skills, and each skill has a pre-assigned value that reflects its difficulty. So the higher the "D" score, the harder the routine was.
Execution score: This is the grade for how well skills are performed. All "E" scores start at 10.0 and judges take deductions for mistakes, such as wobbles or poor dismounts.
Between the lines: Simone Biles' routines are so difficult that she can afford missteps and still dominate thanks to her huge "D" score. Something to watch: whether Tokyo judges give her moves — which few, if any, gymnasts can do — their proper value.
Of note: While artistic gymnastics is the most well-known discipline, medals will also be awarded in rhythmic gymnastics and trampoline.
Tokyo notes:
Men's schedule: The team final began early this morning (6am ET, Peacock) and will air on primetime tonight (8pm, NBC). The individual all-around final is on Wednesday.
Women's schedule: The team final begins early tomorrow morning (6:30am, Peacock) and will air on primetime tomorrow night (8pm, NBC). The individual all-around final is on Thursday.
Inside the venue: Ariake Gymnastics Centre is a temporary venue. That explains the unfinished wood seats that make it look like the world's biggest IKEA set, Axios' Ina Fried reports from Tokyo.
Spotted: A jar of honey! Turns out, men use it as a gripping agent for parallel bars.
Go deeper: Meet Team USA's gymnastics teams (Axios)
Go deeper