DOJ won't investigate nursing home deaths in N.Y. and 2 other states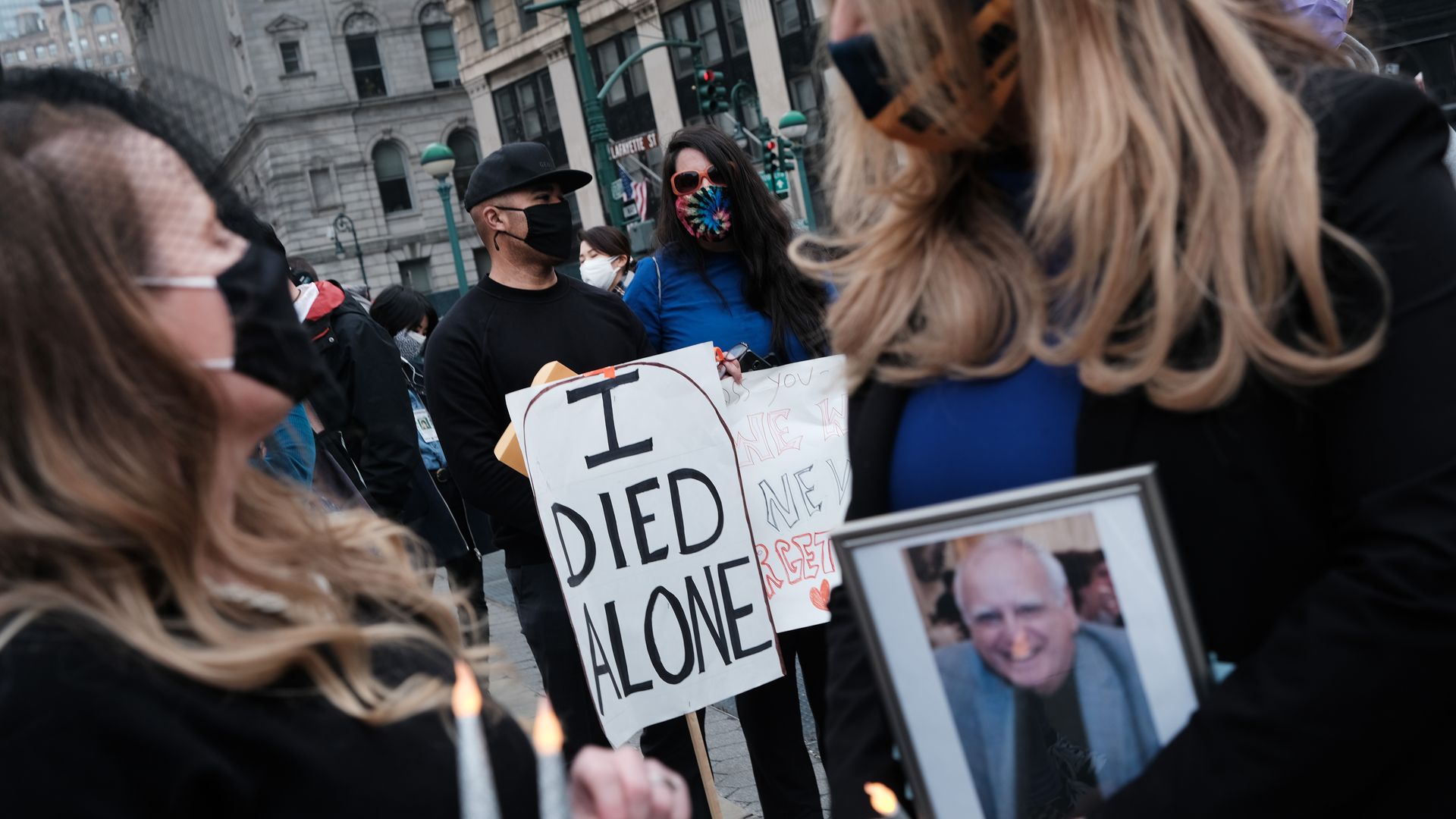 The Department of Justice has decided not to launch a civil rights investigation into whether policies in New York, Pennsylvania and Michigan contributed to pandemic deaths in nursing homes, according to a letter sent to Republicans.
Why it matters: The Trump DOJ requested data from the three states plus New Jersey last August "amid still-unanswered questions about whether some states, especially New York, inadvertently worsened the pandemic death toll by requiring nursing homes to accept residents previously hospitalized for COVID-19," per AP.
The big picture: While the letter sent to House Minority Whip Steve Scalise (R-La.) Friday said it wouldn't open investigate "any public nursing facility within New York, Pennsylvania, or Michigan at this time," it stated that investigations into two New Jersey nursing homes remained ongoing.
Scalise in a statement described the decision not to open an investigation into the three other Democratic-run states as "shameful" and accused the DOJ of being "complicit in these Democrat governors' cover ups."
Of note: New York Gov. Andrew Cuomo has been critcized for his handling of COVID-19 in nursing homes early in the pandemic.
New York Attorney General Letitia James, a Democrat, released a report in January accusing his administration of undercounting coronavirus deaths in nursing homes by up to 50%. Cuomo's office has said there's nothing wrong in the accuracy of the health department's numbers.
Cuomo has previously said the Justice Department inquiry was politically motivated.
What they're saying: Bobby Leddy, a spokesperson for Michigan Gov. Gretchen Whitmer, said in an emailed statement that it was "deeply disturbing that Republicans sought to politicize" the pandemic.
"With both the United States Department of Justice and Michigan Attorney General rejecting these baseless attacks, it's time to end the political games and work together to get things done for Michiganders," Leddy said.
Leddy stressed that at "no point were nursing homes ever forced to take COVID-positive patients."
"Instead, we made the smart decision to require that residents who contracted this deadly disease be kept as far away from others as possible to prevent more people from getting sick," Luddy added.
There was no immediate response to a request for comment from the DOJ, nor from representatives for Cuomo or Penn. Gov. Tom Wolf.
Go deeper