U.S. women's soccer files brief in appeal of equal pay lawsuit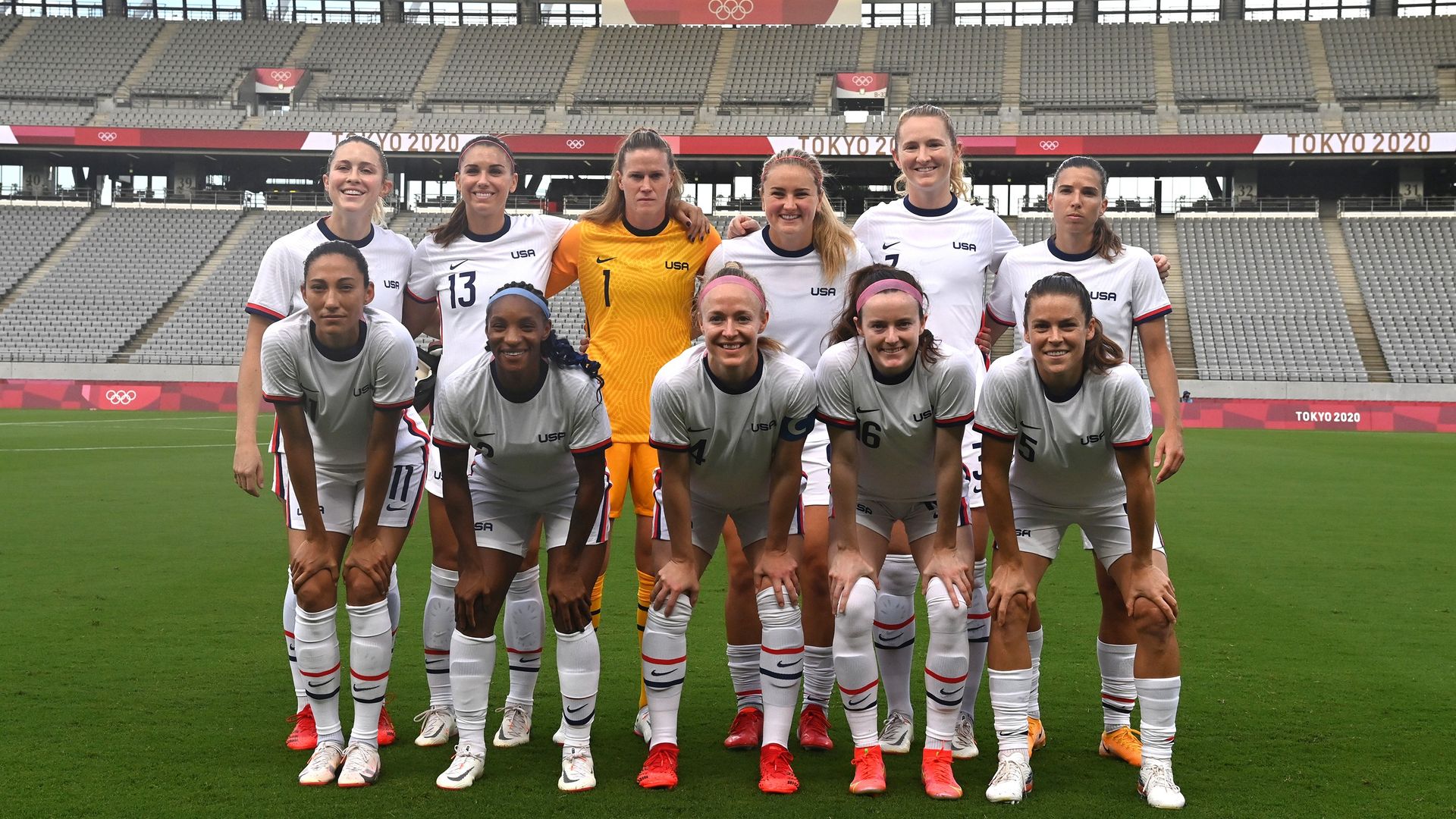 The U.S. women's national soccer team filed an opening brief Friday in the appeal of their lawsuit against the U.S. Soccer Federation for gender-based pay discrimination.
The big picture: The brief, filed with the Ninth Circuit Court of Appeals, seeks to reverse a prior district court decision "based on a flawed analysis of the team's compensation, despite the abundant evidence of unequal pay," per a press release.
The brief asks that the case be sent back to district court to be heard by a jury.
"We believe in our case and know our value," Megan Rapinoe said about the appeal. "It's time the USSF does too. LFG."
The filing comes one day before the U.S. women's team plays New Zealand in their second Olympic game, following a stunning 3-0 loss to Sweden on Wednesday.
Catch up quick: In March 2019, the U.S. women's team filed a lawsuit against USSF, citing gender discrimination against the players, both in their compensation and working conditions.
A federal judge rejected the team's claim last May.
In December 2020, the players reached an agreement with the USSF, securing a guarantee that the federation will offer equal working conditions for the men's and women's teams.
The settlement was approved by the district court in April, and the players subsequently filed their notice of appeal with the Ninth Circuit.
What they're saying: "We are confident the facts show intentional – and ongoing – gender discrimination by the U.S. Soccer Federation. We look forward to presenting our case to the Court," Molly Levinson, a spokeswoman for the U.S. WNT said in a statement.
"It's an honor to compete alongside the best soccer players in the world. It's an even greater honor to stand together in our fight for what matters – equal pay for equal work." USWNT captain Becky Sauerbrunn said.
"In ruling in favor of U.S. Soccer on the players' pay discrimination claims, the District Court rightly noted that the Women's National Team negotiated for a different pay structure than the Men's National Team, and correctly held that the Women's National Team was paid more both cumulatively and on an average per-game basis than the Men's National Team."
"U.S. Soccer is a non-profit with a mission to grow the game for every player, regardless of age, gender or ability level. The focus today is on supporting the Women's National Team in their quest to win a fifth Olympic Gold Medal. Moving ahead, we will continue to seek a resolution to this matter outside of court so we can chart a positive path forward with the players to grow the game both here at home and around the world."
—
USSF statement
Go deeper: U.S. women's soccer team seeks redemption on Olympic stage
Go deeper