The return of superstar cities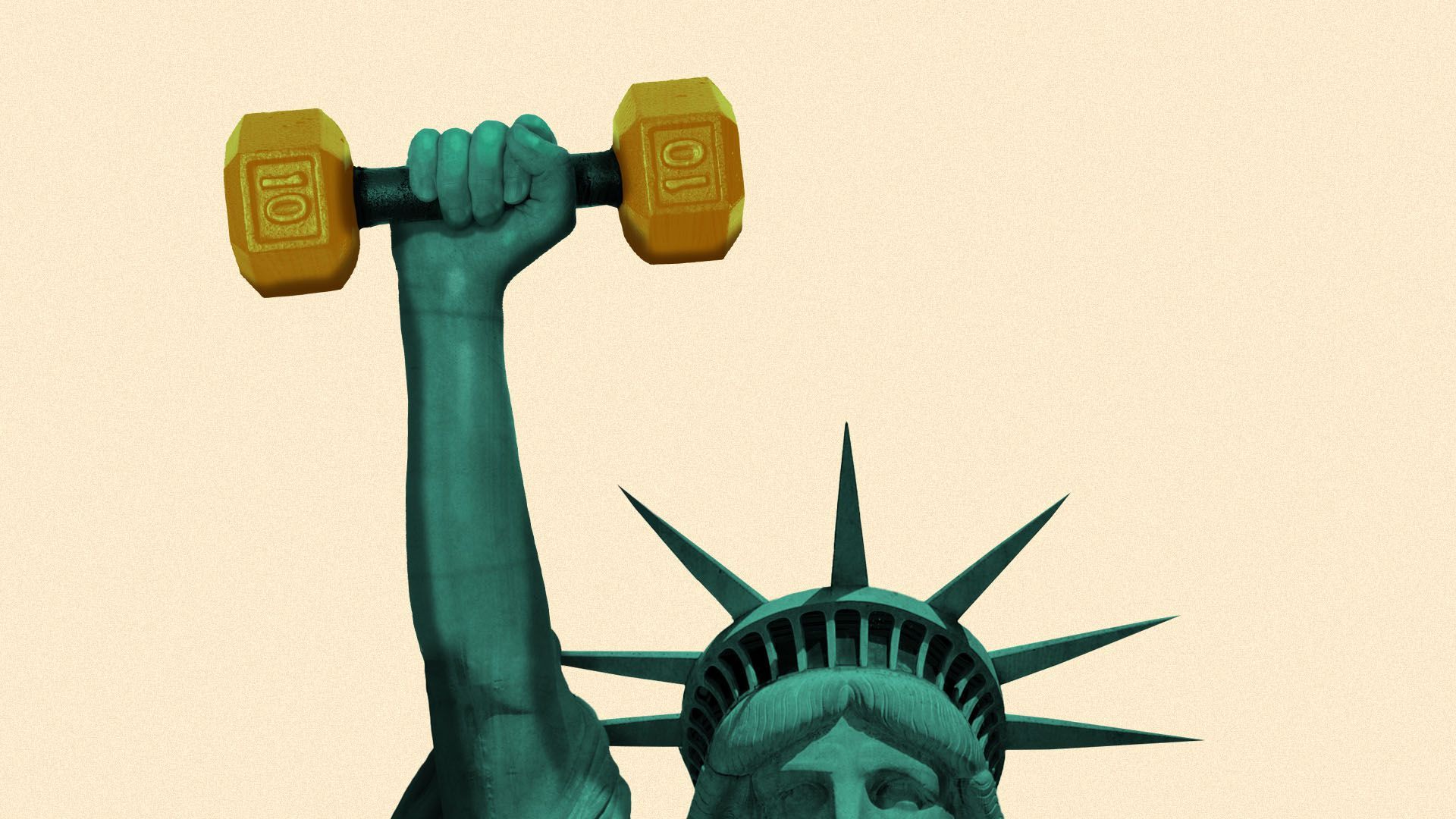 As the pandemic emptied out Main Streets and normalized telework, many experts speculated that it would loosen superstar coastal cities' grip on the economy.
The big picture: New York, San Francisco, Los Angeles and the like are coming back even stronger, solidifying their economic dominance for the future.
"These cities serve deep purposes for the economy and society," says Mark Muro of the Brookings Institution. "So it's always a pretty bad bet to bet against the existence or survival or dynamism of cities."
What's happening: Despite projections of an exodus from the big cities, home sales are actually at their highest level in over a decade in Manhattan, and San Francisco's market remains hot with homes consistently selling above asking price.
Yes, Americans moved during the pandemic, but the vast majority of those moves were within metro areas, so the economic might of the big cities remains relatively unchanged. "The pandemic just stretched the bounds of metro areas," says Richard Florida, an urbanist at the University of Toronto.
Per a Brookings analysis of U.S. Postal Service address change requests, of the 1.4 million moves out of the New York metro area in 2020, just 37,000 of them were to the heartland or Mountain States. "These moves are not going to save the heartland," Muro says.
Of the 1.1 million moves out of Los Angeles, just 72,000 were to the middle of the country, and of the 500,000 out of the Bay Area, 27,000 were to the heartland.
And restaurant traffic is roaring back in the top cities. According to data from the marketing software and analytics firm Zenreach, Bay Area restaurant traffic has jumped by 192% since the start of 2021, leading major cities. Also dominant are Los Angeles (161% increase), New York (132%), Chicago (131%) and Boston (123%).
The other side: Two metrics tell a different story.
Unemployment is high in superstar cities. About 13% of America's unemployed people are concentrated in New York, Los Angeles and Chicago, three cities that together only account for 4.6% of the nation's population, according to Bureau of Labor Statistics data.
That's mostly due to the huge hit retail and food service jobs took in the big metros. While restaurants and stores are coming back, they're still dealing with reduced traffic when compared with the pre-pandemic world due to the persistence of hybrid and remote work.
Office vacancy rates are also high. Vacancy rates in previously busy business districts in New York and San Francisco have hit all-time highs of over 20% and are well above national averages.
The stakes: "We should worry about central business districts," says Muro. Even if the cities themselves thrive, hybrid work is here to stay, which will depress foot traffic in central business districts and reduce transit use.
That could disproportionately hurt lower-income workers who staff those eateries and shops, and who depend on healthy public transit.
The downtowns and business districts of cities have long been an important source of entrepreneurship and business ownership for immigrants and people of color, and "that will be challenged," Muro says.
But, but, but: Central business districts can thrive even without a strong office culture, says Florida. "Even if people aren't going to the office, they are coming to places like Midtown Manhattan for lunch, business meetings, early cocktails and dinner. It's no longer the central business district. It's the central socializing district."
Go deeper