Infrastructure deal's Democratic opposition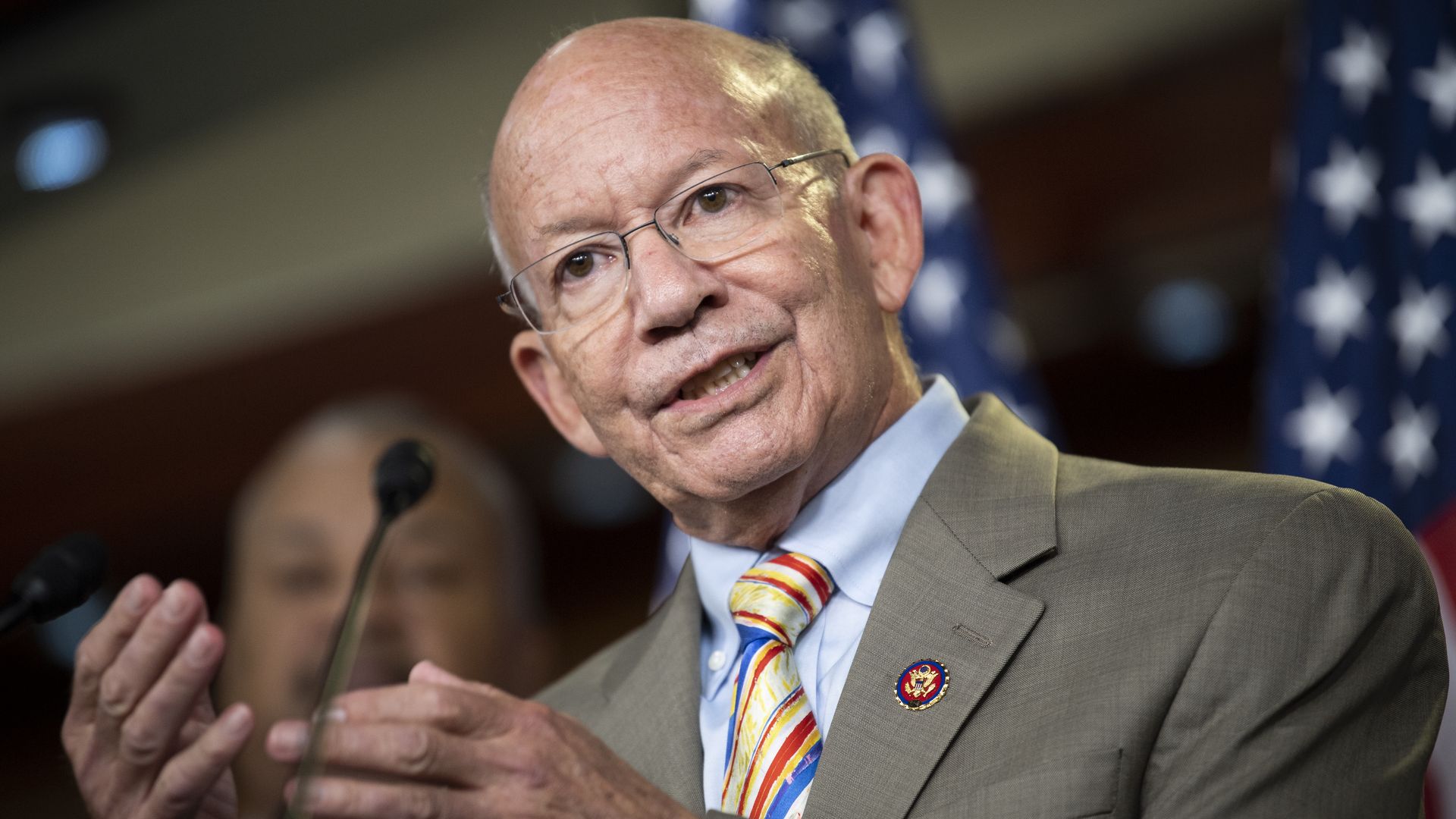 Some progressive House Democrats — and potentially 20 members of the pivotal Transportation and Infrastructure Committee — are signaling they'll vote against the Senate's $1.2 trillion bipartisan infrastructure package.
Why it matters: With just three Democratic votes to spare, House Speaker Nancy Pelosi (D-Calif.) and President Biden must seriously consider every possible House defection if they hope to pass the Senate package.
"If it comes over in that form and it's take-it-or-leave-it, I'm going to work to defeat it," Rep. Peter DeFazio (D-Ore.), chairman of the T&I Committee, told Axios.
"It'll fail the House of Representatives," he said. "You know, I voted against Obama's [economic] recovery act."
Driving the news: While Senate negotiators are struggling to find a compromise on roughly $579 billion in new spending for "hard" infrastructure, Democrats on DeFazio's committee are signaling the package might have just as much difficulty in the House.
31 of the committee's 37 Democratic members wrote Pelosi and Senate Majority Leader Chuck Schumer (D-N.Y.) on Wednesday to ask for "a bicameral negotiation prior to the passage of any final infrastructure package."
"We don't want to see our work taken for granted and just be a rubber stamp for the Republicans," Rep. Steve Cohen (D-Tenn.) told Axios. "I would guess there are 20 'no's'" for the Senate bill.
"I am a 'no.' I am," Rep. Henry Johnson (D-Ga.) told Axios.
There's also a broad concern in the House Progressive Caucus, lawmakers said.
The big picture: The Senate is attempting to pass two infrastructure packages at the same time: the bipartisan framework, which focuses mostly on traditional projects like roads and bridges, and a $3.5 trillion, Democrat-only bill that includes new spending for universal preschool, free community college and Medicare expansion.
The bipartisan package suffered a procedural setback Wednesday when Republicans voted against proceeding to a floor vote on an actual bill, which they say isn't ready.
But there's also Democratic concern with the emerging compromise, as well as what might happen to the Senate deal in the House.
"I voted today to move forward to consideration of a bipartisan infrastructure bill, but more must be done to guarantee my support for the legislation currently being drafted," said Sen. Tom Carper (D-Del.), chairman of the Senate Committee on Environment and Public Works.
Between the lines: The White House is reaching out to wavering lawmakers on DeFazio's committee, as Politico reported, and on Wednesday afternoon, DeFazio said he received a call from White House counselor Steve Ricchetti, the president's infrastructure point man.
"We're in close touch with the president's colleagues in the House, who he deeply respects and values as core partners," said Andrew Bates, a deputy White House spokesman.
Transportation Secretary Pete Buttigieg also traveled to DeFazio's district last week, where the chairman called it an "honor" to host him.
But on Wednesday, before he spoke with Ricchetti, DeFazio called White House outreach to his committee members "odd" and hinted that officials were trying to work around him.
Editor's note: This story has been updated to correct the number of committee signatories to 31.
Go deeper