Hong Kong's status as a financial center seems safe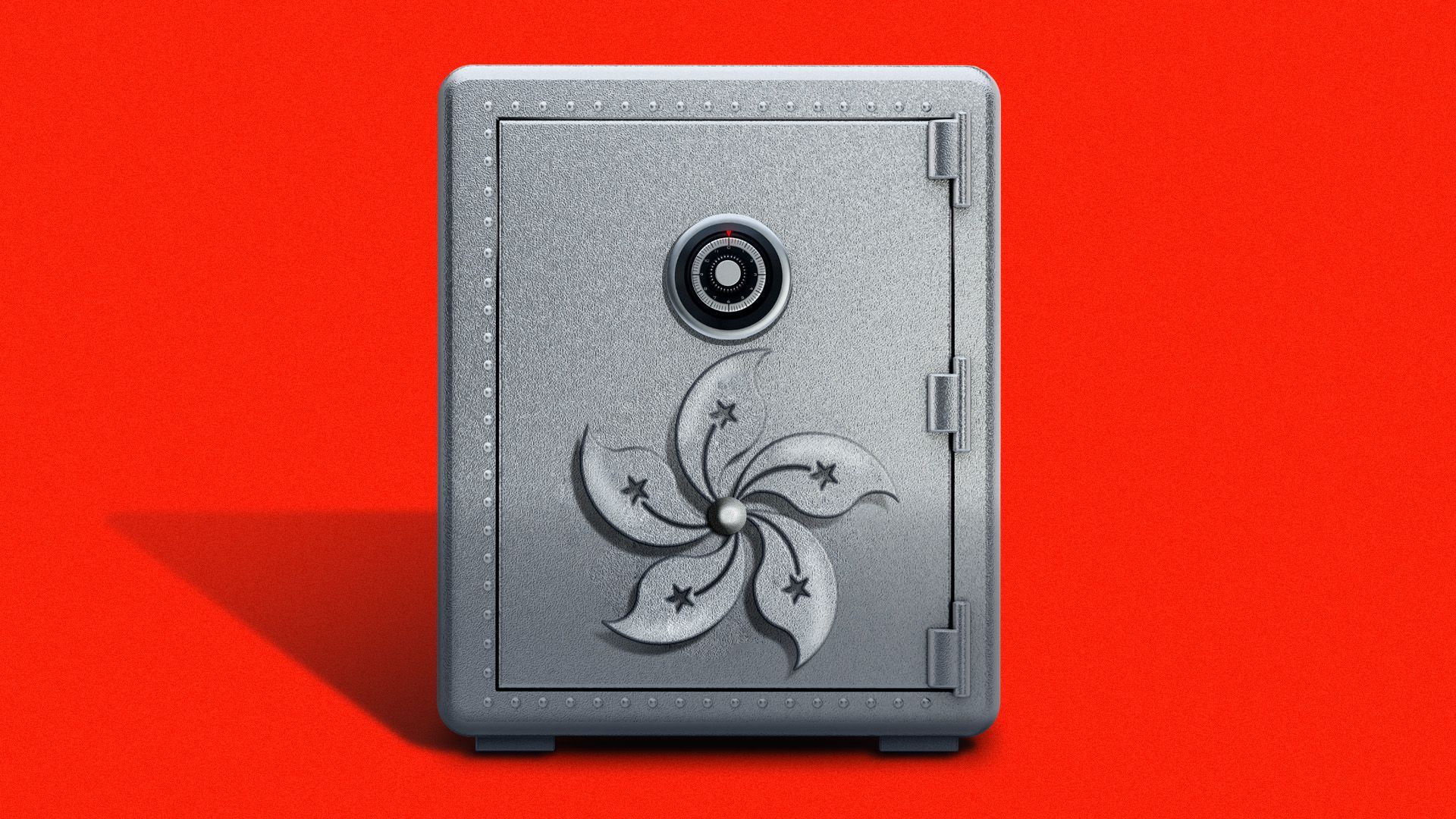 Given its assault on democracy, imprisonment of publishers, and a slew of human rights violations, "stable" might not be the first word that springs to mind with respect to Hong Kong. But amid social and political turmoil, one key part of the economy has remained unfazed: its legendary financial services sector.
Why it matters: Beijing's increasing control and influence over Hong Kong is seen by many banks and investors as more of a feature than a bug. While there are certainly downsides to staying, for the time being, the upside seems to be even greater.
As Asia Group principal Kurt Tong wrote in a recent essay for Foreign Affairs, "Politics only narrowly affects the core incentives that guide financial and business decisions."
The big picture: Hong Kong has been a gateway to mainland China for centuries. As China begins its crackdown on companies raising foreign capital and listing on foreign exchanges, that's only going to strengthen Hong Kong's hand as the go-to place where shares of Chinese companies can be traded in a fully convertible currency.
Where it stands: Western investment banks are hiring thousands of new employees in Hong Kong, many of them hailing from mainland China.
They're very unlikely to make any kind of pro-democracy waves, after seeing what happened to local banking giant HSBC when it fell afoul of the Chinese Communist Party.
Hong Kong has already seen $27.4 billion of IPOs in the first half of this year, per EY's latest global IPO report, making it the third most popular IPO venue in the world. (That's nothing new: It's been in the top 3 every year since 2013.)
At this pace, Hong Kong is going to set a new IPO proceeds record this year, especially given the fact that, as EY Asia-Pacific IPO chief Ringo Choi notes, "geopolitics and tightened regulatory oversight encourage Chinese companies to switch from the U.S. to Hong Kong for their IPO."
The other side: Recent moves by Beijing are weakening some of the core transparency tenets that have provided a foundation for Hong Kong's financial services sector.
What they're saying: "I do not see why journalists should have the privilege" of using the official registry of companies, Hong Kong chief executive Carrie Lam said in March.
Threat level: Hongkongers and foreign bankers are openly talking about leaving the country, for fear of the new national security law or just of not receiving a balanced and honest education for their children.
In a recent American Chamber of Commerce survey, 42% of members said they were considering moving away.
The pandemic didn't just hurt Hong Kong's economy; it also closed many international borders, making it much harder for Hongkongers to leave. Once countries like Australia reopen, expect a pickup in emigration from Hong Kong.
At the same time, however, there's no shortage of highly qualified mainland Chinese eager to take their place.
The bottom line: Hong Kong has comfortably retained its top-tier status as a global financial center s0 far — it's in fourth place in the latest Z/Yen ranking, behind only New York, London and Shanghai.
"So long as there's money to be made here, money's going to come here," says Michael Schuman, the Hong Kong-based author of Superpower Interrupted. "The finance center can run perfectly nicely here being run primarily by mainlanders."
Go deeper