Axios Capital
June 04, 2020
This has been a horrible week, and tomorrow's news is not going to cheer anybody up. I hope you're looking after yourself as best you can.
We have now officially reached the biggest 50-day rally in the history of the S&P 500. In this week's issue, I try to understand why all the terrible news hasn't hit the stock market.
It's 1,652 words long, which should take about 6 minutes to read.
1 big thing: Authoritarians don't faze markets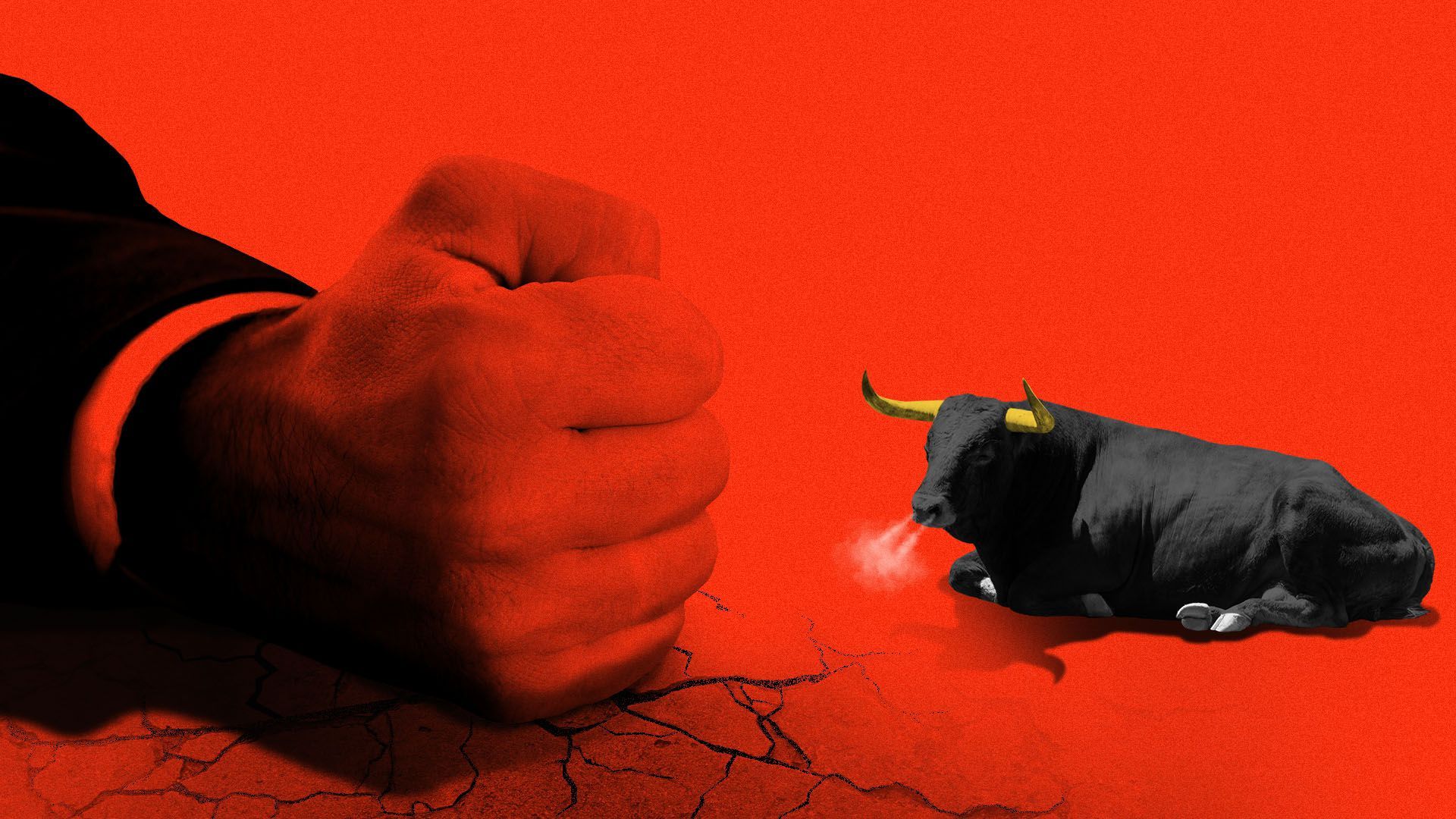 There is no particular reason why America's move toward authoritarianism should hurt the markets.
Headlines about rampant state-sponsored violence and the militarization of the capital city would raise few eyebrows in Russia or China or Turkey, all of which are home to robust financial centers.
Why it matters: Capitalism won the Cold War. Free countries with free markets could and did outspend Communist dictatorships; Russia and China ended up embracing capitalism as the only way to retain their global power and influence.
Free markets don't mean free people, however. As Russian economist Vladimir Mau told WSJ's Mark Whitehouse in 1999: "Democracy needs capitalism, but capitalism does not need democracy."
The bottom line: Capitalism is amoral. It cares not about human rights and freedoms — or even much about human lives, beyond their affiliated cashflows.
By the numbers: U.K.-based think tank Z/Yen has been calculating the strength of international financial centers using a consistent methodology twice a year since 2007.
The index has a broad range of inputs, including such things as corruption perceptions, labor market flexibility, political stability, tax competitiveness, infrastructure quality, cultural diversity, and much more. The all-time top score was the 807 points awarded to London in March 2013.
London and New York have always held the top two places, but their lead over the rest of the pack has diminished greatly over the 13 years since the index was launched.
In 2007, there were only two cities — New York and Hong Kong — within 100 points of the leader, London. Today, there are 47 cities within 100 points of the current leader, New York. They include Calgary, Guangzhou, and Casablanca, which has become the main center for sustainable energy finance in Africa.
Moscow now has a rating of 644 points, which would have put it in seventh place in 2007, between Frankfurt and Sydney.
Istanbul is not far behind, with 636 points.
Shanghai boasts 740 points, putting it in fourth place globally. China has three of the top seven financial markets in the world, while no other country has more than one.
What they're saying: "Unrest generally has a small but measurable impact on competitiveness," says Z/Yen head of indices Mike Wardle. Hong Kong in particular is notable for remaining one of the strongest financial centers in the world, even after a full year of tear gas and violent protest.
Hong Kong is facing its worst recession ever, largely as a result of the protests. Still, "you're not seeing large outflows of businesses from Hong Kong," says Wardle. "There does not seem to have been the drain of resources that people feared."
Driving the news: Hongkongers are set to lose many important freedoms in the wake of the passage in Beijing of a sweeping new security law. The territory's special trade status with the U.S. is now imperiled. But none of that is likely to hurt Hong Kong's status as a key financial center.
China has made it clear that Hong Kong will retain its freely convertible currency and its openness to foreign capital and foreign talent.
The most storied financial institution in Hong Kong, HSBC, has come out in favor of the new law, which has effectively criminalized the annual Tiananmen Square remembrance that took place this week.
Our thought bubble, from Axios China's Bethany Allen-Ebrahimian: The whole point of the national security law is to absolutely crush the protests. Without those protests, business will pick up again. Hong Kong won't be as free as it was before, but life will still be good. As long as you shut up about politics.
Hong Kong's fate puts the U.S. protests in perspective.
Global financial services professionals continue to covet Hong Kong as a plum posting, the riots and human-rights violations notwithstanding. If tear gas doesn't faze bankers in Hong Kong, looting in Soho won't give them much pause in New York.
2. Left to our own devices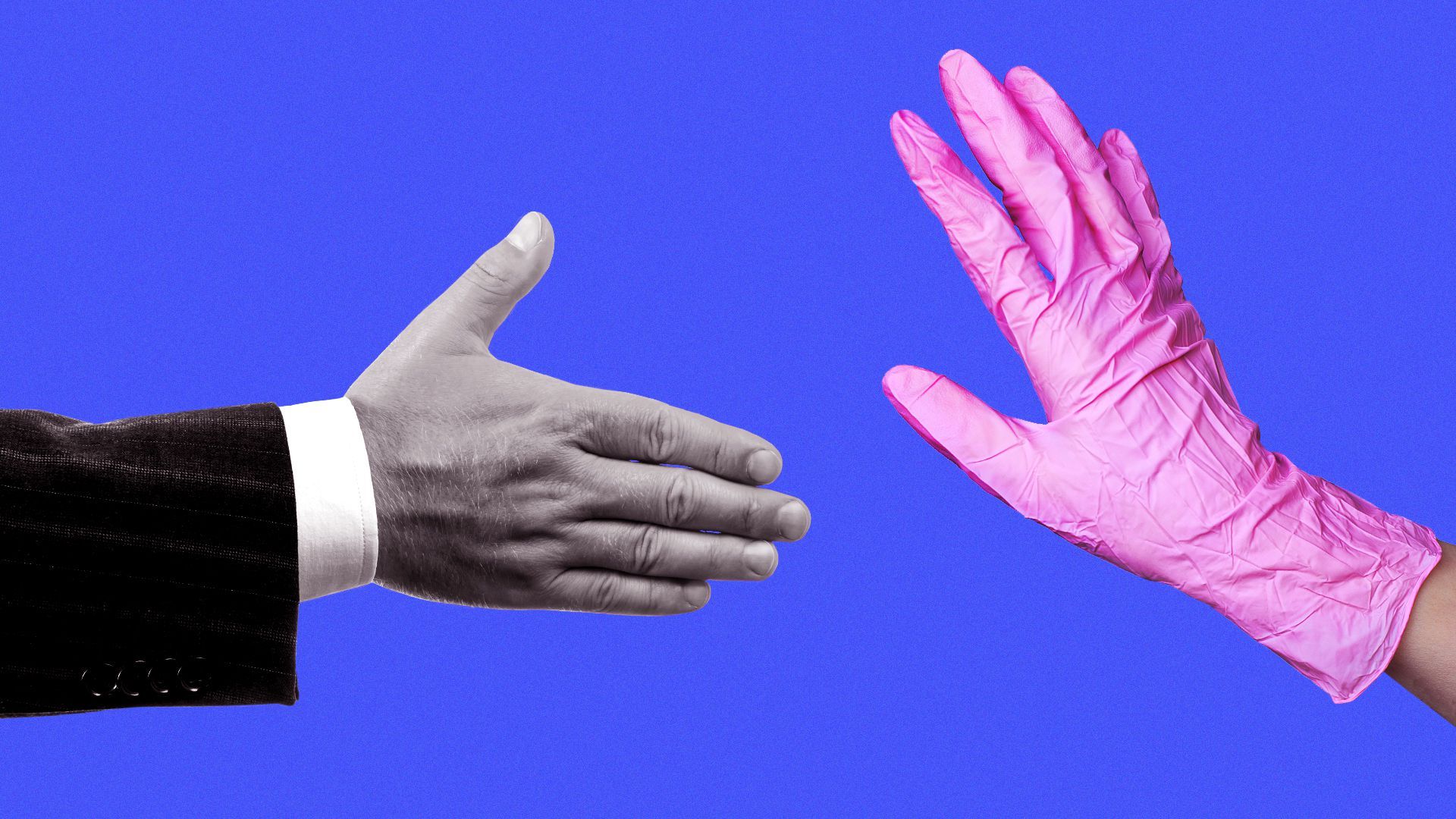 The United States is about to embark upon the most momentous social experiment in living memory: What happens when you take laissez-faire economic principles and apply them to public health?
When millions of people make their own individual risk/reward calculations, the result is superior to top-down decision-making by the government. That's the central tenet of capitalism — but you'd be hard-pressed to find any epidemiologists making the same argument.
By the numbers: America continues to see tens of thousands of new coronavirus cases every day. Very few of them result in a comprehensive contact-tracing review. Given the amount of virus in the population, there's a non-negligible probability that any of us could be unknowingly infectious today.
Americans react to this uncertainty in line with their own idiosyncratic risk appetite. Younger folks, in particular, tend to be happier making riskier decisions, as do people like undercover police officers.
As businesses reopen, decisions about things like whether to step into a crowded elevator will be made on a bottom-up rather than a top-down basis. Some people will be willing; others won't. (Both sides will view the other group as outliers.)
Why it matters: Governors can't simply decree that business is back to usual. So long as a significant proportion of society is unwilling to resume economic activity, employment and GDP will remain depressed.
The bottom line: Countries with more forceful and effective government responses have been able to bring the rate of infection down to a level at which most citizens can reasonably feel safe from the disease. That's not going to happen here — and it's not going to happen in places like Brazil, India, or Mexico, either.
Bonus: The worsening crisis
The U.S. has failed to hammer down the rate of new infections, which remain around 20,000 per day even as most states begin to come out of lockdown. Some states, such as Arizona, are seeing new record highs, even as the National Institutes of Health warns that a warm and humid summer won't help dampen the spread of the disease.
The global picture is even more dire.
The bottom line: The world's governments, collectively, were faced with the task of getting COVID-19 under control. They didn't.
3. Spot the pandemic
"Overnight we saw mass social unrest, continued culture wars, the prospect of martial law, a curfew in the world's biggest financial center, and the looting of a retail icon," tweeted Bloomberg's Tracy Alloway on Tuesday. "So naturally, futures are up."
She didn't even mention that the number of new coronavirus cases worldwide is now rising at a record rate of more than 100,000 per day.
Why it matters: Sometimes, in the markets, bad news is good news. In this case, corporate America seems to be acting rather like one of those improbable Hollywood action heroes: No matter how large and how terrible the perils thrown in its way, the result never seems to be much more than a flesh wound.
By the numbers: The S&P 500's net profit margin was a robust 10.5% in the first quarter of 2020, despite a large part of the economy being shut down by the novel coronavirus.
The S&P 500 is expected to earn $126 per share this year. That's more than it earned in any year up to and including 2016. Next year, FactSet estimates that the 500 companies will earn a record $162 per share.
The big picture: The real economy is terrible, with GDP plunging and unemployment reaching Depression-era levels. If corporate earnings can survive all this and a historic bout of social unrest, investors can be forgiven for thinking that they can probably survive anything.
4. The fiscal cost of unemployment
The May employment report comes out tomorrow. It will show many millions more unemployed Americans, the vast majority of whom are eligible for $600 per week in federal unemployment checks — over and above whatever they receive from their states.
By the numbers: The total cost of unemployment benefits was more than $430 billion in April alone, according to the Bureau of Economic Analysis. That's a rise of more than $400 billion from the pre-crisis level.
By contrast, Germany's unemployment spending has risen only about 13% this year, to €5.95 billion ($6.75 billion) from €5.25 billion during the same period last year. On top of that, Germany has spent about €450 million ($500 million) in workshare benefits, where employers receive a direct government subsidy and workers temporarily lose some income.
Germany's workforce is about one quarter the size of America's, which means that the per-person fiscal cost of keeping Germans employed is vastly lower than the per-person cost to the U.S. government of seeing Americans lose their jobs.
The bottom line: A ProPublica headline this week puts it succinctly: "Germany Saved Its Workforce From Unemployment While Spending Less Per Person Than the U.S."
5. Coming up: A definitive employment report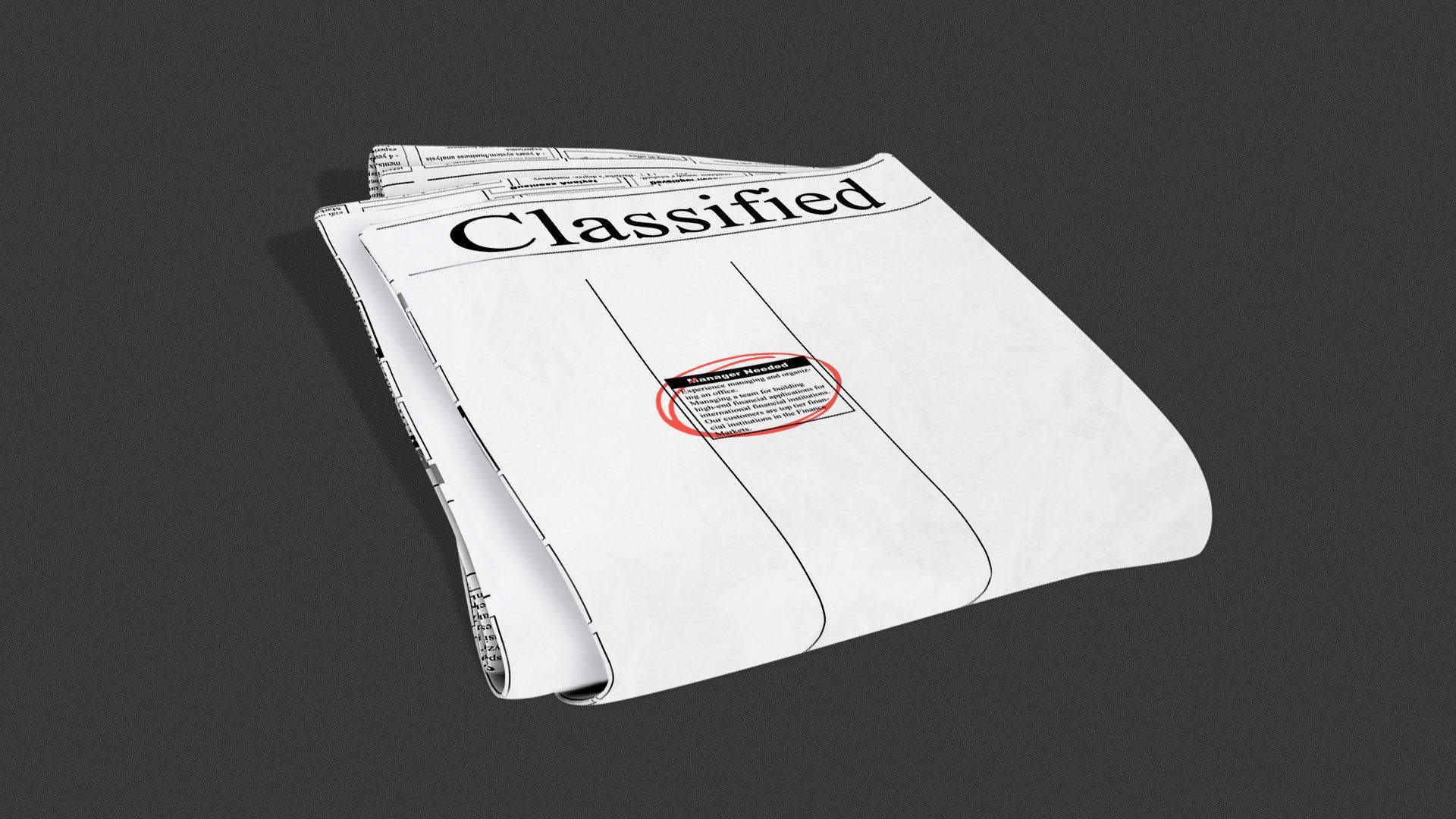 The May jobs report tomorrow will give the clearest unemployment picture of the pandemic, writes Axios' Courtenay Brown.
Why it matters: Weekly unemployment claims figures are an imperfect way to measure the scope of job destruction. They include doubly-filed claims and claims that weren't processed at all, plus they give no indication of how many people have got jobs.
Wall Street's estimates have been extremely off in some cases (see ADP yesterday or the personal income data last week).
Here's what's expected anyway: A net decline in payrolls of 8 million, with a 19.8% unemployment rate. Broader measures of unemployment will be worse.
One other thing to watch: The BLS disclosed in April's report that some workers were misclassified as employed, even though they were "absent" from work. They might fix that issue, which would have pushed April's unemployment rate almost five percentage points higher.
6. Building of the week: The Lincoln Memorial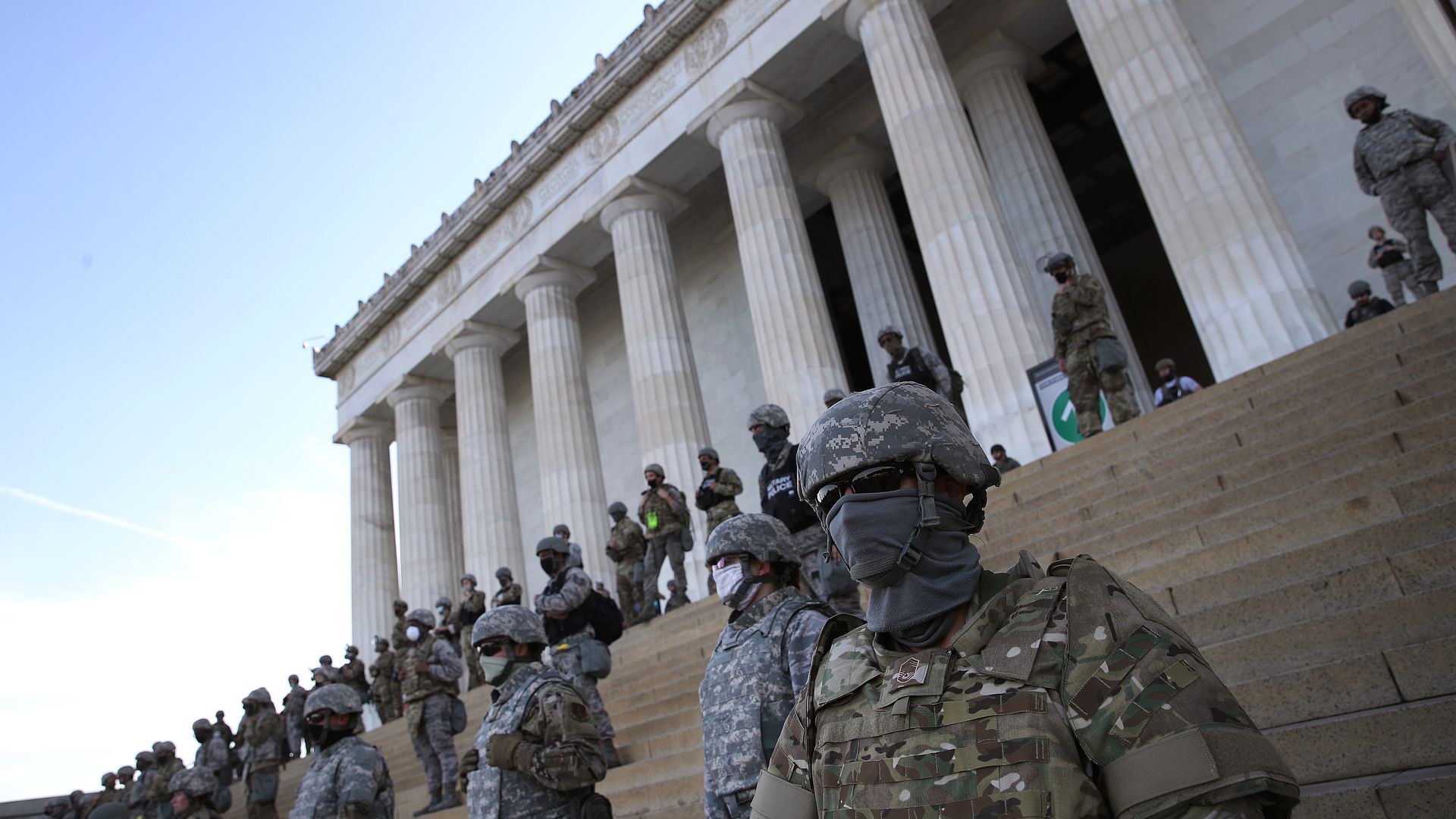 The Lincoln Memorial, designed by New York Beaux-Arts architect Henry Bacon, was constructed between 1914 and 1922.
Modeled after the Parthenon in Athens, the birthplace of democracy, the memorial is a monument to the American ideal of e pluribus unum.
Most of the exterior marble comes from Colorado, but other parts of the memorial are made of stone from Massachusetts, Tennessee, Indiana and Alabama. The Lincoln statue inside was carved from Georgia marble by sculptor Daniel Chester French.
Martin Luther King Jr. gave his "I Have a Dream" speech from the top of the memorial's steps.
This week, the steps to the memorial were taken over by the District of Columbia National Guard, in a jarring show of military force.