The 81 countries exploring central bank digital currencies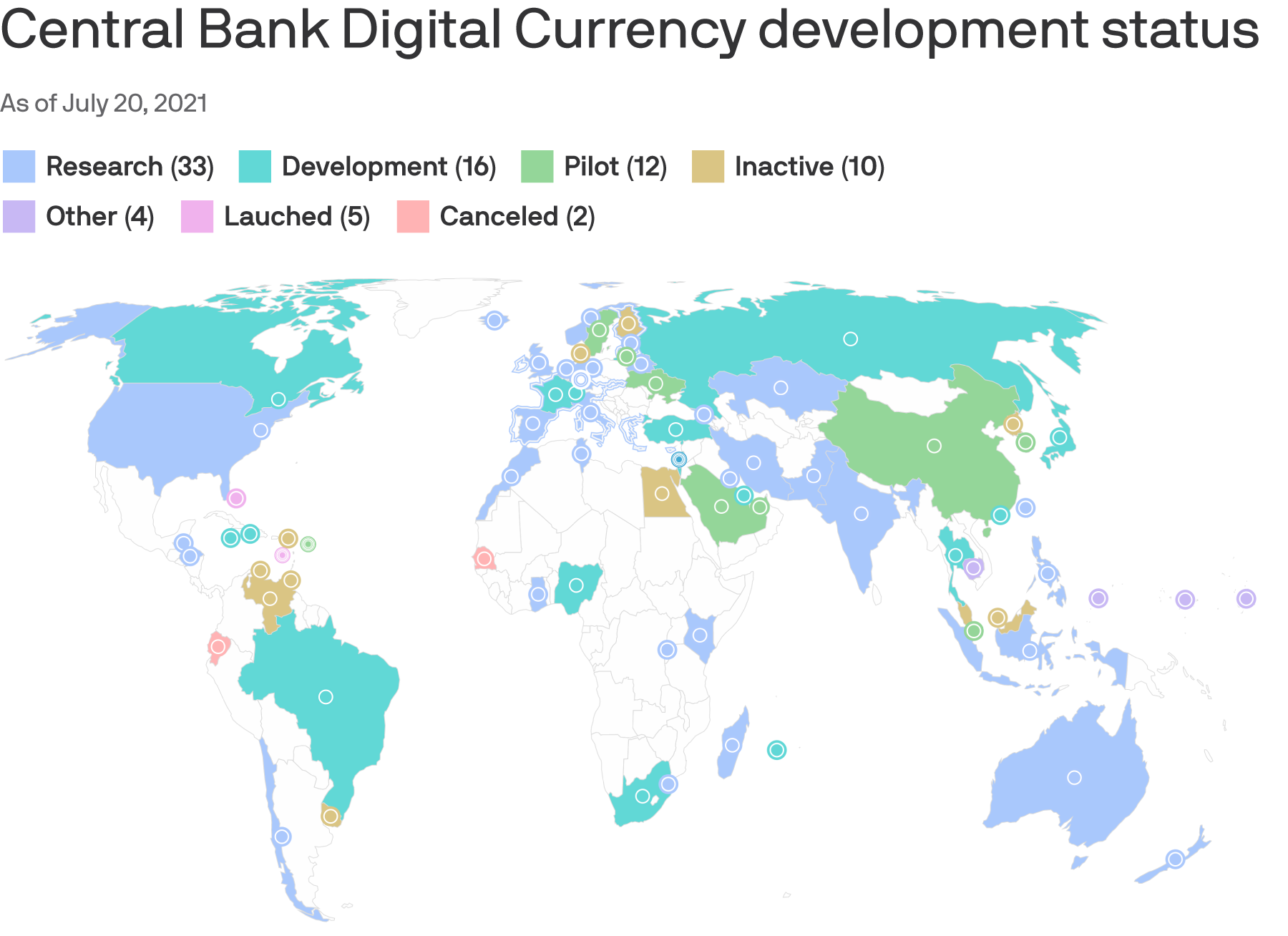 Central bank digital currency (CBDC) is probably not top of mind for most global consumers. But we may soon have no choice but to think about it — since 81 countries, representing over 90% of global GDP, are now exploring the development of one.
Why it matters: The U.S. lags much of the world. It could miss out on the opportunity to take a leadership role in an increasingly likely global transition to some form of digital currencies.
"If the U.S. doesn't help standard-set and provide guidance on issues like privacy and cybersecurity, we could be headed into a fractured digital currency ecosystem that threatens the smooth operation of international finance," Josh Lipsky, director of the Atlantic Council's GeoEconomics Center, tells Axios.
Driving the news: The Atlantic Council, a think tank that will testify at a July 27 Congressional hearing on CBDCs, gave Axios a first look at its new interactive map showing just how many world governments are now considering it.
The backstory: CBDCs are digital versions of existing currencies — legal tender issued, governed and backed by a central bank.
State of play: China is furthest along among major global powers, having launched its pilot digital yuan in April.
A total of 16 other countries are in the pilot phase or have launched, and another 15 countries have CBDCs in development.
The U.S. is one of 33 countries still in the research phase.
What's next: Fed chair Jerome Powell has said that the U.S. central bank won't issue a CBDC without Congressional approval.
In response, Congressional committees have stepped up their inquiries. Tuesday's hearing is before the House Financial Services Committee and will focus on national security implications.
The bottom line: The U.S. doesn't need to create a digital dollar immediately in order to have an impact on the development of digital currencies, Lipsky says.
But it should engage with groups like the G7 and G20 nations to set standards for security and privacy, he adds.
Go deeper