Biden pollster's inflation warning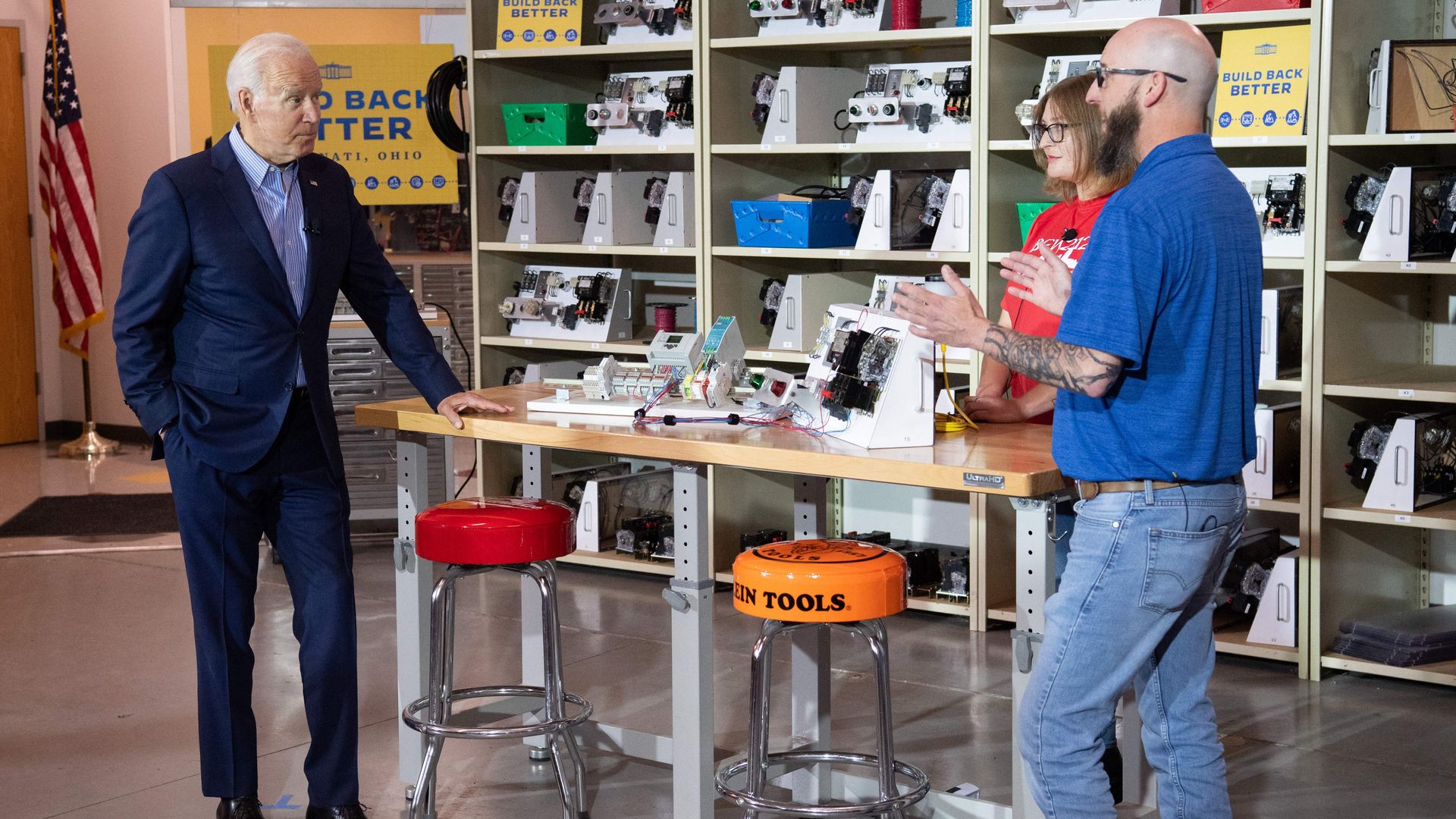 A top party pollster and senior adviser to the Biden political team is urging Democrats to confront the problem of rising prices — which she says is starting to bite with voters.
Driving the news: Celinda Lake, who polled for the Biden presidential campaign and still advises Team Biden, told Axios that worries about inflation are coming through loud and clear in both public polls and her own focus groups.
"Women voters are really experiencing it, because they're always more focused on kitchen table economics, microeconomics," Lake said.
"The key target vote in the 2022 election is going to be non-college-educated women ... because they are the most undecided."
Lake said Democrats can't afford to ignore the inflation issue or hope it goes away; they need to tackle it head on.
She's advised Democratic elected officials to make clear to voters that they understand their lived experiences of higher costs of health care and daily goods — and that they have ideas for how to make the cost of living more affordable.
The big picture: While the Biden administration has consistently argued that price increases are only short-term, Treasury Secretary Janet Yellen has revised her inflation expectations. She said in June inflation could reach 3%.
Then last week, after June's Consumer Price Index showed a 5.4% increase, Yellen told CNBC the U.S. economy will see "several more months of rapid inflation," which would put annualized inflation well above 3%.
"I think over the medium term, we'll see inflation decline back toward normal levels," she said.
President Biden insisted again tonight that price increases are temporary.
"The vast majority of the experts, including on Wall Street, are suggesting that it's highly unlikely that long term inflation is going to get out of hand," Biden said during a CNN town hall in Cincinnati. "There will be near-term inflation."
Former Treasury Secretary Larry Summers, who has warned about inflation since January, also met with White House officials last week.
Despite his concerns, Summers told Axios he doesn't think the $1.2 trillion "hard" infrastructure package being negotiated in Congress will increase inflation.
Between the lines: The White House has subtly altered its communications strategy on inflation in recent weeks. It's gone from mostly avoiding the issue to confronting it directly with coordinated talking points.
Biden's top economic adviser Brian Deese tweeted Monday that the administration's approach to competition policy "will lower costs for families."
The other side: The good political news for Biden is that voters aren't yet directly blaming him for rising costs.
Lake and two other Democratic pollsters told Axios that voters are still mostly attributing the higher costs to pandemic-related supply chain problems rather than an overheated economy caused by Biden overspending.
That view is bolstered in public polls. Some 27% of respondents in an Ipsos poll said they blamed COVID-related supply chain issues for rising prices.
And while inflation might rise the rest of the year, Democrats are more confident it will be retreating in the fall of 2022, when voters head to the polls.
Be smart: The White House is trying to co-opt the inflation charge and argue that Biden's economic proposals will reduce it in the long run.
"If we pass the other two things that I want to get done we will, in fact, reduce inflation," Biden said on CNN.
Go deeper