Scoop: One-third of reunited migrant families went homeless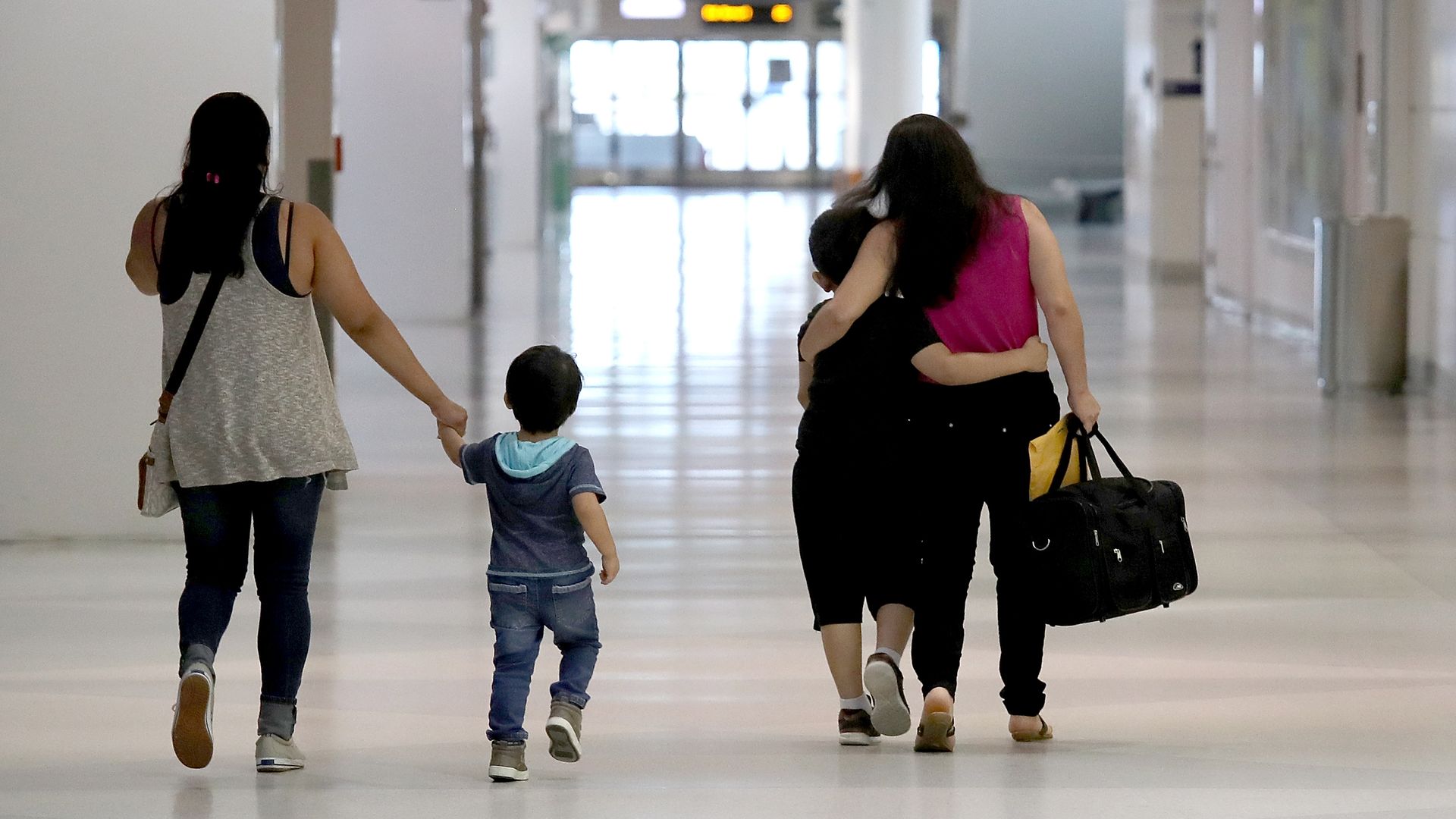 At least a third of migrant families separated at the border during the Trump administration and reunited in the U.S. so far under President Biden were homeless initially, three people familiar with estimates discussed by advocates and government officials told Axios.
Why it matters: As the number of reunions grows, such homelessness rates have the potential to significantly strain non-governmental organizations already plagued by limited resources.
Some 41 family reunifications have been completed on Biden's watch. With an estimated 2,100 families still separated, that's too small a sample to gauge with certainty the extent of the housing needs moving forward.
But sources said it could put the rate of those in need at anywhere from 30% to 50%.
Behind the scenes: NGOs assisting the administration with these reunions have, at times, had little heads up about the housing needs of the families, and have had to scramble last minute to find a place for them to stay.
Relatives in the U.S. or foster families who've been taking care of separated kids have not necessarily had room for whole families.
In one case, there was uncertainty about where a family would live because the reunited mother was no longer in a relationship with the father, said Christie Turner-Herbas, director of special programs for advocacy group Kids In Need of Defense (KIND).
What they're saying: "Parents are coming back with very little to no resources and coming back to very precarious situations," Turner-Herbas told Axios. "They're just kind of focused on, 'Am I going to be able to get back to being reunited with my child?'"
"It should be in the Biden administration's interest not to see these families ... end up in homeless shelters," Lee Gelernt, the ACLU's lead attorney in its family separation lawsuit, told Axios.
"The government is working to ensure the families receive the housing and other sources of stability and care the families need," DHS spokesperson Liza Acevedo told Axios.
DHS said in a statement: "The Task Force is committed to reunifying families safely and providing them with the stability and support they need and deserve. ... The Task Force is grateful for the support of the NGOs and private funders who have been supporting this mission, as we work through the challenges presented by legal and fiscal authorities."
What we're watching: On Tuesday, the government published a request for information for a potential contract that would help the government manage and care for separated families.
Advocates are pressing for more government assistance — financial and in the form of social services case managers — even as they pull together private resources to fund emergency housing needs for families.
They say there's a need for more help with food, mental health services, school registration and medical checkups, as well as housing.
The bottom line: Reuniting these migrant families has been one of Biden's core pledges.
The early housing woes illustrate just how difficult it's been to address the challenges for thousands of families more than three years after President Trump's "zero-tolerance" policy ended.
Go deeper