The C-suite job of the future: Chief purpose officer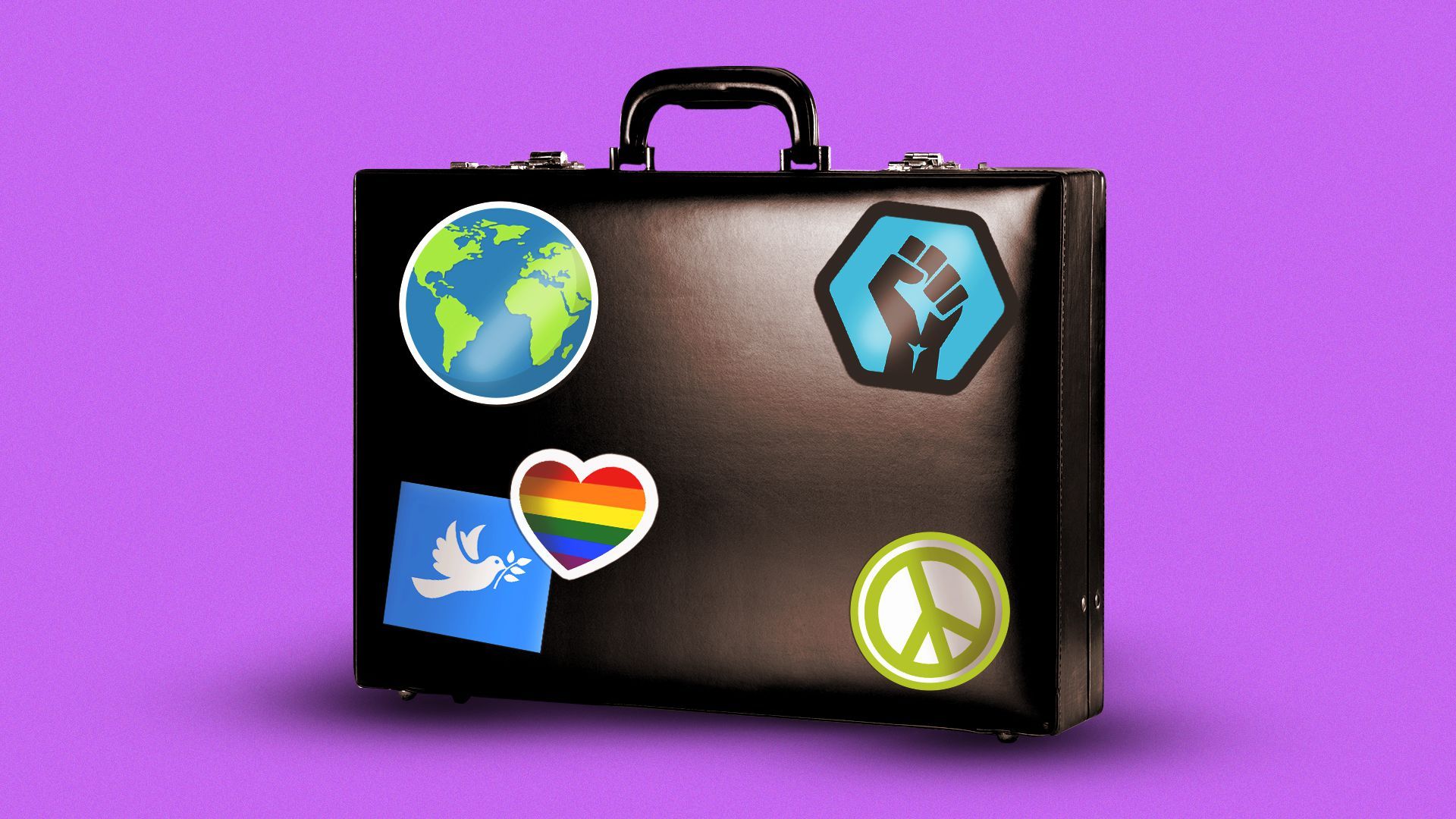 To appease employees, customers and shareholders alike, companies are spending time and money grappling with huge social problems like systemic racism, income inequality and climate change.
What's happening: More and more firms are dedicating entire departments to tackle societal issues and even hiring a purpose-focused executive — chief purpose officer — to lead the efforts.
Why it matters: In the past, firms generally just had to focus on their bottom lines. Now every political, social and environmental challenge is becoming a corporate concern as well.
A company's purpose or mission statement was originally about "what's within our four walls, but more and more it's about what's outside of our four walls," says Shannon Schuyler, chief purpose and inclusion officer at the consulting firm PricewaterhouseCoopers.
Every day, firms are making new promises to cut emissions or hire and promote women and people of color. "But they don't have a singular person focusing on that," notes Kwasi Mitchell, Deloitte's chief purpose officer — which can mean those commitments aren't followed up on or met.
The big picture: "It's employees who are really driving this," says Paul Argenti, a professor at the Tuck School of Business at Dartmouth College.
The majority (60%) of people globally say their country will not be able to overcome its challenges without the involvement of business, Axios' Sara Fischer has reported, citing Edelman's Trust Barometer.
Roughly 80% of people, on average, expect their company to act on issues such as vaccine hesitancy, climate change, automation, misinformation and racism.
That means companies have little choice but to speak and act on social and political issues to recruit and retain employees.
"People truly don't want to show up to their jobs and just get a paycheck anymore," Schuyler says. Employees, especially younger ones, will even quit if they don't feel a sense of purpose at work, she says.

Case in point: Some 60 employees left the cryptocurrency company Coinbase after its CEO said he wouldn't allow political or social discussions at work.
What they're saying: "There's enormous potential" for companies to be a force for positive change, says Luigi Zingales, a professor at University of Chicago's Booth School of Business. The challenge is to figure out where corporations can actually effect change.
"Take for example gender and race discrimination," he says. "If companies are really serious about this and look at their data on promotions and make it public, they could make a huge difference."
But not putting real resources behind these efforts can not only fail to make a difference but can set society back, as people grow more and more disillusioned with corporate America, he says.
Often companies fall short when they leave all of the purpose responsibilities to CEOs or heads of human resources.
That's where the chief purpose officer can come in, says Deloitte's Mitchell.
"But it can't be in name only," he says. Purpose officers should have teams of people who can work on the bigger issues by collecting internal data on diversity and inclusion or researching philanthropic organizations firms can support.
And "purpose officers should be embedded in all parts of the organization," Mitchell says, like marketing, sales and government relations, so they can ensure the company's day-to-day business is in line with its stated values.
What's next: Look for even more firms to create jobs — both executive and rank-and-file roles — around purpose as the pressure from inside and outside companies to do good keeps intensifying. Says Mitchell, "You can't sit on the sidelines anymore."
Go deeper