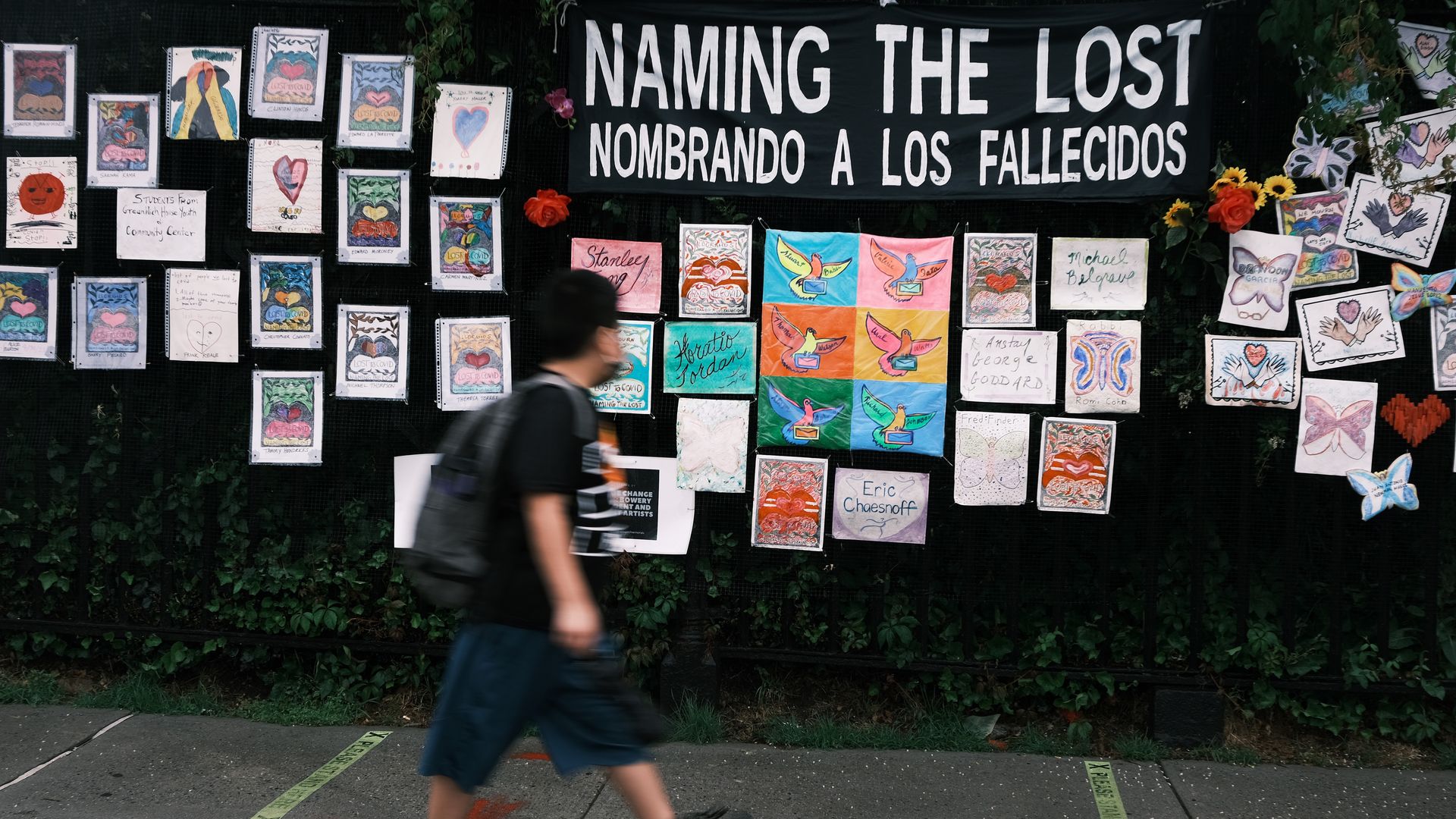 U.S. life expectancy fell by a year and a half in 2020 — and the drop was some three years for Black and Hispanic Americans, CDC data published Wednesday shows.
Why it matters: The overall life expectancy decline to 77.3 years is the biggest since World War II to 77.3 years is driven by the COVID-19, per the provisional data from the CDC's National Center for Health Statistics (NCHS). It also underscores the racial disparities of the pandemic.
"The decline in life expectancy between 2019 and 2020 can primarily be attributed to deaths from the pandemic. Covid deaths accounted for nearly 75% of the decline. More than 609,000 Americans have died in the pandemic so far, roughly 375,000 of those lives were lost last year."
— CDC
By the numbers: Life expectancy for Hispanic people fell three years in 2020, from 81.8 years in 2019 to 78.8 years. Hispanic males saw the largest drop of any group — 3.7 years to 75.3.
A decline of 2.9 years to 71.8 was recorded among Black people, while life expectancy among white people dropped 1.2 years, from 78.8 years 77.6.
Of note: COVID-19 contributed to 90% of the life expectancy decline for the Hispanic population, 67.9% for the non-Hispanic white population, and 59.3% for the non-Hispanic black population, and 74% overall, according to the CDC.
Drug overdose deaths were another significant factor. The CDC reported last week an almost 30% rise in 2020, reaching a record 93,331 deaths — reflecting the proliferation of the synthetic opioid fentanyl in the illegal narcotic supply and the pandemic's toll on the opioid crisis.
The report didn't include statistics on Asian Americans or other racial groups.
The big picture: "Life expectancy has been increasing gradually every year for the past several decades," Elizabeth Arias, a CDC researcher who worked on the report, told Reuters.
"The decline between 2019 and 2020 was so large that it took us back to the levels we were in 2003. Sort of like we lost a decade."
What they're saying: Anne Case, a professor emeritus of economics and public affairs at Princeton University noted that the data was "not entirely unexpected given what we have already seen about mortality rates" as the pandemic went on, per the Washington Post.
"But that still doesn't stop it from being just horrific, especially for non-Hispanic Blacks and for Hispanics," Case added.
Read the CDC provisional report, via DocumentCloud:
Editor's note: This article has been updated with new details throughout.
Go deeper