Chair of Trump's 2017 inaugural fund arrested on federal charges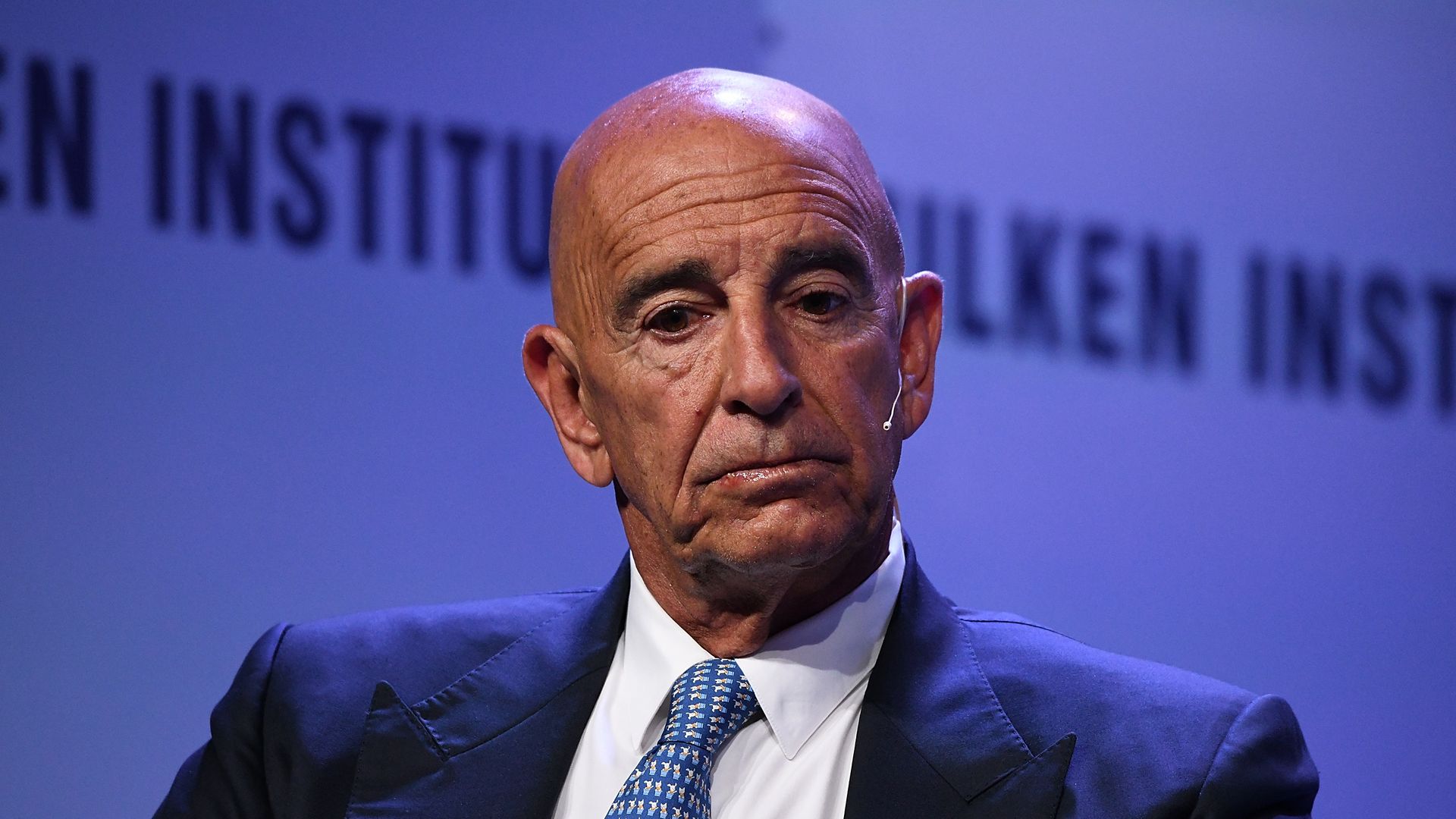 Real estate investor Tom Barrack, a longtime ally of former President Trump who chaired his 2017 inaugural fund, was arrested Tuesday and charged with acting as an unregistered foreign agent for the United Arab Emirates, the Department of Justice announced.
Why it matters: The DOJ said Barrack attempted to advance the interests of the UAE by influencing the foreign policy positions of Trump's campaign in 2016 and, subsequently, the foreign policy positions of the U.S. government in the incoming administration.
Matthew Grimes and Rashid Sultan Rashid Al Malik Alshahhi, a UAE national, were also charged with conspiring to act as agents of the UAE between April 2016 and April 2018. Grimes was arrested on Tuesday and Alshahhi remains at large.
What they're saying: "The defendants repeatedly capitalized on Barrack's friendships and access to a candidate who was eventually elected President, high-ranking campaign and government officials, and the American media to advance the policy goals of a foreign government without disclosing their true allegiances," said Mark Lesko, acting assistant attorney general for the Justice Department's National Security Division.
"The conduct alleged in the indictment is nothing short of a betrayal of those officials in the United States, including the former President. Through this indictment, we are putting everyone — regardless of their wealth or perceived political power — on notice that the Department of Justice will enforce the prohibition of this sort of undisclosed foreign influence."
The big picture: The DOJ said Barrack served as an informal adviser to Trump throughout the campaign and after he was elected. Barrack then informally advised senior U.S. government officials on foreign policy issues in the Middle East.
During that time, Barrack was regularly in contact with senior leadership of the UAE government through Alshahhi and Grimes.
He also sought an appointment to a senior role in the U.S. government, specifically the role of special envoy to the Middle East.
The department said Barrack met with FBI special agents in June 2019 for an interview and made numerous false statements, including falsely denying that Alshahhi had ever requested that he take any actions on behalf of the UAE.
Barrack also advised Trump in March 2017 to not hold a summit at Camp David in attempt to mediate a dispute between the State of Qatar, the UAE and other Middle Eastern governments after Alshahhi told him UAE officials opposed it. The summit did not occur, the department said.
In a 2016 meeting between Barrack, Grimes, Alshahhi and senior UAE government officials, Barrack asked for a "wish list" of foreign policy items that the UAE wanted the U.S. to complete throughout the Trump administration.
This is a breaking news story. Please check back for details.
Go deeper