Facebook's vaccine-misinformation mess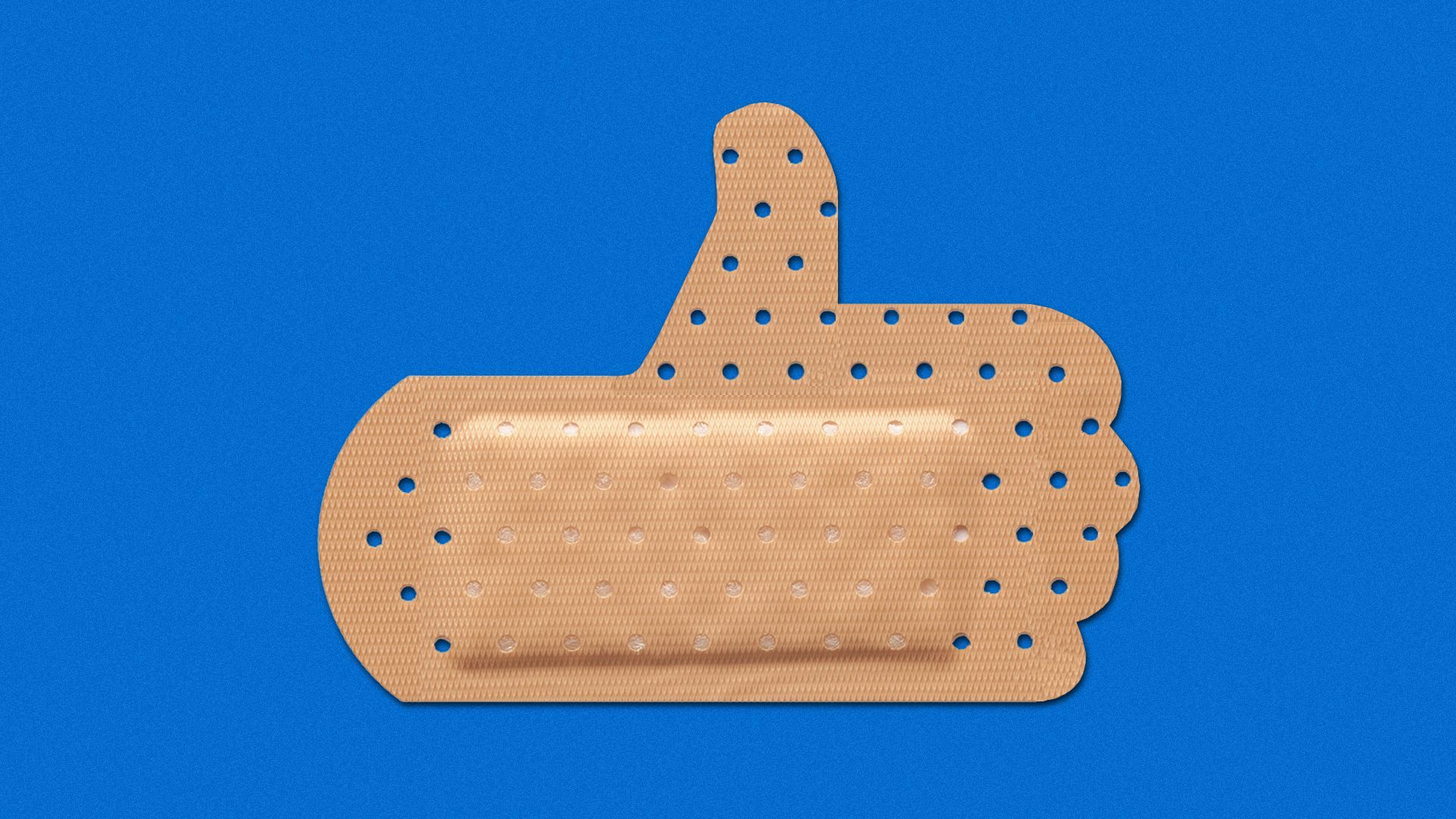 In walking back his comments about Facebook "killing people," President Biden Monday conceded that the debate around vaccine misinformation is too complicated to be narrowed down to soundbites.
Why it matters: Inoculating people is the surest path to ending the COVID pandemic, but the U.S. vaccination drive has petered out against a tide of partisan rhetoric and suspicion fueled by misinformation.
Driving the news: "It was pointed out that on Facebook, of all the misinformation, 60% of the misinformation came from 12 individuals. ... Facebook isn't killing people, these 12 people who are out there giving misinformation ... [are] killing people," Biden said Monday, referring to a report by the Center for Countering Digital Hate.
"My hope is that Facebook, instead of taking it personally that somehow I'm saying Facebook is killing people, that they would do something about the misinformation," he added.
Of note: A different internal study conducted by Facebook, as reported by the Washington Post in March, showed that "vaccine hesitant" content on Facebook was similarly concentrated among relatively small segments of its users.
When a group of employees asked for resources to pursue a long-term study of the prevalence of COVID misinformation on its platform, Facebook turned them down, according to a New York Times report Monday.
Facebook controls access to data about what users are doing on its platform, and independent researchers have long argued that the company cherry-picks statistics to burnish its image.
The other side: "With no standard definition for vaccine misinformation, and with both false and even true content (often shared by mainstream media outlets) potentially discouraging vaccine acceptance, we focus on the outcomes — measuring whether people who use Facebook are accepting of COVID-19 vaccines," Facebook spokesperson Dani Lever said in a statement.
The company points to numbers showing increased vaccine acceptance among U.S. users, and says "more than 2 billion people have viewed authoritative information about COVID-19 and vaccines on Facebook," while 3.3 million Americans used its vaccine finder.
Be smart: Experts say misinformation is only one of many factors that can lead to vaccine hesitancy, including a person's political affiliation, assessment of their own risk of disease, access to vaccines, technology and transportation, and socioeconomic status. 
Much of the misinformation in circulation doesn't explicitly target vaccines, but rather, the people responsible for delivering information about vaccines, Kathleen Hall Jamieson, director of the Annenberg Public Policy Center at the University of Pennsylvania, told Axios, describing findings from a new study.
"When you begin to reduce trust in experts and agencies telling you that vaccines are safe, you're creating all kinds of susceptibilities that can be exploited for partisan gain," she said. 
The study finds that people who rely on conservative media, for example, have much less confidence in key institutions and experts, like the CDC, FDA and Dr. Anthony Fauci, and as a result are much more likely to accept misinformation about the vaccine.
The big picture: Facebook is just one social network, and misinformation thrives across multiple popular platforms, including YouTube, TikTok, Twitter and more.
Zoom out, and social media networks are just one element in a larger misinformation ecosystem, including broadcast networks and public officials.
"Perhaps the largest amplifier of COVID health misinfo has been figures like [Rep. Marjorie Taylor Greene] & Tucker Carlson. Media. Politicians with huge platforms," Renee DiResta, research manager at the Stanford Internet Observatory, tweeted over the weekend.
Twitter suspended Greene's account Monday.
Our thought bubble: Once the COVID vaccine topic became politicized, the effort to limit misinformation became infinitely harder.
Instead of good-faith discussions of scientific findings' strengths and limits, the debate became a no-quarter scramble for partisan advantage.
It also became an argument that many companies and executives are loath to squelch. Banning harmful misinformation about vaccines is good public health practice, but barring political debate about them looks like a kind of censorship.
Go deeper