Birkenstock and Crocs mania is here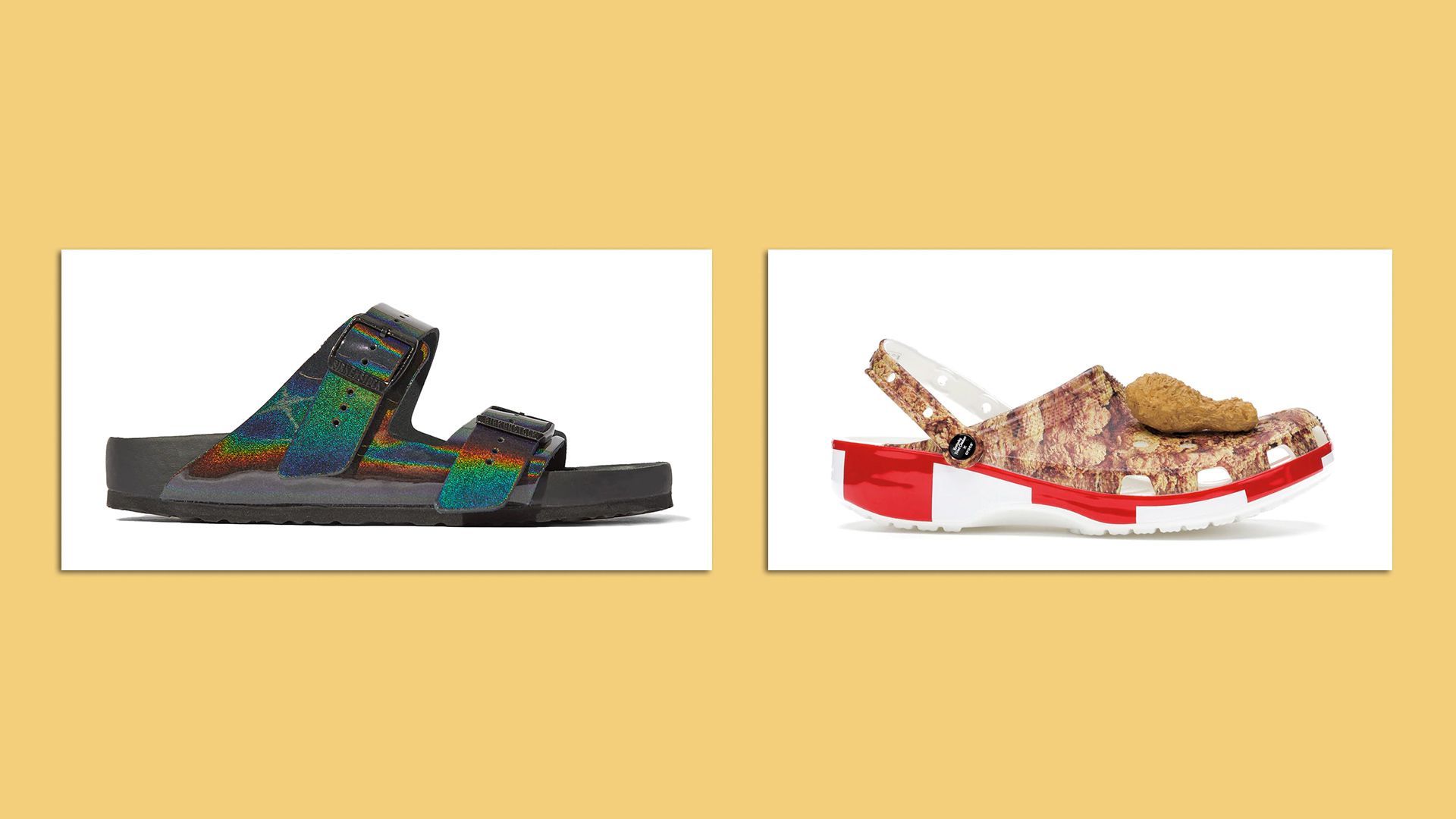 Shoe brands like Crocs and Birkenstock have taken a page from the trendy sneaker playbook — and it's paying off in the form of viral popularity.
Driving the news: New data released today by StockX shows the two brands were among the resale platform's fastest-growing footwear brands over the last year based on total trades, Axios is first to report.
StockX is a secondary marketplace best known for sales of limited edition sneakers at double or triple the retail value.
Why it matters: The rise of limited edition Crocs and Birkenstocks sits squarely at the intersection of two pandemic trends: comfy shoes and the growing side-hustle economy.
Fueled in part by celebrity collaborations, certain models of both shoe brands are being sold for multiple times their retail price.
Case in point: The Crocs Classic Clog Bad Bunny, released in partnership with Puerto Rican singer Bad Bunny, have a retail value of $60 — and are selling for $280 on StockX.
The backstory: Pandemic lockdowns forced people to find new ways to occupy their time or to generate income, leading some to become professional resellers — or to at least try to flip a few items.
What they're saying: "Crocs were not on our radar even two years ago … and now it's one of the top 10 [footwear] brands on our marketplace," Jesse Einhorn, StockX senior economist, tells Axios.
Part of Crocs' success has to do with its "aggressive collaboration" strategy with celebrities like Post Malone and Justin Bieber, and limited edition styles, Einhorn says.
By the numbers: Sales of Birkenstocks and Crocs on the StockX platform grew 610%, and 430%, respectively, during the first half of 2021 compared to the first half of 2020.
For context, sales of sneakers from Louis Vuitton, Alexander McQueen and Reebok grew 440%, 370% and 210%, respectively.
New female users also helped the platform surpass 1 million sellers over StockX's lifetime. Compared to existing sellers, new sellers are nearly twice as likely to be women.
What to watch: Whether these brands can hold on to their hype as the economy reopens.
So far, Crocs shareholders are probably pleased: The stock has more than tripled over the last year.
Go deeper