FEMA chief heads West as large wildfires rage, heat wave peaks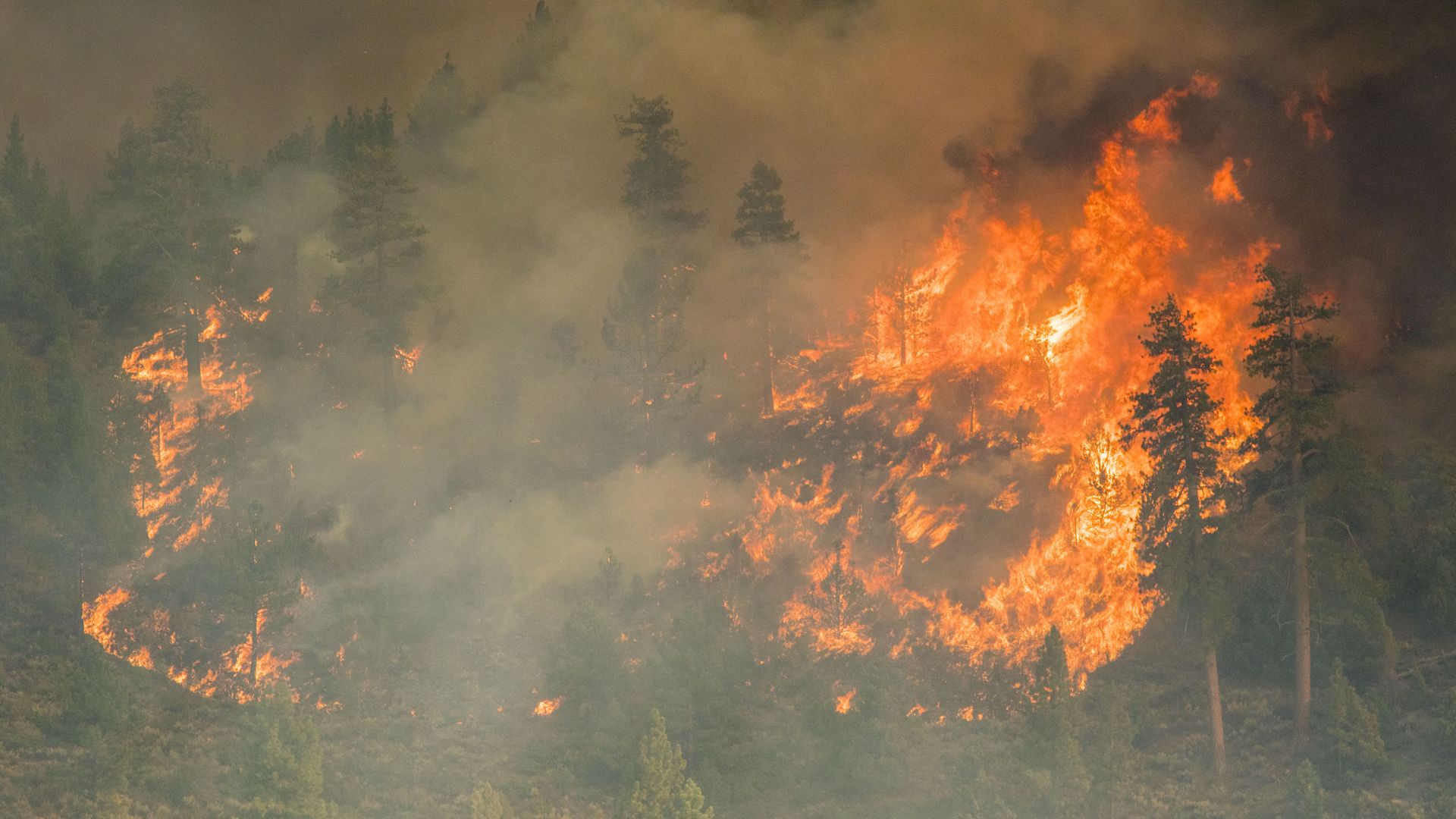 FEMA administrator Deanne Criswell will make her first trip to wildfire-affected states amid another dangerous week of extreme heat and "critical" fire weather conditions, Axios has learned.
Why it matters: The West is experiencing its worst drought this century, and repeated, extreme heat waves have dried out forests and grasslands, priming them to burn. Officials are gearing up for an unprecedented, prolonged peak fire season.
Driving the news: As of Monday, 80 large wildfires were burning across the West and more than 19,700 firefighters were on the front lines, according to the National Interagency Fire Center.
The large fires include the Bootleg fire in southern Oregon, which grew beyond 300,000 acres on Sunday and lofted smoke high into the atmosphere, fouling air quality in neighboring states. Smoke was creating milky skies across the Northeast and Mid-Atlantic on Monday.
Red flag warnings are in effect in at least six states on Monday as moisture is pumped north, around a heat dome parked over the northern Rockies. This moisture is helping to trigger thunderstorms, which could trigger new fires.
What's happening: Criswell, who has briefed President Biden on the wildfire threat, will visit three states, spending a day in each.
"The administrator is traveling to Idaho, Oregon and California to meet with federal, state and tribal partners and emergency groups about the growing wildfire situation, the plan for an active response and coordination, and how the regions are addressing climate change and the ongoing resilience work," a FEMA official tells Axios.
What we're watching: Thunderstorms are forecast Monday from the Sierra Nevada Mountains to the northern Rockies.
Some of these storms will produce lightning and strong winds but very little rainfall — a recipe for new fires given the extreme dryness in place.
The latest heat wave is slated to peak in some states Monday. In northeastern Montana, forecasters are warning of temperatures reaching 110℉, which would break numerous records.
Glasgow, Montana, reached 110℉, and most observing stations in the eastern half of the state eclipsed the century mark Monday. In Billings, the temperature peaked at 107℉, setting a daily record and coming just 1℉ shy of tying the all-time record high.
The extreme heat there is expected to last until Thursday. The heat and wildfire risks extend across the Canadian border as well.
The heat presents a public health risk, especially since overnight low temperatures are running well above average, close to 70℉, and many residents in this far northern state lack air conditioning.
"Extreme heat will significantly increase the potential for heat related illnesses, particularly for those working or participating in outdoor activities," the Weather Service warned Monday morning.
Go deeper: In summer of apocalyptic weather, concerns emerge over climate science blind spot
Go deeper