Portman hits Schumer for infrastructure deadline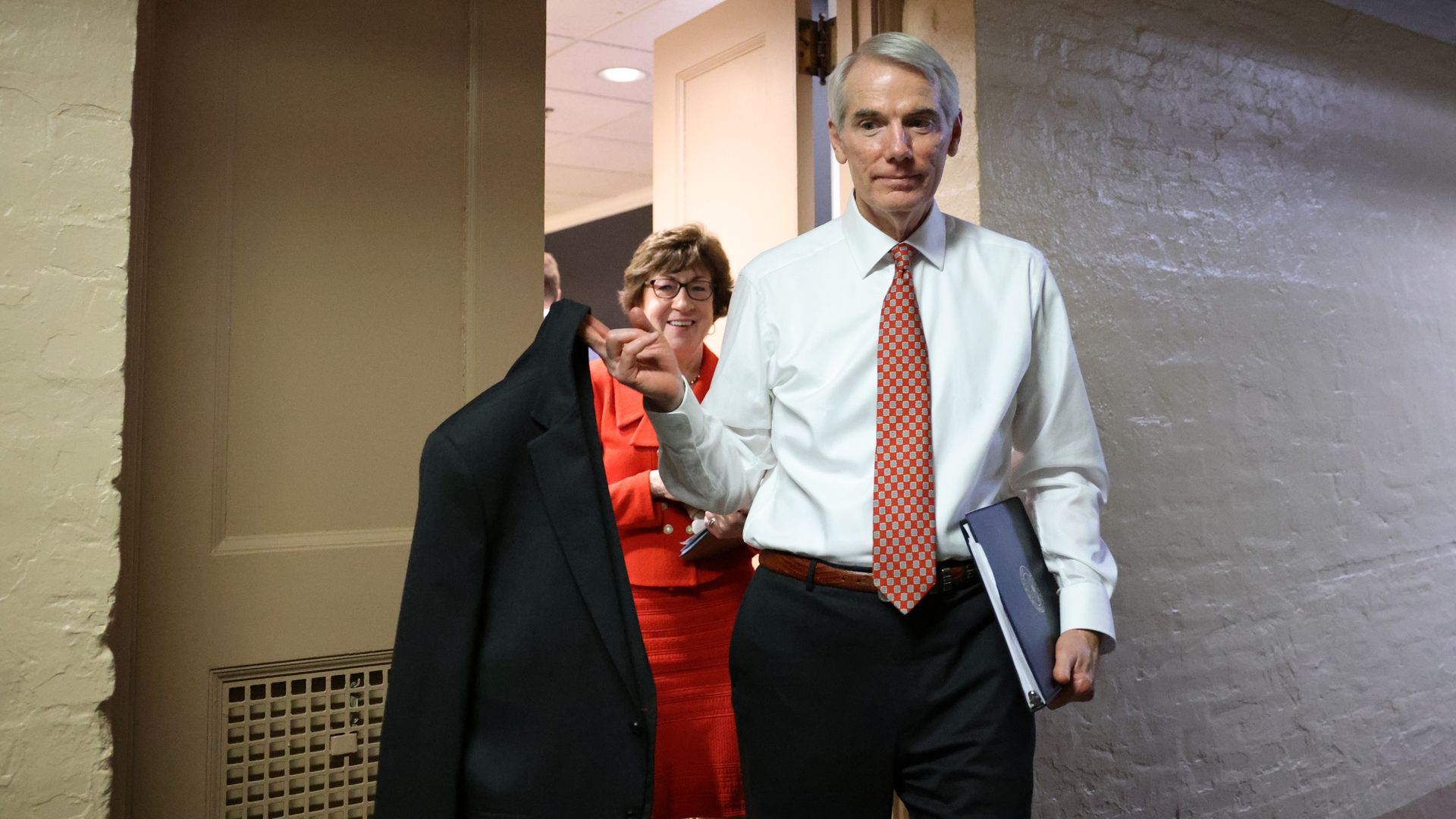 Sen. Rob Portman (R-Ohio) criticized Senate Majority Leader Chuck Schumer (D-N.Y.) on Sunday for setting an "arbitrary deadline" to move forward with a bipartisan infrastructure proposal.
Why it matters: Portman is a key Republican negotiator, yet Senate leadership aides tell Axios that Schumer won't back away from beginning procedural steps to move the bill — still unwritten — forward this week.
Schumer is racing against the clock to pass a pair of infrastructure bills before the August recess — and ensuring the bipartisan bill sees floor action this week is necessary for the Senate to meet its self-imposed deadline.
Schumer's team has made clear the vote the leader has scheduled for Wednesday is solely on the vehicle for moving the measure, not the contents of the bill itself.
What they're saying: "We are still negotiating," Portman said on CNN's "State of the Union." "(L)ater today, we will be having additional negotiations with the Republicans and Democrats who have come together to put this bill into a track that's very unusual for Washington."
"Chuck Schumer, with all due respect, is not writing the bill, nor is (Senate Minority Leader) Mitch McConnell, by the way. So, that's why we shouldn't have an arbitrary deadline of Wednesday. We should bring the legislation forward when it's ready."
A senior Senate Democratic aide told Axios: "There's ample time and no reason why the bipartisan group can't come to an agreement by Wednesday."
The Senate has done this before, the aide added, pointing to the China-focused "U.S. Innovation and Competition" bill.
During that process, there wasn't an agreement on legislation, but senators kicked off the process anyway by moving to proceed on the Endless Frontier Act.
Members knew it was a substitute while they negotiated the final bill.
The bottom line: The bipartisan group is hoping to get final text of the bill completed by the time the Senate reconvenes Monday night.
Talks are going well, sources familiar with the negotiations tell Axios, but it's always the final stretch that's the hardest to complete.
Go deeper