The new playbook for partisan gerrymandering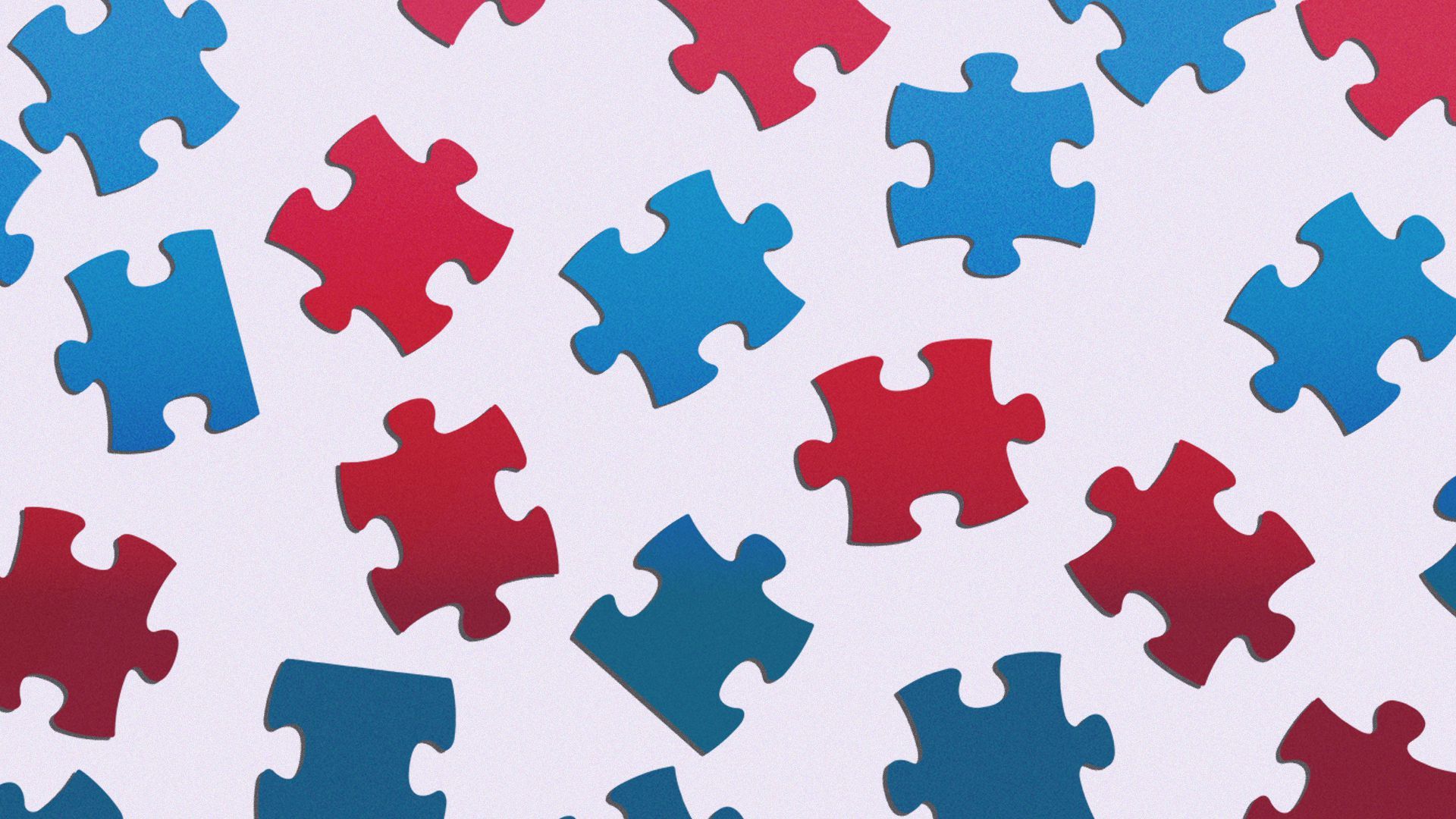 America's rapid demographic changes — its increasing diversity, fast-growing cities and extreme partisan sorting — are changing how Republicans and Democrats try to lock in political power through gerrymandering.
Why it matters: Narrow congressional majorities and close elections create even more incentive for parties to capitalize on the redistricting process.
The big picture: Democrats have the demographics, but Republicans have the political power — putting them each at a disadvantage in places that would seem like their home turf.
The growth of big, diverse cities in the Sun Belt should benefit Democrats. But because they're so far out of power in important states, gerrymandering New York and Illinois may be Democrats' only shot at preserving a House majority.
And while Republicans are getting creative about diluting the power of big blue cities, they may have to hand Democrats some new seats in the Deep South.
Swing districts are dwindling, thanks to what demographers call "the big sort" — the phenomenon of like-minded people choosing to live close to each other, even down to the neighborhood level.
"As people sort themselves into these different locations, [districts are] going to get less competitive — you're going to have solid blue districts in the cities and solid red districts in rural areas," Edward Foley, an election and redistricting expert at Ohio State University, told Axios.
As districts turn redder or bluer post-redistricting, more extreme candidates could thrive.
Cities are booming. Of the 20 fastest-growing major metro areas over the past decade, 16 voted for President Biden in 2020, according to Brookings Institution demographer William Frey.
But nine of those metro areas are blue cities in red states, including several in Texas. Republicans could use their control over the redistricting process in those places to pack Democrats into a small number of districts, minimizing the number of suburban seats that might turn blue.
On the other hand, GOP-controlled legislatures are also considering "cracking" cities like Louisville, Ky. and Omaha, Neb. — diluting Democratic votes by spreading them out, instead of by concentrating them together, as Politico reported.
The sunbelt is diversifying. Texas, Florida, Georgia and North Carolina saw the biggest increase in their Black populations over the past 10 years, while Texas, Florida and Arizona gained the most Hispanics, Frey said.
Republicans control redistricting in all of those states except Arizona. Gerrymandering could help them hold onto seats in those states — but could also land them in court for violating the Voting Rights Act.
Some solid-red states, including Alabama and Louisiana, might also gain new predominantly Black districts during redistricting this year, which could be a foot in the door for Democrats even in states that aren't likely to become national battlegrounds any time soon.
The bottom line: "The demographics would seem to favor Democrats as new state and congressional districts get drawn on the basis of the 2020 Census," Frey said.
But politicians — not demographers— are most often the ones drawing the lines.
Go deeper