Facebook's "see no evil" strategy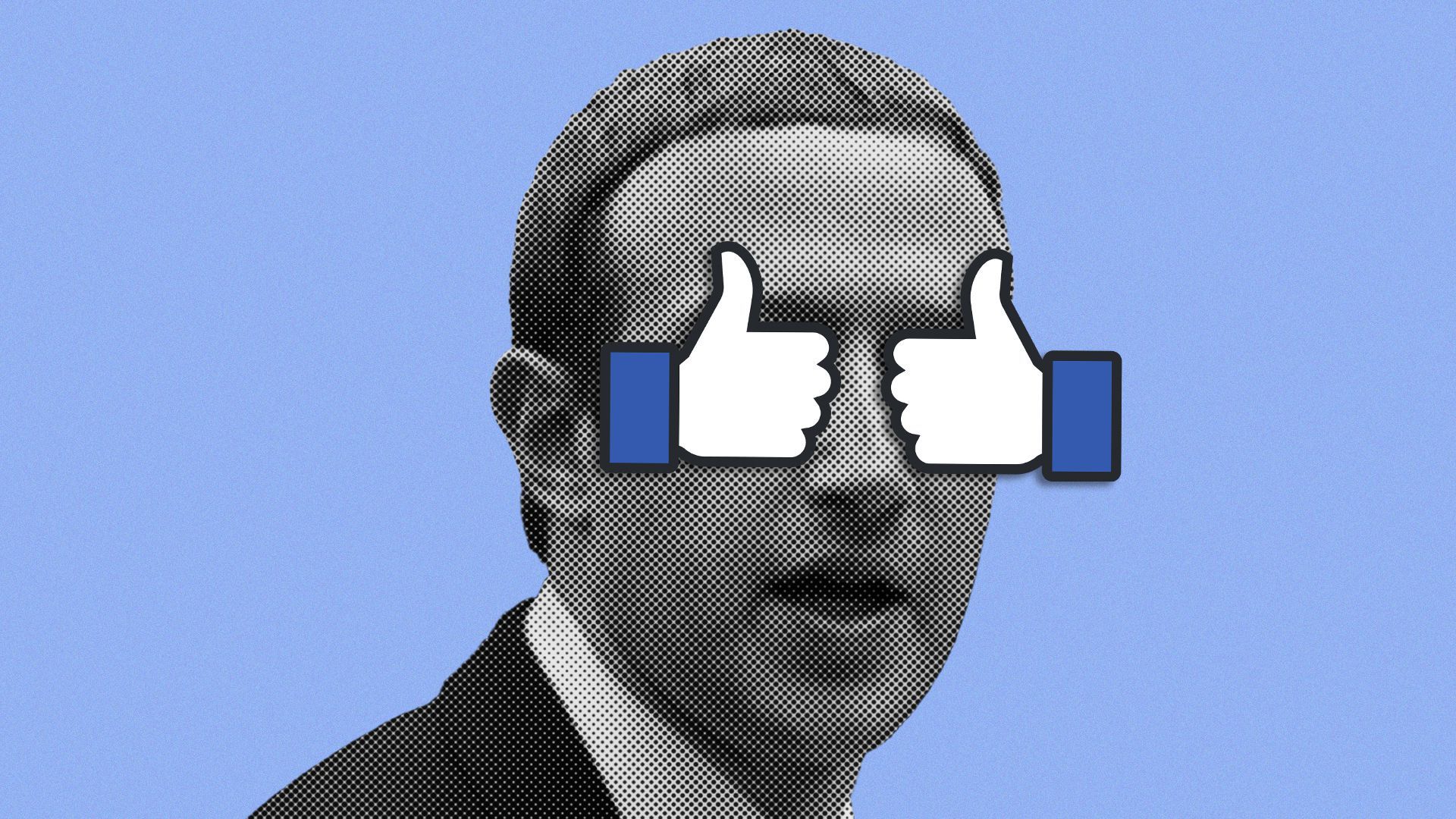 Only Facebook knows for sure what's popular on its platform at any given moment. The rest of us, viewing our individual feeds and seeing only how our own posts fare, are left to guess.
Facebook could change that by giving the world real-time windows onto the social network. But it has long resisted doing so — and new reports suggest it's afraid greater transparency will just make it look bad.
Driving the news: A New York Times column by Kevin Roose describes a debate inside the company over whether to expand CrowdTangle, a tool Facebook offers that provides data on posts' performance.
Roose had long used CrowdTangle, a startup Facebook acquired in 2016, to compile regular Top 10 lists of Facebook posts and share them on Twitter. The lists are almost always dominated by right-wing authors and news outlets.
CrowdTangle measures only posts' engagement — whether people click on or react to them. Facebook regularly criticized Roose's posts by saying that more accurate lists could be compiled by looking at reach — how many people actually see a post.
One problem: Reach data is only available to Facebook's own staff.
The upshot: Advocates of sharing reach data with the public lost the debate inside Facebook, Roose reports, and now the company is splitting up the CrowdTangle team.
Current and former employees told Roose that "Facebook's executives were more worried about fixing the perception that Facebook was amplifying harmful content than figuring out whether it actually was amplifying harmful content."
Why it matters: Facebook content shapes much of popular political opinion in the U.S. and globally. That has turned the social network into the information battlefield of our time — but it's shrouded by the fog of war, and only Facebook can change that.
Yes, but: Whatever controversies Facebook's transparency efforts provoke, Facebook still offers more engagement data than rivals like YouTube and TikTok provide.
Facebook continues to make CrowdTangle available and says CrowdTangle's reorganization is aimed at improving it.
"The entire point was to better integrate CrowdTangle into the product team focused on transparency," Facebook spokesperson Joe Osborne said in a statement.
Between the lines: Roose's portrait of a Facebook leadership more focused on protecting its image than sharing the truth found echoes in the publication last week of "The Ugly Truth," a critical book about the company by two other New York Times reporters.
According to "The Ugly Truth," during the crisis within Facebook following revelations of Russian meddling in the 2016 election, top executives took a "blame the messenger" approach when they learned that an investigation by their security head had been tracking Russian-sponsored misinformation.
The big picture: "Transparency" is an oft-stated aim for Facebook, but, like most large corporations, the social network wants to retain the ability to choose and shape the stories its data tells the world.
Facebook's reluctance to publicize reach data, like Google's resistance to revealing details of its search algorithm formula, may also stem from fears that more the public knows about how its platform works, the easier it is for bad actors to game it.
Facebook also has a record of conflict and delays in efforts to provide academic researchers with data.
Go deeper