Climate solutions could cause their own problems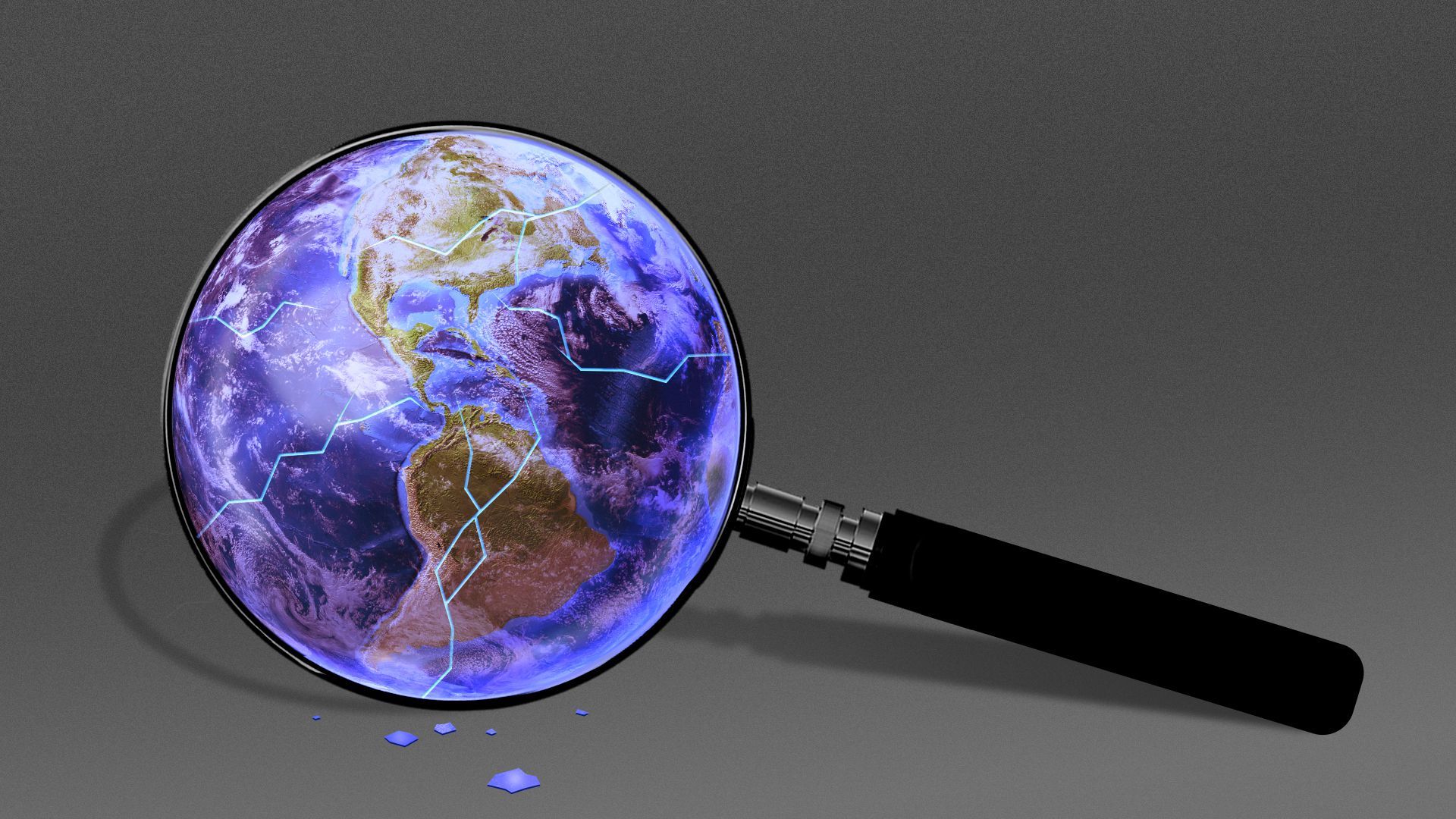 World leaders are pondering unprecedented moves to combat global warming by speeding up the transition to clean tech — but they're also learning more about the potential downsides of those changes.
Why it matters: The changes will be needed to avoid the most dire climate scenarios. But there are potential environmental, human rights, and geopolitical risks to shifting how we get around, the way the electric grid operates, and how everything from cement is made to buildings are constructed.
What they're saying: "It's important to recognize that decarbonizing our economy will not be small and beautiful; replacing all of our fossil fuel infrastructure with clean energy will be big and messy," Zeke Hausfather, director of climate and energy at the Breakthrough Institute, told Axios via email.
"Getting to net-zero [emissions] by 2050 will require building a huge amount of new things incredibly quickly, and will entail lots of conflicts with some traditional environmental priorities."
The big picture: Perhaps the best-known problem companies and countries are facing is how to source the critical minerals needed for batteries that will be used to power electric cars, planes, energy storage devices, and more.
Mining for these minerals on land — including cobalt, lithium, manganese and graphite — can cause pollution and are often unsafe. In some places, like in China and the Congo, it can involve forced or child labor.
Efforts are underway to consider how to mine the seabed for rare Earth minerals, but here too, there's potential for environmental destruction — in this case, a danger to sea life.
The minerals are needed for electric vehicle batteries, but they're also in demand for other critical projects. These include the construction of vast arrays of wind turbines and solar photovoltaic farms.
Cleanly and ethically producing batteries is far from the only challenge facing countries as they move to decarbonize.
Other technologies also threaten biodiversity by extracting resources and taking up large amounts of land — including biomass energy with carbon capture and storage, known as BECCS. This involves extracting energy from biomass, such as certain crops grown for this purpose, and capturing and storing the carbon.
Mining for critical minerals is also more energy intensive than mining for bulk metals — which means they could actually increase carbon emissions as demand grows.
Right now we're hurtling toward an economy that will be far more dependent on a steady supply of these materials, but they're not evenly distributed worldwide, presenting geopolitical challenges. For example, the vast majority of the world's supply of refined cobalt comes from China, and China produces the most rare Earth minerals overall.
How it works: Since 2010, the average amount of minerals needed for a new unit of power generation has increased by 50%, according to an IEA report published in May.
The IEA found that a scenario in which the world reaches net zero carbon emissions by 2050 "would require six times more mineral inputs in 2040 than today."
What's next: The IEA warned that there need to be "broad and sustained efforts" to improve the environmental and social performance of mineral supply chains.
The report also recommends more recycling programs and stronger environmental and human rights standards that help steer economic rewards to responsible suppliers.
The bottom line: The decisions we make now to invest in new clean energy technologies and reduce greenhouse gas emissions will dictate how much warming-related disruption and damage we endure, and any associated clean tech complications we will experience during the next several decades.
Ultimately, the concerns related to the energy transition pale in comparison to the far-reaching harms that would be caused by letting human-caused global warming to continue to escalate.
Go deeper