New Israeli government stuck in survival mode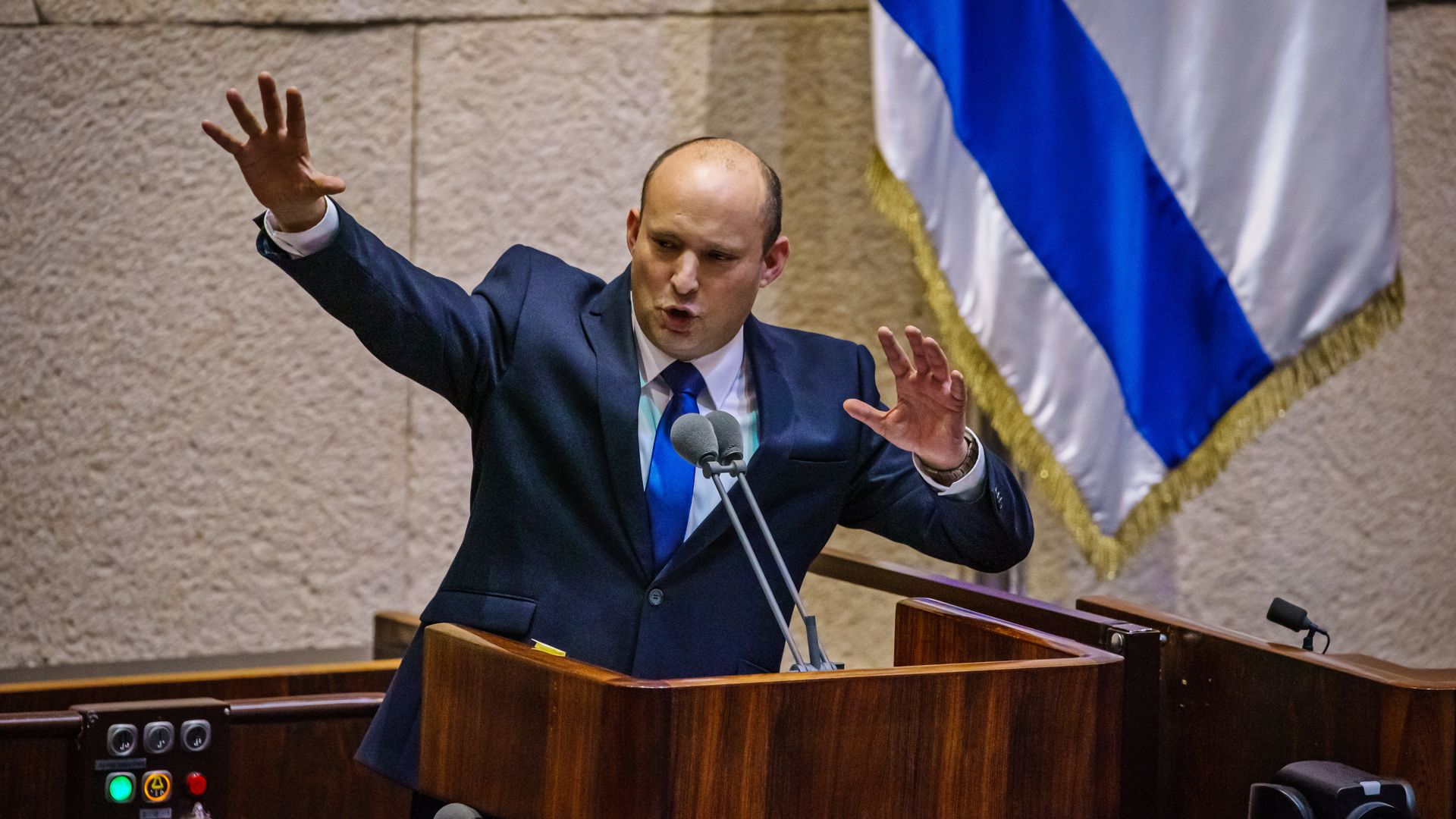 Israel's month-old government is fighting uphill battles every week in the Knesset, fending off filibusters that have forced Prime Minister Naftali Bennett and his Cabinet to spend full nights each week in legislative sessions.
Why it matters: The new government still appears very unstable because its constituent parties hold opposing views on many issues, making it difficult to muster a majority on politically sensitive votes.
The coalition has lost just one vote so far, but it was an important one — to renew a controversial citizenship law that prevents Palestinians in the West Bank from gaining Israeli citizenship if they marry Palestinian citizens of Israel.
The law was supported by the Israeli right since 2003 when it was first enacted, but opposition leader Benjamin Netanyahu and his entire right-wing bloc voted against it to embarrass the government.
The showdowns between Bennett and Netanyahu have continued. On Monday, they engaged in dueling speeches — each rising three times to respond to the other over the course of more than an hour.
State of play: A poll published Monday by Channel 12 showed an even split: 45% of voters are satisfied with the new government, while 45% are not.
The poll showed Bennett's party winning eight seats in a hypothetical election and the governing parties together winning 63, both one more than today.
But just 14% of respondents said Bennett was most qualified to be prime minister versus 40% for Netanyahu and 24% for Foreign Minister Yair Lapid.
Netanyahu's Likud party held steady with 30 seats. His poll numbers remain right where they were before he moved into the opposition.
What's next: The big challenge for the government will be passing a budget by Nov. 4.
The narrow majority means that each member of the coalition effectively has veto power and can hold the process hostage by putting forward demands.
If the budget doesn't pass, the government falls. If it does pass, the government will almost certainly last another full year — a major blow to Netanyahu's efforts to force a fresh election.
Go deeper