Bush says consequences of Afghanistan withdrawal will be "unbelievably bad"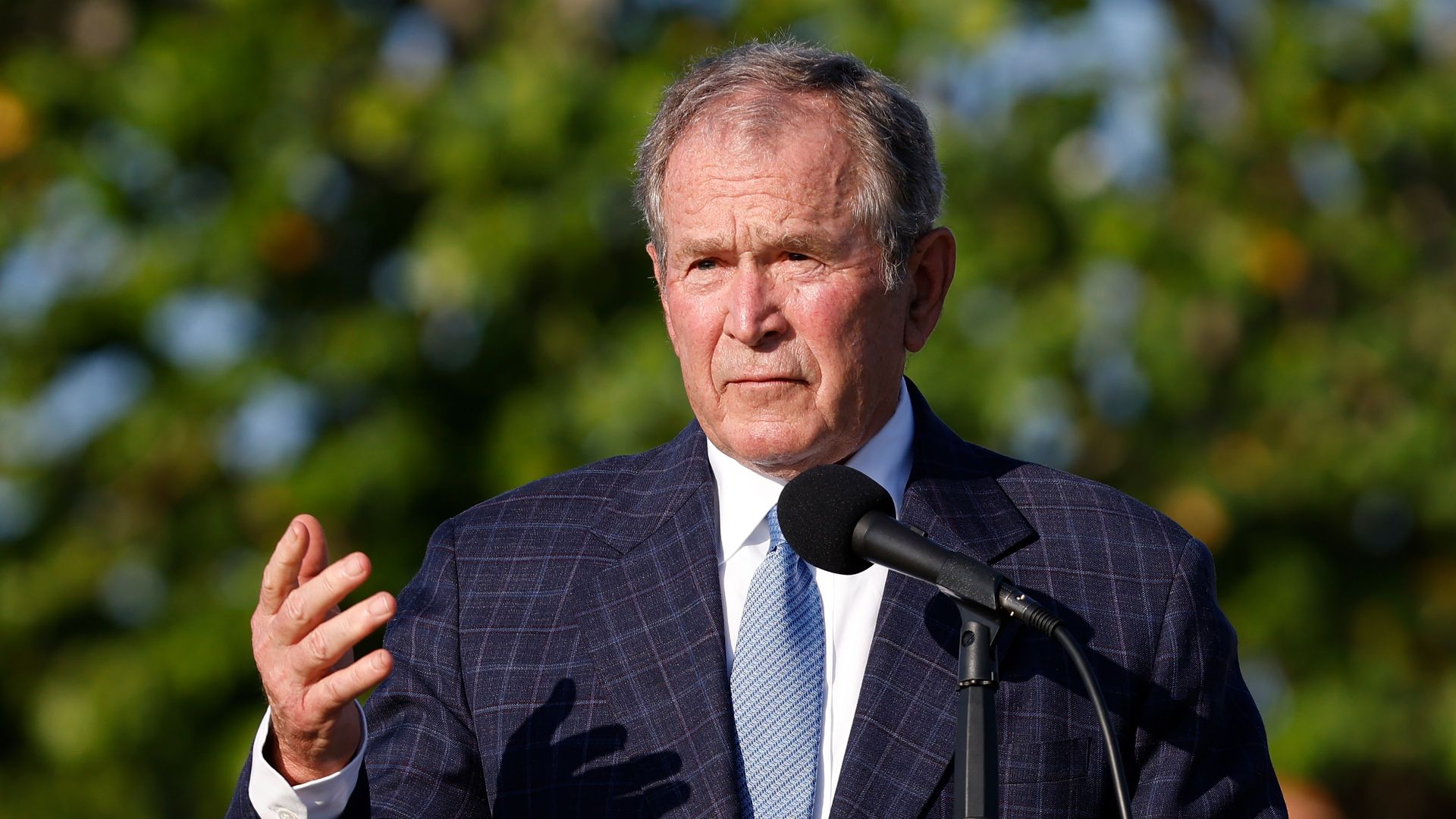 Former President George W. Bush sharply criticized President Biden's decision to withdraw all U.S. troops from Afghanistan, telling German broadcaster DW News Wednesday that he believes Afghan women and girls will suffer "unspeakable harm."
Why it matters: Bush ordered the invasion of Afghanistan in 2001 in order to topple the Taliban and deny al-Qaeda of a safe haven to launch terrorist attacks against the United States. Two decades later, Biden is ending America's longest war.
What they're saying: Reflecting on his relationship with retiring German Chancellor Angela Merkel, Bush said he was "very pleased" that she supported the NATO mission in Afghanistan and claimed that Merkel "saw the progress that could be made for young women and girls."
"It's unbelievable how that society changed from the brutality of the Taliban. And now all of a sudden, sadly, I'm afraid Afghan women and girls are going to suffer unspeakable harm," Bush said.
The 43rd president went on to say that he believes the U.S. withdrawal is a mistake and that "the consequences are going to be unbelievably bad."
"Laura and I spent a lot of time with Afghan women. And they're scared," Bush added. "And think of all the interpreters and people who helped not only U.S. troops, but NATO troops. It seems like they're just going to be left behind to be slaughtered by these very brutal people. It breaks my heart."
The big picture: Biden last week directly addressed some of the criticisms echoed by Bush, and confirmed that the the administration will be evacuating Afghans who worked with the U.S. troops to third countries while their visa applications are processed.
Biden has set an Aug. 31 deadline to end U.S. military operations in Afghanistan, where districts controlled by the Afghan government have been rapidly falling to the Taliban over the past several months.
The president has denied that a Taliban takeover of Kabul is inevitable, but stressed that it's up to the Afghan people — not the U.S. — to decide their future. Biden has previously said that while he will continue to speak up for women's rights in Afghanistan, that is not why the U.S. military was sent there.
"Nearly 20 years of experience has shown us, and the current security situation confirms, that just one more year of fighting in Afghanistan is not a solution but a recipe for being there indefinitely," Biden said last week.
Go deeper: Top U.S. commander in Afghanistan steps down
Go deeper