Senate Democrats announce $3.5 trillion budget reconciliation package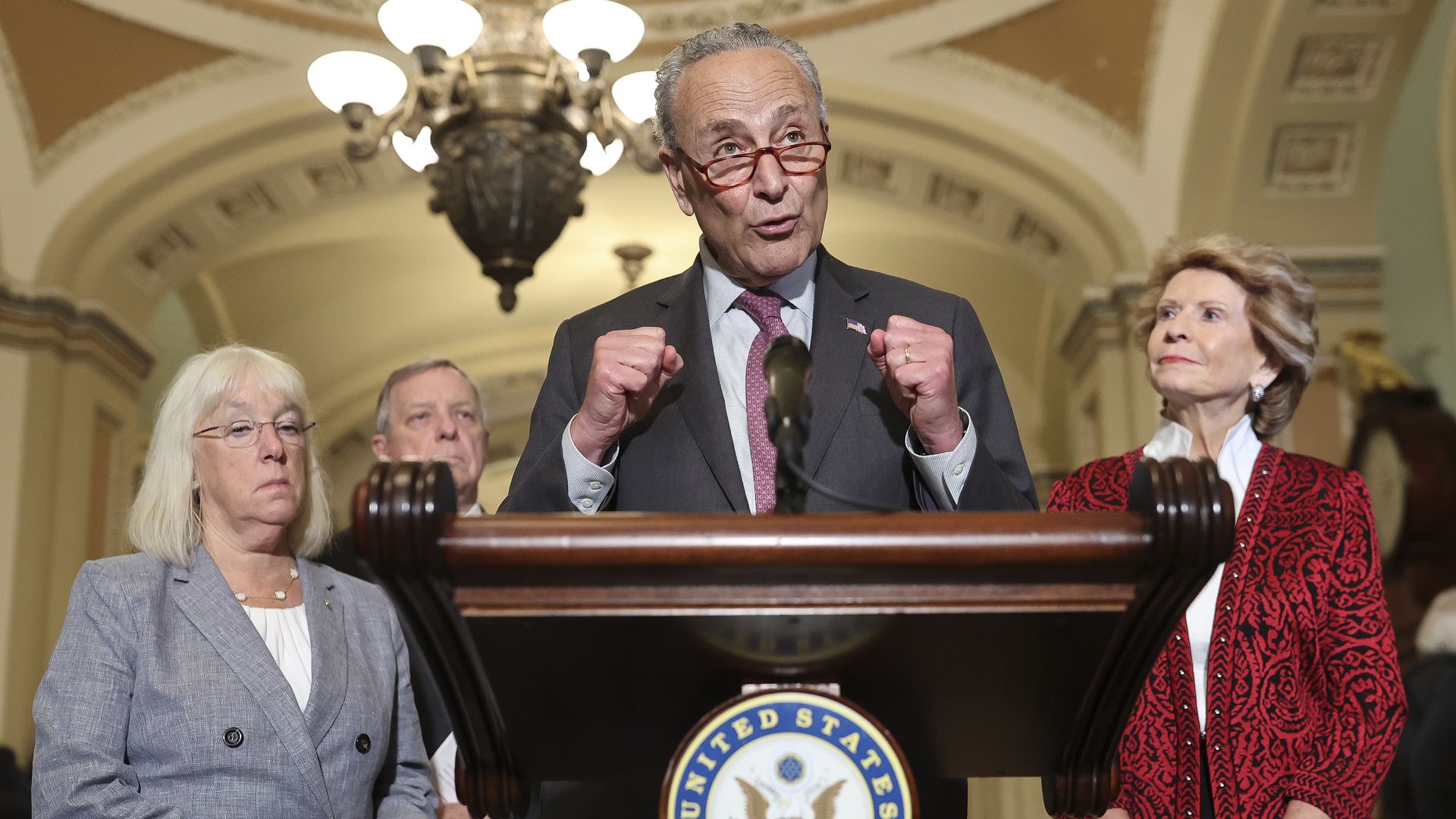 Senate Democrats on the Budget committee announced late Tuesday night that they have reached a deal on a $3.5 trillion package to address "human" infrastructure, which they plan to pass via reconciliation.
Why it matters: The price tag for the proposal — which is expected to include bold provisions on climate change, Medicare and education — comes in far below the $6 trillion figure Budget committee Chair Sen. Bernie Sanders (D-Vt.) and other progressive Democrats have pushed for.
Senate Majority Leader Chuck Schumer (D-N.Y.) told reporters after the meeting that President Biden will join Senate Democrats at their caucus lunch on Wednesday — his first in-person meeting with lawmakers on the Hill as president — to discuss the package.
Details: Schumer said the budget plan will cover all of the major Biden administration proposals on human infrastructure, including the president's families, climate and housing programs.
He added that the plan will also include "a robust expansion of Medicare, including … money for dental, vision and hearing."
While negotiators are still finalizing details, the proposal is expected to fully offset with new revenues, among other pay-fors.
How to pay for the package remains a key sticking point in passing the bill.
Between the lines: Democrats have their work cut out for them in order to pass this bill.
Democratic leaders will need to get all 50 Senate Democrats on board — a huge feat in the current makeup of the party.
The timing comes as several key moderate Democrats are simultaneously working on a $1 trillion bipartisan package on "hard" infrastructure.
State of play: Schumer has been clear for weeks that he wants the Senate to consider this package on a "dual track" with the bipartisan proposal — but time is running out if they want to meet their self-imposed deadline of getting this done by August recess.
Flashback: In blow to Bernie, $3.5T likely starting point for Dem-only infrastructure bill
Editor's note: This article has been updated with new details throughout.
Go deeper