First look: Education secretary takes field trip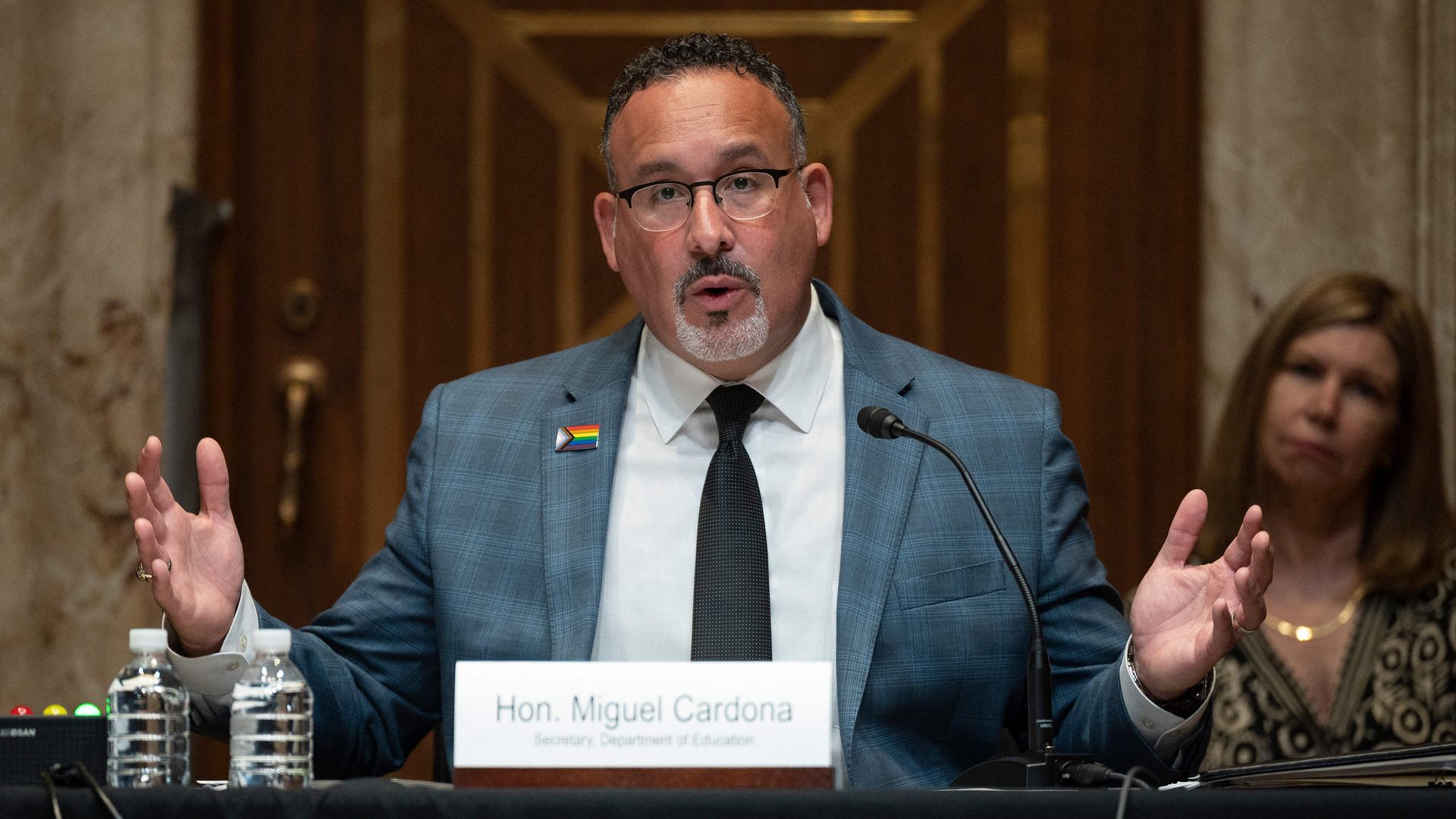 Education Secretary Miguel Cardona is taking a cross-country tour to visit schools and community colleges preparing for full reopenings this fall, Axios has learned.
Why it matters: School closings and remote learning were big flashpoints throughout the pandemic. The administration wants to tout the American Rescue Plan, which is pumping at least $122 billion into learning and student and teacher safety, and the trip follows new guidance from the CDC urging full reopenings.
As part of the weeklong travel blitz, the secretary will visit several summer learning programs bringing students back to the classroom — or outdoors, for the time being — as test runs for the fall.
The travel follows President Biden's own visit to a community college and children's learning center in Illinois last week.
The details: Cardona is heading this week to North Carolina, Oregon, California and New Jersey, a source familiar with his plans said.
In North Carolina, he and Rep. Alma Adams (D-N.C.) will visit an HBCU and summer learning program supporting students with disabilities.
In Oregon, Cardona will hold a roundtable with Rep. Suzanne Bonamici (D-Ore.) to discuss the president's pledge to publicly fund two years of community college.
In California, he'll participate in a field day event that's meant to amplify summer enrichment opportunities designed to re-engage students after their long period of remote learning.
And in New Jersey, he and Rep. Donald Norcross (D-N.J.) will visit a community center to meet students participating in summer programming. They'll discuss administration efforts to help students at risk of dropping out or falling behind long-term.
Go deeper: Cardona has yet to weigh in about whether schools should make vaccines a requirement for those students who are age-eligible. Currently, those 12 and above are encouraged to receive a COVID-19 vaccine.
Asked last week by ABC News, Cardona demurred, saying, "The resources are there, the science is there. We need to do our part to make sure students go in person every day in the fall."
The CDC's new guidance stresses the return of in-person learning.
Go deeper